The nonprofit Association of the United States Army (AUSA) continues its series of graphic novels honoring Medal of Honor recipients with "Medal of Honor: Tibor Rubin," available now as a free download at their site.
Tibor Rubin is the only Holocaust survivor to be awarded the Medal of Honor. He emigrated to the United States after World War II and joined the Army. Fighting in Korea in July 1950, he single-handedly fought off a North Korean assault, inflicting staggering numbers of casualties. He was later captured and risked his life to gather food for fellow prisoners. Rubin was recognized for his actions, both as a combatant and as a prisoner of war, with the nation's highest honor.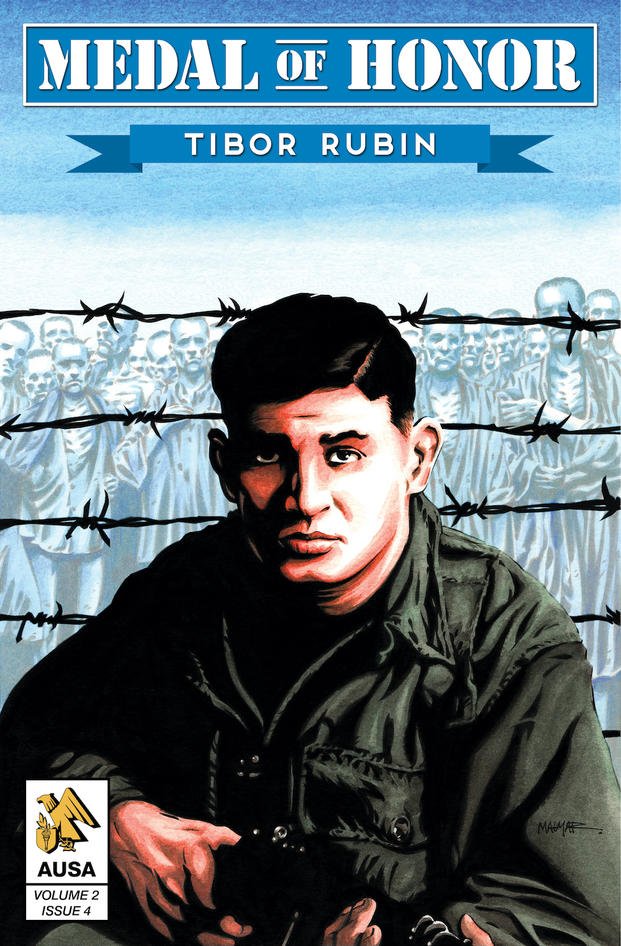 The graphic novel was created by an all-star cast of comic book luminaries. The script was written by Chuck Dixon ("Batman," 'The Punisher," "The 'Nam"); cover and layouts by Rick Magyar ("Avengers," "Captain America," "Guardians of the Galaxy"); finishes by Le Beau Underwood ("Justice League," "Suicide Squad," "Hulk"); colored by Peter Pantazis ("Justice League," "Superman," "Wolverine"); and lettered by Troy Peteri ("Spider-Man," 'Iron Man," "X-Men").
"This is a very rewarding project to work on," said Joseph Craig, director of the AUSA Book Program. "The stories of the Medal of Honor recipients are inspiring, and we have been fortunate to work with a top-notch creative team to help bring them to life."
Series one of AUSA's Medal of Honor graphic novels is available for download or to read online here. The four titles include books that tell the stories of Alvin York, Roy Benavidez, Audie Murphy and Sal Giunta.
Previous novels in series two honored Sen. Daniel Inouye; Dr. Mary Walker, a Civil War surgeon; and Henry Johnson, the first American to receive France's Croix de Guerre with a golden palm.
Keep Up With the Best in Military Entertainment
Whether you're looking for news and entertainment, thinking of joining the military or keeping up with military life and benefits, Military.com has you covered. Subscribe to the Military.com newsletter to have military news, updates and resources delivered straight to your inbox