The nonprofit Association of the United States Army (AUSA) continues its series of graphic novels honoring Medal of Honor recipients with "Medal of Honor: Daniel Inouye," available now as a free download at www.ausa.org/inouye.
After witnessing the Japanese attack on Pearl Harbor, Inouye volunteered for the 442nd Regimental Combat Team, which became one of the most decorated units of World War II. Second Lt. Inouye led an assault on German forces in Italy during the final weeks of the war and continued to fight after losing an arm.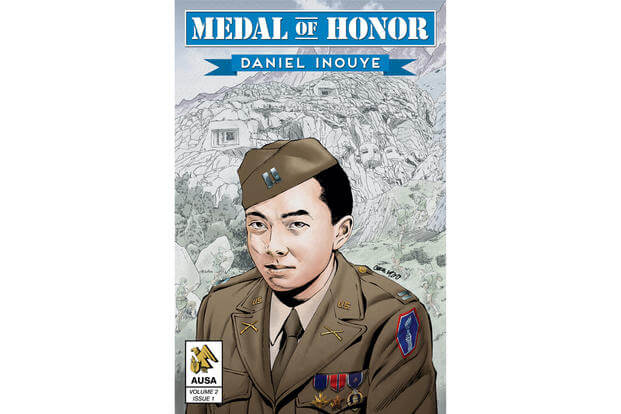 Inouye was discharged as a captain in 1947 with a Distinguished Service Cross, a Bronze Star and two Purple Hearts. He was later awarded the Medal of Honor by President Bill Clilnton during a White House ceremony in 2000.
Inouye attended college at the University of Hawaii on the GI Bill and later received a law degree from George Washington University. He became Hawaii's first congressman in 1959 and was elected to the Senate in 1962, serving there until his death in December 2012.
The graphic novel was created by an all-star cast of comic book luminaries. The script was written by Chuck Dixon ("Batman," 'The Punisher," "The 'Nam"); drawn by Christopher Ivy ("G.I. Joe," "Avengers," 'Flash"); colored by Peter Pantazis ("Justice League," "Superman," "Wolverine"); and lettered by Troy Peteri ("Spider-Man," 'Iron Man," "X-Men").
Series one of AUSA's Medal of Honor graphic novels is available for download or to read online at www.ausa.org/moh. The four titles include books that tell the stories of Alvin York, Roy Benavidez, Audie Murphy and Sal Giunta.
Future novels in the second series will highlight Sgt. Henry Johnson, the Harlem Hellfighter who fought in World War I; Dr. Mary Walker, a Civil War surgeon and the only woman to receive the Medal of Honor; and Cpl. Tibor Rubin, the Holocaust survivor who later fought in Korea.
Keep Up With the Best in Military Entertainment
Whether you're looking for news and entertainment, thinking of joining the military or keeping up with military life and benefits, Military.com has you covered. Subscribe to the Military.com newsletter to have military news, updates and resources delivered straight to your inbox.