Every year, baby food maker Gerber launches its annual Photo Search Contest, prompting thousands upon thousands of hopeful parents to send in an adorable photo of their infant (and one of themselves around the same age) for a chance to see the child become the new Gerber Baby.
The 2023 contest winner is 10-month-old military brat Madison Mendoza. If you don't know military lingo, the first thing you should know is that the term "military brat" isn't derogatory. In fact, it's a term of endearment, proudly worn and used by hundreds of thousands of military brats the world over, and one more title Maddie gets to wear.
Maddie is the daughter of Crystal and Jun Mendoza. Madison's dad also happens to be Lt. Col. Jun Mendoza, an Air Force Academy graduate, allergist and immunologist with 16 years in service. By all accounts, baby Maddie is anything but bratty.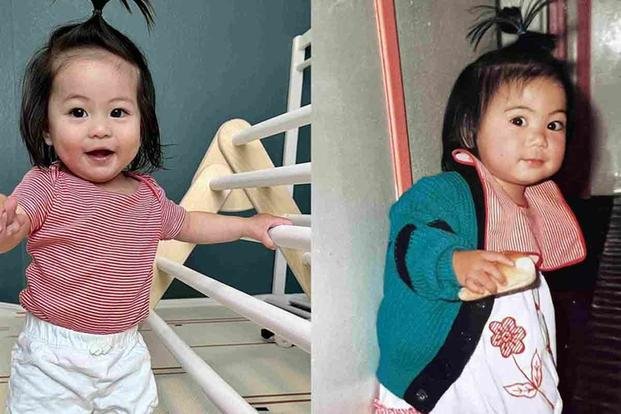 Along with her new role as "spokesbaby," Maddie will also receive the contest's grand prize: $25,000, a year's supply of Gerber baby food, a first foods set, a Gerber childrenswear gift card worth $500, a Mommy & Me luggage set and a ​​Canon EOS R50 camera. She will also appear in the company's marketing campaigns.
In her role as chief growing officer for the next year, Maddie will also be invited to serve as chief taste tester for new baby food offerings.
"Maddie's story, filled with love, resilience, and adventure, embodies the spirit of generations of Gerber babies," Tarun Malkani, Gerber president and CEO, said in a statement.
Maddie is a "rainbow baby," a baby born after the parents lost a baby due to miscarriage, infant loss, stillbirth or neonatal death. Both parents are from first-generation families from the Philippines, and both of Maddie's grandfathers served in the U.S. Navy.
"Being a rainbow baby, Maddie has brought us immeasurable joy with every milestone, snuggle and moment spent with her enriching our lives and making every day more meaningful and beautiful," Crystal Mendoza said. "We look forward to witnessing her grow into a kind, compassionate, strong, independent and worldly individual as we hope to be stationed overseas again to teach Maddie about all the different parts of the world."
Gerber's photo search contest began more than a decade ago, but it's more than Gerber putting a fresh new baby face on its marketing. The company matches the winner's $25,000 prize in a donation to the March of Dimes, supporting research, education and advocacy for all moms and babies.
The original Gerber baby, Ann Turner Cook, was also the child of a U.S. military veteran. Her father, Leslie Turner, served in the Army during World War I. In 1928, when Gerber originally announced it was looking for a baby image, a charcoal drawing of young Ann by the artist Dorothy Hope Smith (who was the family's neighbor) was submitted and won. The baby's identity remained a secret until 1978.
"If you're going to be a symbol for something, what could be more pleasant than a symbol for baby food?" Cook said in a 1998 interview.
-- Blake Stilwell can be reached at blake.stilwell@military.com. He can also be found on Facebook, Twitter, or on LinkedIn.
Want to Learn More About Military Life?
Whether you're thinking of joining the military, looking for post-military careers or keeping up with military life and benefits, Military.com has you covered. Subscribe to Military.com to have military news, updates and resources delivered directly to your inbox.