Humans in the military rely on doctors, nurses, and other healthcare professionals to take care of them while they're on the job. Military working dogs need someone to look after them, too. That job falls to military veterinarians. Military veterinarians provide medical and surgical care to all kinds of military working animals, but their responsibilities go far beyond that of a normal veterinarian.
What the job entails
The primary role of Army veterinarians is to provide care for animals- both for working animals and for military family pets. While on active duty, however, their responsibilities vary from mission to mission. They are highly involved in supporting public health and humanitarian projects, like creating vaccines and developing strategies to prevent the spread of animal-borne diseases.
They're also in charge of inspecting food sold to service members to make sure it's safe for consumption. They may even perform audits of major manufacturing plants to confirm that they're following food safety protocols; think Coca-Cola and Ben & Jerry's.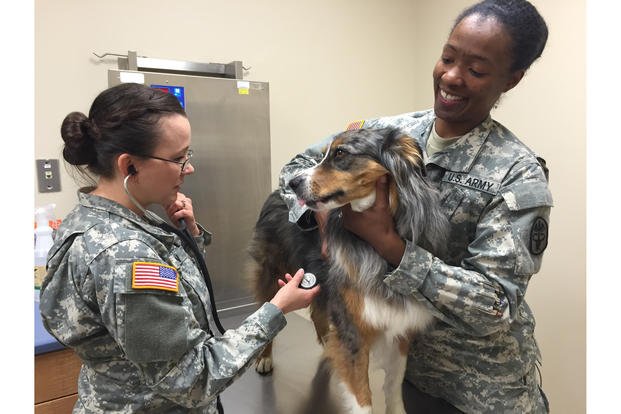 Things to know before you try it
1. After education, it's basically an eight-year commitment.
Most military veterinarians go through the Health Professionals Scholarship Program. The HPSP contract stipulates a minimum three year commitment to active duty, plus five years of reserve duty. While vets are rarely called upon during the five years on "inactive" duty, it's always a possibility.
2. Veterinarians typically enlist as officers, not soldiers.
When you become an Army veterinarian, you're not signing up to fight. Instead of Basic Training, you attend a Basic Officer Leadership Course for a few months. It's not as physically tough as the boot camp designed for soldiers, but you still have to be in decent shape. New veterinarian officers also attend a one-year internship program which doesn't count toward your active-duty requirement.
3. Being involved in combat is always a possibility.
While your job description is to care for animals and assist with humanitarian efforts, danger isn't off the table. Most Army vets never see combat, but it has happened. If you're sent to a combat zone, you will carry a weapon and should be prepared to fire it. Most missions are fairly low-risk, but veterinarians HAVE been wounded or killed on the job. Veterinarians are never assigned combat-related tasks, but if you're in the vicinity of an unexpected attack, anything can happen. In other words, if you want a risk-free gig, this isn't it.
4. Travel is part of the job description.
Military veterinarians can be assigned to missions anywhere in the world. This is a pro and con in one. You get the opportunity to see amazing places. If you become a Special Forces vet, you can work on serious international animal health projects. The Navy's marine mammal program is another option.
Regardless, you're going to be moving around while on active duty. Family members and pets may be able to join you on some missions, but that's not always an option. If you do have pets or children with you, you'll need to make arrangements for their care while you're working long shifts or overnight. If you're on a combat mission, it's important to have a network of friends and family to care for your pets while you're away.
5. The options for advancement are appealing.
If you're considering a long-term career in the military, there's a program for that. The Long-Term Health Education & Training program will cover the cost of veterinarians to continue their education in a number of specialties, like pathology, emergency/critical care, radiology, and surgery. After retiring from the military, veterinarians often start their own private practice or transition into teaching- all while receiving a hefty pension!
6. The pay is nothing to laugh at.
The pay and benefits are very good compared to our civilian veterinary colleagues. When I started out four years ago at an assignment in the U.S., I was making about $75,000 a year. Now while assigned in Europe I am making about $100,000 a year. It can be kind of tough to calculate the exact salary because of all the different types of special pay, housing/living allowances, etc, and that stuff changes depending on where you are located.
7. You're a veterinarian, but you're also a military professional.
This one bears repeating. While military veterinarians are there to care for animals, they're also committing to serving the US Army. During your years of service, the army will decide where you work, when you work, and what your job entails. That might mean getting deployed to a combat zone even though you'd prefer to work on the home front. If you're a leader who likes to carve your own path, you'll probably be disappointed. If you're passionate about animals and interested in serving your country, becoming an Army veterinarian is probably a great fit. The benefits don't hurt, either!
Steps to becoming a military vet
The U.S. Army's Health Professions Scholarship Program is usually the first step to becoming a military veterinarian. You'll have to convince the military that you're worth the investment, but if you get the scholarship, the program covers your tuition while you earn your D.V.M. Alternatively, the Health Professions Loan Repayment Program can help those who have already completed school.
Your military commitment doesn't begin until you're done with school. At that point, you complete Basic Officer Training and an internship before beginning active duty. After three years of service, you can join the Army Reserve. There, you're welcome to run your own practice. To get started, learn more about the process here or contact a recruiter. If you want to hear a first account of what it's like becoming an Army Veterinarian, Elliot Garber can tell you all about it.
---
More articles from We Are the Mighty:
High stakes on the frozen tundra of remote Alaska
3 amazing military haka that will get your effing attention
This is why 'Best Soldier' competitions actually matter for junior enlisted
We Are The Mighty (WATM) celebrates service with stories that inspire. WATM is made in Hollywood by veterans. It's military life presented like never before. Check it out at We Are the Mighty.
Keep Up With the Best in Military Entertainment
Whether you're looking for news and entertainment, thinking of joining the military or keeping up with military life and benefits, Military.com has you covered. Subscribe to the Military.com newsletter to have military news, updates and resources delivered straight to your inbox.