Some of 2020's best military movies are 50% off for the rest of the year from streaming service Vudu. There are also already-discounted movie bundles at an additional 25% to 50% off and a wide variety of older films included in the sale, with quite a few priced at less than $5.
You're supposed to be staying home this year anyway. Take some of that money you're saving on ski trips or holiday party nights and go to the Vudu End of the Year Sale for a complete list.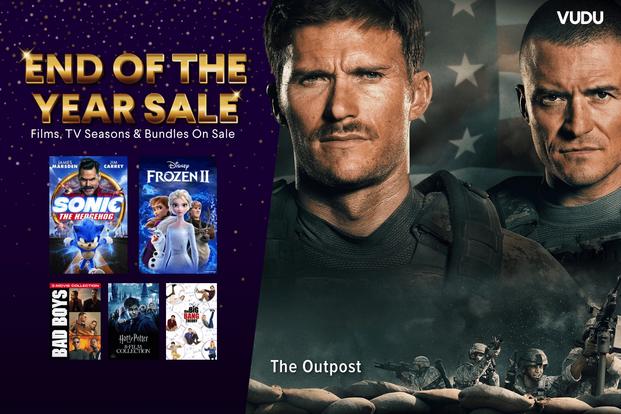 At the top of your list should be "The Outpost," the outstanding military drama starring Scott Eastwood and Orlando Bloom about the Afghanistan War's 2009 Battle of Kamdesh at Combat Outpost Keating. The outnumbered U.S. forces held their ground, and the battle resulted in Army Staff Sgts. Clinton Romesha and Ty Carter receiving the Medal of Honor for their actions.
Related: MoH Recipients Carter and Romesha's Stories Come to Screen in 'The Outpost'
Another movie that's included in the sale is "The Last Full Measure," a drama about the efforts to upgrade Air Force PJ Lt. William Pitsenbarger's Vietnam War medals to a Medal of Honor. The all-star cast includes William Hurt, Samuel L. Jackson, Ed Harris, John Savage and the late Peter Fonda as the older versions of the men who survived Operation Abilene in 1966. Sebastian Stan is the congressional aide assigned to investigate the upgrade, and he comes to respect the men who served as he learns about Pitsenbarger's life and death.
Related: 'The Last Full Measure': The True Story of a Vietnam War PJ's Medal of Honor
If you're after less serious movies full of explosions, you can get first-rate action pictures such as "John Wick 3," "Sicario: Day of the Soldado" or "Olympus Has Fallen." The discounted bundles include a "Rambo" five-film collection, the "Indiana Jones" four-film collection, "John Wick" three-film collection and a "Hacksaw Ridge" and "Midway" bundle.
If you're looking to broaden your viewing, there are discounts on "Harry Potter", "Lord of the Rings", "Fast & Furious" and Marvel movie bundles. Full series and seasons of TV shows such as "Game of Thrones," "The Office," "The Big Bang Theory," "Rick and Morty," "Friends," "Better Call Saul" and Brooklyn Nine-Nine" are also available.
Even if you stream your movies on other services like Apple, Amazon or Google, it's worth checking out the titles. Many included movies are from studios that participate in the Movies Anywhere program, which allows films purchased on one platform to be viewed on all the other major services. Look for the Movies Anywhere logo when you buy, and watch anywhere you like.
Sadly, this option doesn't apply to TV shows, but Vudu is a great viewing platform on its own if you find a deal you can't resist.
Stay warm, stay safe and stay entertained. Order some delivery to support your local restaurant, and enjoy the holidays at home with a new movie or two.
Keep Up With the Best in Military Entertainment
Whether you're looking for news and entertainment, thinking of joining the military or keeping up with military life and benefits, Military.com has you covered. Subscribe to the Military.com newsletter to have military news, updates and resources delivered straight to your inbox.