The USO is yet another American institution that's having to rethink its mission during the current pandemic and they've decided to embrace "virtual programming" to replace the organization's trademark live celebrity tours.
Next up is an event with actor Craig Robinson, currently appearing in the NBC series "Brooklyn Nine-Nine" and perhaps best known as Darryl Philbin on "The Office." Craig's Zoom webinar is happening on April 30 at 1 p.m. ET/10 a.m. PT. You must register in advance at this link.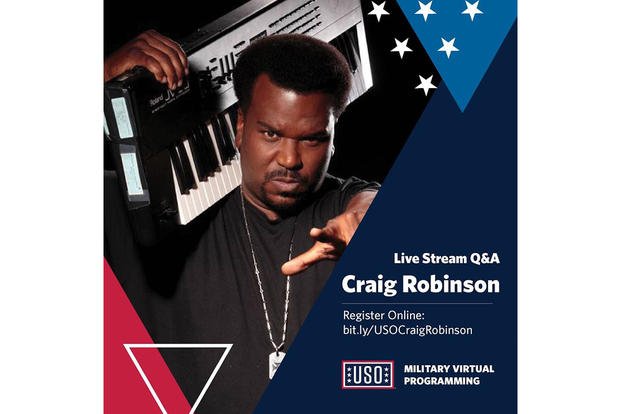 Robinson has been a highlight of the cop comedy "Brooklyn Nine-Nine" as Doug Judy, the "Pontiac bandit" who only steals one brand of cars and is either an ally or nemesis of Det. Jake Peralta (Andy Samberg). He appeared for nine seasons as Darryl Philbin, the Dunder Mifflin warehouse foreman on "The Office."
Craig has also played featured roles in some of the 21st century's beloved cult comedy movies, including both "Hot Tub Time Machine" movies, "Pineapple Express," "This Is the End," "Walk Hard: The Dewey Cox Story" and "Dolemite Is My Name."
Future USO events will host R&B singer Ciara, country singer Trace Adkins, R&B singer Ne-Yo and comedian Sarah Silverman.
Previous events have included one with David Boreanaz of CBS's "SEAL Team," who participated in video calls with service members at USO Al Asad in Iraq.
Music group The Chainsmokers conducted a livestream Q&A with service members in Southwest Asia and comedian Iliza Shlesinger chatted with service members across USO West and Hawaii about her new Netflix series "The Iliza Shlesinger Sketch Show."
And, in "Top Gun: Maverick" news, Miles Teller (Rooster aka Son of Goose) and director Joseph Kosinski participated in a livestream Q&A with service members in Bahrain.
If you're a gamer, keep an eye out on Twitch. The USO will soon launch a channel that will allow NBA and NFL athletes to livestream and play video games virtually with service members around the world.