For the crime of wanting to shift his service to country into overdrive, U.S. Navy Commander Guy "Bus" Snodgrass is dragged into the middle of a political skirmish at the highest levels of government. He tells that story in ""Holding the Line: Inside Trump's Pentagon with Secretary Mattis," a memoir of his service in Washington, DC.
When he accepts the opportunity to join Secretary of Defense Jim Mattis' team as a chief speechwriter, Snodgrass has spent nearly two decades flying fighters off of aircraft carriers around the globe. He's been a Topgun instructor. He's most recently commanded an F/A-18 squadron based in Japan. He is on the fast track toward the top of the Navy's chain of command.
Snodgrass had recently taken orders in Virginia with an eye on what was most likely coming next, career-wise, and what would be best for his family. He reported to a staff job in Norfolk with a year or so to kill as he awaited the board results that would tell him whether he was going to lead a carrier air wing or command a nuclear aircraft carrier.
He hopes it will be the former. He is a talented fighter pilot and has always thrived in the squadron environment both ashore and at sea. He doesn't warm to the other option, with its rigorous schooling and lengthy training track that would involve multiple moves only to wind up spending hours on the carrier's bridge instead of flying on and off the ship in a high-performance jet. He respects those who command nuclear powered aircraft carriers, but he wants to remain in the cockpit.
Conventional wisdom holds that officers can better their chances of getting the orders they want down the road if they take the "hard jobs" and joining the inner circle of the Secretary of Defense is the very definition of a hard job.
His decision is made more difficult by the fact he'll be headed to the Pentagon without his family for a few months as it's the middle of the school year, but he takes on the role with the idea that he'll gain invaluable professional experience while serving at the elbow of the legendary Jim Mattis – the bigger-than-life retired Marine Corps four-star general armed with a litany of tough-guy quotes that were the stuff of memes shared between members of all branches of the military.
In normal times, Snodgrass' story would have followed a predictable path: He would have developed a close relationship with Mattis while serving him in the crucible that is the office of the Secretary of Defense. In return, the Secretary would have rewarded his accomplishments in the job by ensuring he was selected to command a carrier air wing. Snodgrass would have thrived leading sailors at sea and most likely been selected for flag rank. His active duty career would have continued for another decade or more.
But these are not normal times.
Snodgrass heads to Washington and gets to work, quickly discovering that in the halls of power there are no new staffers, only staffers. His learning curve is steep because it has to be. The first few months are challenging and exhausting with 16-hour days, seven days a week in the Pentagon punctuated by worldwide travel where sleep is optional.
But his role is exactly what he thought it would be, even headier stuff. He has direct access to Mattis and spends hours getting to know him as few have. He quickly learns to craft speeches in the Secretary's voice and is given the most important subject matter as a result, most notably the National Defense Strategy.
Mattis gives his team clear guidance: They will remain apolitical but ensure there is "no daylight" between the Pentagon and the White House. "People are getting tired of hearing one thing out of this administration and then the opposite," he says. "It's got to be aligned."
But that lofty goal runs headlong into the chaotic style of the Commander-in-Chief. After weeks of extensive prep by Mattis and the staff to ensure the new president gets the necessary context during his first briefing at the Pentagon, Trump quickly takes the meeting sideways.
Mattis' first mention of America's allies in the Pacific causes the president to erupt. "Our trade agreements are criminal," he opines. "Japan and South Korea are taking advantage of the United States." This is not the takeaway the Secretary of Defense hoped his President would seize.
The briefing grows increasingly unproductive as Trump launches into an extended monologue covering a wide range of random topics: The cost of the Navy's newest aircraft carrier, Iran's perceived violation of the nuclear agreement, his desire for a trade war with China. He lands on how impressed he was with France's Bastille Day show of military might and all but orders Mattis to come up for a similar plan for Washington D.C. From the adjacent control room, Snodgrass watches Mattis shut down, as he puts it, "sitting back in his chair with a distant, defeated look on his face.
"From our vantage point, Mattis was playing a game of chess against a president fixed on 'Rock, Paper, Scissors," Snodgrass writes.
And things get no better going forward as Mattis' morale tubes and Snodgrass' direct line to him disappears. Suffice it to say, whatever the commander's goals were going into the job, reality is very different and, in some ways, darker than he ever thought his chosen profession could get.
After he's selected to command an aircraft carrier instead of an air wing – exactly what he'd hoped to avoid by taking the speechwriter job – he decides to retire from the Navy. In a seemingly serendipitous chain of events, Snodgrass is offered the job as Deputy Director for Research, Technology and Laboratories in the Pentagon's R&D directorate. He delivers the news to his wife, who's very happy about the potential for some stability for once in their lives. They put a deposit down on a house a reasonable commute away from work.
His boss, the Secretary's chief of staff Kevin Sweeney, a retired Navy rear admiral, seems to support Snodgrass' career transition while, in fact, working deliberately to torpedo it. Snodgrass has an office call with his new boss, believing it's to hammer out the details of his onboarding, only to be told that his offer is being rescinded. "I can no longer offer you the position," the official says. "But I'm also not at liberty to say where this is coming from."
Snodgrass figures that Sweeney is trying to punish him for not accepting aircraft carrier command and unwilling to allow him to land on his feet within the Department of Defense. Snodgrass seeks the counsel of a handful of senior-ranking Navy mentors, and all of them advise him to use what should be his trump card, to take his case to Secretary Mattis. But he isn't sure that will work based on Sweeney's actions, so he simply resigns.
At his retirement ceremony, Mattis awards Snodgrass the Defense Superior Service Medal. The citation, signed by Mattis, states he "played a vital and influential role" and "was directly responsible for several foundational strategic documents with far reaching effects . . ."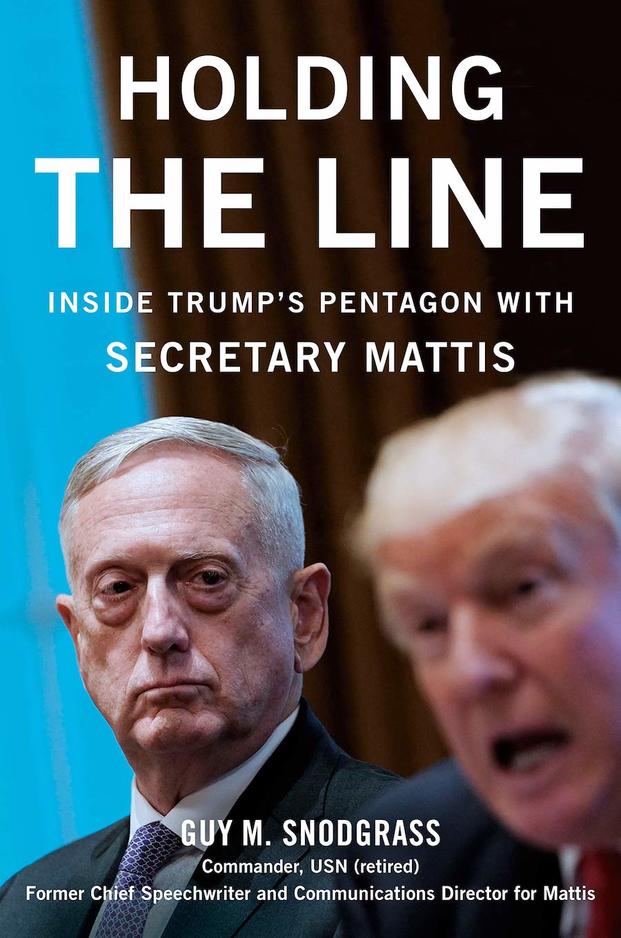 For all of its unique behind-the-scenes insights (H.R. McMaster is a spring-loaded freak-out artist as National Security Advisor; Steven Miller is actually reasonable and helpful as a conduit to the White House communications apparatus, his immediate boss Kevin Sweeney is a two-faced backstabber), "Holding the Line" is not, at its core, a Trump-era tell-all.
And in spite of Mattis' reaction to the book (his current personal spokesman recently said Snodgrass – in spite of what's documented in his medal citation – had been a "low-level staffer without any decision-making authority" and claimed he was trading his honor for short-term notoriety), the book is actually a story of the unintended consequences of a subordinate's attempts to maintain loyalty to a superior whose own honor and character is being tested in a way that his career to date, including combat experience, never demanded.
And that's what makes "Holding the Line" a must-read (if not a cautionary tale) for any professionals – military or otherwise – who desire access to the biggest levers of power. Like Icarus from Greek mythology, those who try to fly closer to the sun sometimes have their wings melt.
"Holding the Line: Inside Trump's Pentagon with Secretary Mattis"
By Guy M. Snodgrass, Commander, USN (retired)
2019 Sentinel Press
Ward Carroll was the editor of Military.com for nine years.