Director Roland Emmerich's epic retelling of the 1942 Battle of Midway premiered for an audience of military personnel in Hawaii on Sunday at Joint Base Pearl Harbor-Hickam's Sharkey Theater.
The movie got an incredibly positive reception from the audience. The filmmakers utilized cutting-edge effects technology to present the most realistic recreation of Pacific Ocean warfare yet seen in the movies.
The director and cast had spent the weekend participating in advance interviews to promote the upcoming film, and they turned out in force at the screening's red carpet event. We were there and came back with some photos.
"Midway" will open in theaters Nov. 8, just in time for Veterans Day weekend.
Roland Emmerich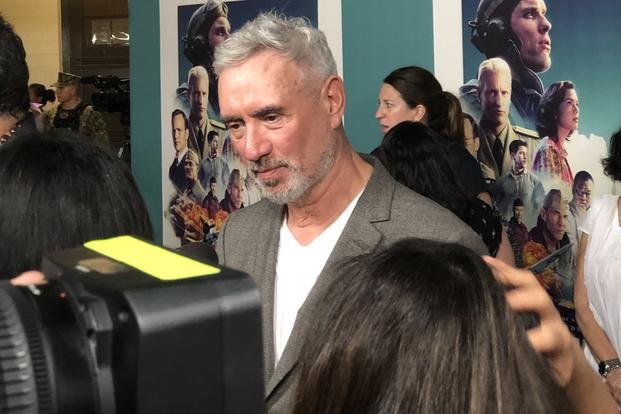 German-born filmmaker Roland Emmerich has become one of Hollywood's go-to directors for movies that celebrate the United States. "Independence Day" and "White House Down" were merely warm-ups for "Midway," a movie that's both ambitious and heartfelt.
Ed Skrein and Luke Kleintank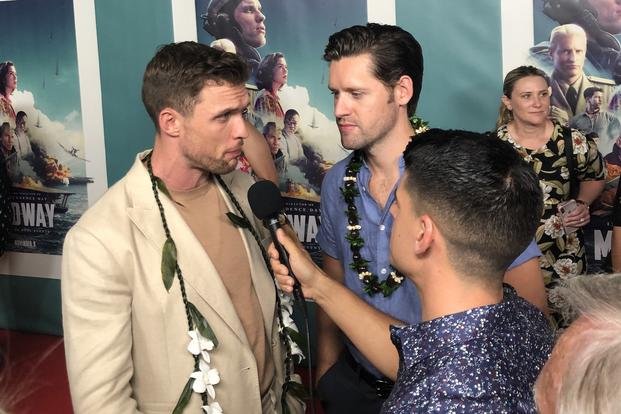 "Midway" finds its emotional center in the story of Cmdr. Richard Best, the dive bomber pilot who transcended his hotshot reputation and shined at the Battle of Midway. Ed Skrein (Ajax in "Deadpool") delivers what could be a career-defining performance as Best. Luke Kleintank may be best known for playing Joe Blake in the World War II alternate history TV series "The Man in the High Castle," and his mid-century good looks serve him well in the role of Lt. Clarence Dickinson, Best's best bud in the movie and a legendary pilot whose successes led to three Navy Crosses over the course of the war.
Darren Criss
Fresh off an Emmy win for his portrayal of murderer Andrew Cunanan in "The Assassination of Gianna Versace," Darren Criss plays another complicated character in "Midway." Lt. Cmdr. Eugene Lindsey may be a martinet not respected by Dick Best and his hotshot crew, but Lindsey is just as heroic as any other man when the battle gets hairy.
Woody Harrelson
Woody Harrelson is now a grizzled veteran of Hollywood, and he brings an icy stare to the role of Adm. Chester Nimitz. Nimitz chose to believe the intel he was getting from naval intelligence officers Edwin Layton and Joseph Rochefort and used that data to make the decisions that led to an overwhelming victory at Midway.
Dennis Quaid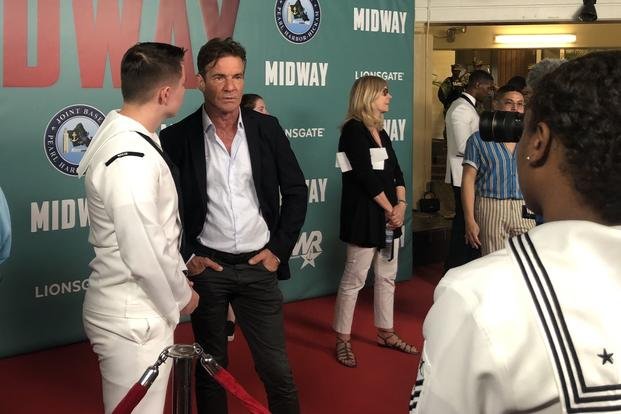 Dennis Quaid looks much younger than his 65 years and celebrated the "Midway" premiere by getting engaged to his 26-year-old girlfriend, Lauire Savoie. He ages himself up to portray the legendary Vice Adm. William "Bull" Halsey. Anyone who already knows the history of the Battle of Midway knows that Halsey was in the hospital during the actual battle because of a wicked case of shingles. Quaid gives cinema's most terrifying portrayal of a man with shingles. You might want to cover your eyes.
Keean Johnson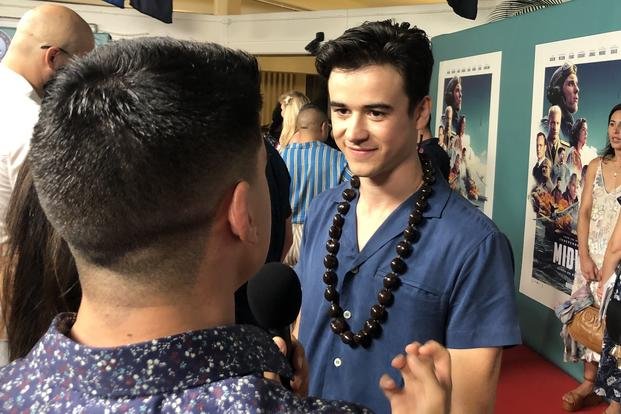 Keean Johnson may be 23 years old, but he could still pass for 18. He plays radioman James Murray, a character who's terrified to fly with Dick Best. Best known for playing Colt on the series "Nashville" and Hugo in "Alita: Battle Angel," Johnson is the rare actor in a WWII movie who actually looks as young as the character he's portraying.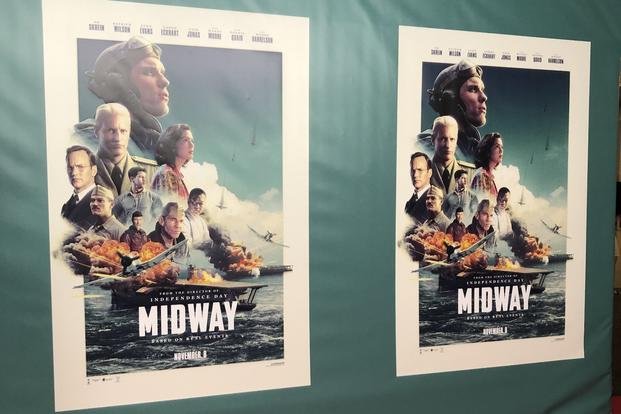 We'll have interviews with Emmerich and the cast members as we get closer to the movie's release.