Retired Gen. Jim Mattis has been one of the most revered modern-day military leaders. Iraq war wizard. Inventor of the Double Knife Hand. A Marine who earned the nickname Mad Dog even though he says he hates it. A badass who earned and deserved the call sign "Chaos." In some quarters, he's even "Saint Mattis."
Now, we can add a new opinion: According to President Donald Trump, Mattis is "overrated."
RELATED: Trump Reportedly Calls Ex-Pentagon Boss Mattis 'Overrated'
The Marine Corps legend rose through the ranks and played a key role in the invasion of Iraq in 2003 as commander of the 1st Marine Division. That success led to promotions.
He served as commander of the U.S. Joint Forces Command from 2007 to 2010 and commanded U.S. Central Command from 2010 to 2013. After he retired from the military, his reputation only grew.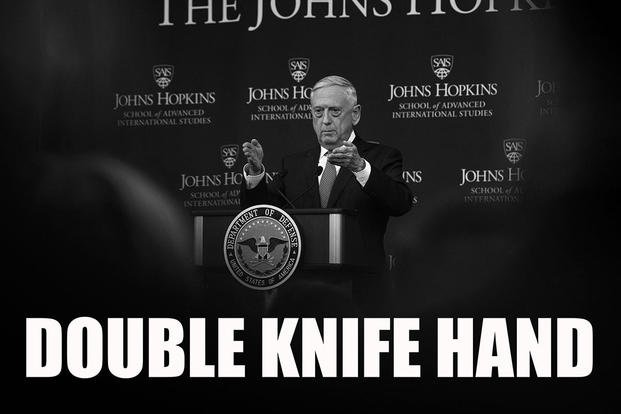 When Trump nominated Mattis as secretary of defense in 2017, there was much rejoicing both at the Pentagon and from Washington insiders who believed his experience and temperament would help focus a new administration that had arrived in Washington without much experience in government.
All was good. Trump praised Mattis to the skies. At his inauguration lunch, the president was effusive. "I see my generals," he said. "These are central casting. If I'm doing a movie, I'd pick you, General Mattis."
Things came apart in late 2018 when Mattis opposed Trump's decision to pull U.S. troops out of Syria. After Mattis praised NATO in a resignation letter, the president asked him to leave immediately and announced that he had "essentially fired him."
RELATED: 10 Things You Didn't Know About Jim Mattis from His New Memoir 'Call Sign Chaos'
Mattis kept his cool and didn't retaliate in his best-selling memoir "Call Sign Chaos," released last month. "I did as much as I could for as long as I could" is all he'd say about his time as defense secretary.
And now, here we are. During a meeting with congressional leaders Wednesday about the current disaster in Syria, Trump reportedly called Mattis "the world's most overrated general."
His direct shot at his former friend came after someone mentioned that Mattis believes that ISIS will make a comeback if the United States abandons the pressure it's been applying in Syria.
Trump also said that the man some call Mad Dog isn't "tough enough."
So, should we agree with the president? Is a Marine Corps legend who's almost as revered as Chesty Puller really a fraud? Let us know what you think and sound off!