"Thank You for My Service," Army veteran Mat Best's new memoir, has shocked the publishing world by rising to No. 1 on several major best-seller lists, including Publishers Weekly, The Wall Street Journal and NPD BookScan (the one that tracks what people actually buy at the store).
Even on the heavily weighted USA Today and New York Times lists, Mat's book sits at a startling No. 5 position.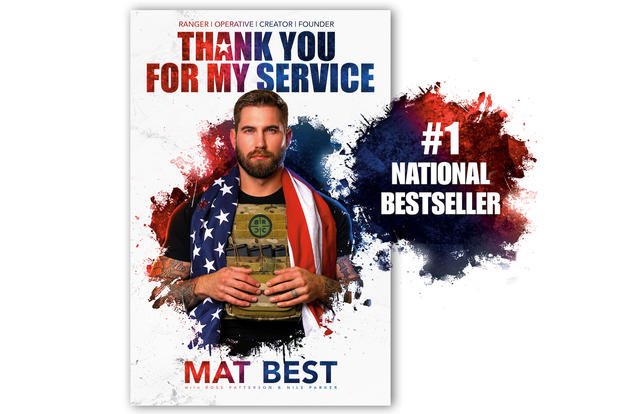 The author offered an appropriately humble statement to mark the occasion: "I am humbled and honored to see the overwhelming support for my book 'Thank You For My Service.' I am even more humbled by the fact that the content has been received so well by the men and women who have served and who are serving in our nation's military. I hope it makes a positive impact in their lives."
That's all good, Mat, but it doesn't really convey how much fun your book is to read.
There's plenty of reflection on the meaning of his military career, but it's mixed in with both serious and hilarious tales about his contractor work, his big-time internet career launched by his YouTube channel, his successful businesses Article 15 Clothing and Black Rifle Coffee. And let's not forget that his crew made a movie, the crazy military zombie thriller comedy "Range 15" in 2016.
Related: Mat Best Would Like to Thank You for His Service
The real heart of the book comes at the end, where Mat reflects on how he had to come to terms with the differences between his military service experience and the reality of running a business in the civilian world. He may still be the same hilarious guy as always on YouTube, but Mr. Best has been through some complicated times and offers great advice for anyone who's looking to find their way in their post-service life.
Congrats to Mat. Let's hope the book's success can teach the rest of America that there's a huge group of combat veterans who, aside from being badasses, know how to have a good time and enjoy a great life.
Read more: Transition Tips for Vets from the CEO of Black Rifle Coffee Company