One day they're up, the next day they're down. Where are they now and how do they affect the bottom line?
With all the different home loan rates advertised in print and online, it can be difficult to determine exactly where rates stand from one day to the next. One of the best sources for accurate information is Freddie Mac. This public government-sponsored financial entity, founded in the 1970s to support the housing market, compiles its data based on average rates, fees and points from lenders who participate in the rates survey.
In the historic scheme of things, rates are still very, very low. Just seven years ago, in 2007, rates were at six percent or more. Go back even further, to the 1980s, and mortgage interest rates exceeded 14% at times. Last spring, average 30-year mortgage rates hit an historic low of 3.35% on the week of May 2, 2013.
Since then, rates have been in the low- to mid-four percent range through the end of January 2014, with a slight drop toward the end of the month. As of February 20, 2014, the weekly average 30-year fixed rate mortgage rate was 4.33% and the average weekly 15-year rate was 3.35%. The chart below shows rates relayed by Freddie Mac from May 9, 2013 to February 20, 2014.
Recent Fluctuations in Mortgage Rates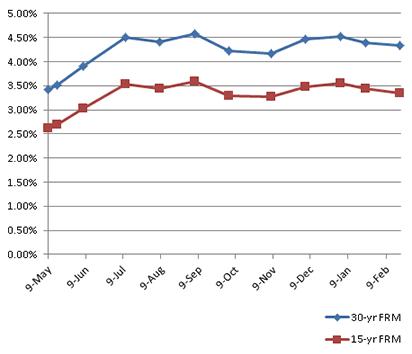 Chart created by Veterans First Mortgage® based on Freddie Mac Primary Mortgage Market Survey® (PMMS). These do not represent advertised rates for Veterans First Mortgage®.
How Does a Small Change in Rate Affect Monthly Payment?
"When there's very little change in the rates, there may not be a huge difference in the amount of interest over time," shares Tim Lewis, U.S. Army Veteran turned Special Projects Manager for Veterans First Mortgage.
To illustrate how interest rate affects your monthly payment, we created this hypothetical 30-year amortization. Both $200,000 mortgage loans have 1% costs that will be paid by the seller at closing and are reflected in the APR for the sake of comparison. The VA funding fee, which also affects APR, has not been considered in these examples.
$200,000 @ 4.57% (4.66% APR) = monthly payment of $1021.71 and total interest is approximately $167,814.18
$200,000 @ 4.39% (4.48% APR) = monthly payment of $1000.34 and total interest is approximately $160,122.72
Rates Are Just One Factor to Consider
Of course, when shopping for a loan, you should consider all the factors including rates, total costs and customer service. Borrowers looking to purchase now may not feel a need to wait any longer for rates to change. Since the government shutdown ended, mortgage interest rates have stayed below their 6-month peak in September, 2013.
It's not always easy to predict where rates will go from here, but one thing is certain — veterans and other eligible borrowers can typically count on competitive rates when they use their home loan benefits to buy a home.
For more information on VA mortgage interest rates, check with a direct VA loan specialist.
Veterans First is a trade name of Wintrust Mortgage, a division of Barrington Bank & Trust Company, N.A., a Wintrust Community Bank. I NMLS# 449042 I Equal Housing Lender