Have you ever heard of the VA construction loan? Some consumers like brand-new things, while others prefer to buy used. Just like with car shopping. Some want that new car smell, but some place more value on getting a deal. It's similar with homes: There can be a lot of appeal in owning a brand-new one.
If you're eligible for a VA home loan and you've been doing some home shopping recently, you may not have seen any houses that thrill you. This could lead you to begin thinking of building your own home with the features, rooms and amenities you desire.
If you've got a preapproval letter by an approved VA mortgage company, it's to buy and finance an existing home, such as a single-family residence or in a VA-approved condominium project.
But in contrast to existing homes, a newly built property can often give buyers control over the features, down to the carpet and paint colors.
A new home can be designed by you and your architect from the ground up, or built from a set of plans provided by a developer in a particular subdivision.
How can you use your VA home loan benefit to build a home?
Related: Construction Loans and the VA Mortgage Program
VA Construction Loan Overview
The Department of Veterans Affairs offers construction guidelines for new homes, and it's possible to get a mortgage that finances everything with one loan. This is called a "one-time-close" or "construction-to-permanent" loan.
"These types of loans are used to close both the construction loan and permanent financing at the same time," according to VA guidelines. "The permanent financing is established prior to construction, and the final terms are modified to the permanent terms at the conclusion of construction."
In this scenario, the veteran home buyer needs only one approval and must go through only one closing (including one set of closing costs) -- hence the name.
Another feature of this type of loan is that you can lock in your interest rate at the beginning of the process, which -- depending on how rates fluctuate -- could be advantageous. The loan is closed before the start of construction.
However, it can be challenging to find a VA lender to issue a "one-time-close" loan. Many VA lenders have been reluctant to issue them. But within the past few years, more lenders are offering one-time-close loans for new construction.
Even if you can't find a one-time-close loan, it doesn't mean you can't use your VA entitlement in the construction process. You can use it in the "permanent" phase, replacing a construction loan, which is explained in the next section.
Two-Time-Close Construction Loans
With a two-time-close loan, generally an initial loan closes before construction begins, and then a new closing on a second loan serves as the permanent financing to replace the initial loan.
Put another way, construction loans are typically short term, just long enough to build the home.
Once the building is complete, construction lenders want all their money back. And where does this money come from? Usually, by obtaining a permanent mortgage.
"Borrowers are free to choose their builder or contractor, subject to any additional requirements the lender may require," according to VA guidelines for these loans. "It is the lender's responsibility to ensure that the builder or contractor is licensed, bonded and insured, according to all state and local requirements."
Two separate loans mean two closings, with all of their closing costs. However, this strategy can provide more flexibility, including any possible refinancing down the road.
What VA Construction Loan Types Have in Common
Regardless of the VA construction loan approach you choose, in both cases, you will still need a certificate of eligibility (COE), borrower qualification, appraisal and notice of value (NOV).
An experienced lender can help you get a certificate of eligibility. The COE proves you meet initial eligibility standards for VA loan benefits. It also lets the lender know your level of entitlement -- the amount the Department of Veterans Affairs will guarantee on your VA loan.
NOV establishes the estimated reasonable value of the property and includes a list of conditions and requirements that must be satisfied for the property to be eligible for a VA loan guarantee.
Also, for both loan types, once it is established, it cannot be modified into a different loan vehicle.
Finally, you don't have to make payments on your home loan until after construction is complete. The initial payment on the principal may be postponed up to a year.
How VA Construction Loan Inspections and Financing Payouts Work
The bank that issues the construction loan assigns an inspector to come out and monitor the progress of the home.
At the beginning, the bank reviews the plans and specifications from the builder and determines the final market value of the home.
For example, if your builder needs $400,000 to make your dream abode a reality, you present the plans and cost estimate to the bank and apply for a construction loan.
Assuming the loan is approved, construction can begin. But the bank doesn't exactly hand over $400,000 to your builder. Instead, as each construction phase is completed, the bank reimburses the builder or pays out a certain percentage of the initial $400,000.
One potential scenario is that the homebuilder may state that groundwork and foundation represent 10% of the project, and plumbing and framing 20%.
As the groundwork and foundation are completed, the builder asks the bank to send the inspector to verify the work. When the plumbing and framing are ready, the inspector again visits the site and verifies the work. The bank then gives the builder a few thousand dollars at a time until the house is completed.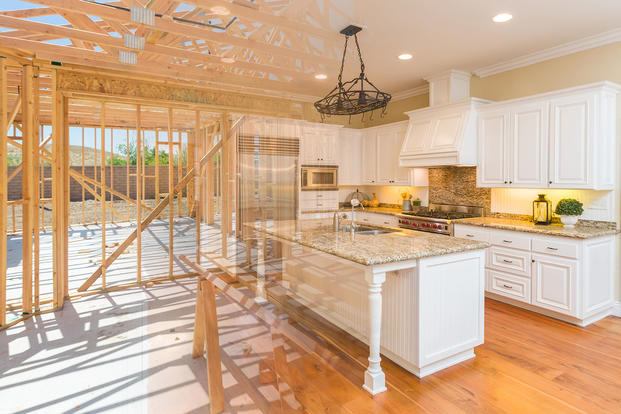 How Do VA Minimum Property Requirements Work?
For the final VA inspection, the goal is to certify all of the VA Minimum Property Requirements (MPRs) are met; that the house was built to the original plans, specifications and approved change orders; and that the as-completed value from the appraisal was maintained.
MPRs cover such considerations as space requirements, drainage, soil stability, hazard areas, zoning, code enforcement, utilities, roof and attic, as well as any basement or crawl space, pools, burglar bars, lead-based paint, termites, rot, radon gas, any potential environmental problem and more.
The purpose of the MPRs is to protect the interests of veterans, lenders, servicers and the VA. MPRs help ensure that the property is safe, structurally sound and sanitary.
What Can VA Construction Loans Be Used For?
The VA home loan can be used to construct a new residence. You can use the construction loan to build a home on property that you already own or want to buy as part of the loan.
Construction loans are not designed for newly developed properties in which a builder is using its own funds for construction. However, you can still use the VA loan to purchase the property from the builder.
Steps to Getting a VA Construction Loan
1. Research Homebuilders
"First, you will need a licensed, insured builder that is willing to submit documentation to become an approved builder," writes Jerry Thomas, a construction loan officer who specializes in VA construction loans. "The VA program does not allow for owner/builders. While the VA only requires that the builder be registered to participate in the program, each lender can require the builder to go through an approval process."
2. Find a Participating VA Lender
Find a participating VA lender that offers options for construction loans. Shop around, because interest rates vary from lender to lender. You want to make sure you get the best rate and terms available for your mortgage needs.
You should also look for a lender that has specialized experience in this type of loan.
Your lender verifies your eligibility and entitlement. Veterans and service members will need to meet credit, income and other requirements set by the VA and the lenders that actually make these loans. There's a range of steps veterans can take to put themselves in great position to maximize their VA loan benefits. Learn more about these steps here.
Related: Find a VA Lender
3. An Appraisal Is Ordered
Your lender orders an appraisal "based on Plans and Specs," if the appraisal can be completed before the completion of the foundation. For projects further along than the completion of the foundation, the appraisal must wait until construction is complete.
In some parts of the country, appraisal fees have seen dramatic increases due to the demand for these services. As a result, the VA has increased appraisal fees and extended timeliness requirements in some markets.
4. Notice of Value Issued
The VA then issues the notice of value (NOV) to you and your lender. The NOV is designed to provide an estimate of the reasonable value of the property. This NOV includes a list of conditions and requirements that must be satisfied for the property to be eligible for VA loan guarantee.
If the NOV comes in below the sales contract price, the veteran is allowed to walk away from the purchase without forfeiting their earnest money. This "escape clause" must be included in the sales contract for all VA-guaranteed loans.
5. Your Loan Closes
In the case of a two-time-close construction loan, your lender may close the initial loan with non-VA financing.
In the case of a one-time-close construction loan, unless exempt, you must pay the funding fee within 15 days.
6. Approvals Before Each Disbursement
The VA requires that the lender obtain written approval from the borrower before each draw payment is provided to the builder. The loan will not be guaranteed until construction is complete and all NOV conditions are met.
7. Builder Completes Construction
Congratulations, your new house is almost ready to become a home.
8. Final Inspection (One-Time-Close Loan)
The final inspection or CO signifies the end of the project. Your lender then modifies your loan.
Related: VA Loan FAQ
Interest Payments
Most banks require you to make interest payments during construction, but some loans let the interest payments accrue during the building process.
Either way, the payments are calculated only on the amounts paid to builders as they go.
For example, if you get a construction loan from your bank for $400,000 at 6%, your bank will charge you interest only on the amounts as they are issued to the builder, not on the entire $400,000.
The VA Permanent Mortgage
As the home is completed, the bank will send the inspector one last time to issue a certificate of completion.
This document warrants that the home is 100% complete and ready for occupancy.
At this time, the bank wants the original $400,000 (for example), plus any interest that has accrued.
That's why, during the construction process, you will want to contact a VA lender and apply for a VA home loan in the amount of $400,000.
Your VA loan will be approved in the traditional fashion with paycheck stubs, tax returns and credit scores.
At loan approval, your VA lender will order a payoff amount from the bank and wire the needed funds to the construction lender.
VA Loan Calculator
What kind of home can you afford through your VA home loan benefit?
Home loan and mortgage offerings can vary dramatically, based on your lender, location, loan type and loan amount, to name some factors.
That's why it is best to shop multiple loan providers to get comfortable with the lingo, options and requirements. Use this calculator to estimate your payments for different scenarios and find providers that offer VA loans and/or conventional mortgages and work with both active military and veterans.
Find out how much home you can afford.
Get Started Today
Our VA loan finder can match you with up to five rate quotes from different lenders. Check it out now!
Should I Stay in Military Housing or Buy a Home with My VA Loan Benefit?
Making the decision to stay in military housing or to purchase your own home is complicated. There are a lot of factors you'll need to take into account before you make your decision. There are many pros and cons to think about. Our military housing vs. home purchase guide can give you some perspective, and hopefully it'll make your choice a bit easier.