If you take the six steps to a VA home loan one step at a time, you may find the process can be pretty smooth. Learn the DOS and DON'TS of the fifth step — Finishing the Loan Application and Appraisal.
By now you've found the home you want to buy and submitted your purchase contract to your lender. From here on out, your lender does a considerable amount of work, and will be asking you to find and gather documents, documents and more documents. Try not to get frustrated; this is typical during the mortgage application process. Your lender just wants to try and make sure you have the ability to pay for your loan and that you get the most out of your benefits.
To help you get through what can be one of the most challenging steps of the VA loan process, here are some "dos" and "don'ts" to follow for Step #5:
1. DO provide all the documents that your lender requests.
It may seem like overkill, but your lender needs to document the facts you've provided. If you're asked for an extra pay stub or bank statement, just know that your lender is working to get you approved. Some borrowers think tips, rental income, annuities and other types of cash flow aren't important, but in fact, they can help strengthen your file.
The lender will look at both your debt-to-income (DTI) ratio and your residual income. Think of DTI as simply a comparison of your debt to your income, and residual income as money you have left over after paying your foreseeable expenses. The VA recommends VA borrowers have a DTI ratio at or below 41 percent, but a higher DTI can be considered within the context of other compensating factors. If your DTI is high, your residual income may help with approval. The VA has a chart that gives lenders an idea of how much residual income a borrower should have based on family size and where they live. Borrowers with more residual income than what's listed on the chart may get approved even if their DTI is above the suggested ratio.
2. DO keep in close contact with your loan officer.
A good loan officer will give you regular progress reports as your loan is being underwritten. You should both know the best ways to contact each other on evenings and weekends. Taking care of issues as they occur, and not waiting until the next business day, can help speed up your loan and help you close on time. If your loan officer doesn't reach out to you on at least a weekly basis, be sure to email or call to check on the status of your loan. A good loan officer will keep a client informed every step of the way and answer questions thoroughly and professionally. If you aren't receiving responses in a timely manner, you should contact a manager to relay your concerns.
3. DO understand that your lender orders the VA appraisal.
Once you submit your purchase contract, your lender can contact the Department of Veterans Affairs to order the VA appraisal. Homes financed with VA loans need to be appraised by someone who is qualified by the U.S. Department of Veterans Affairs. While the VA estimates an appraisal should take 10 days from the time it is ordered, there are some instances when the process takes longer. Properties located in rural areas, for example, may require an appraiser to travel a long distance or there may be a shortage of VA qualified appraisers in certain regions. The VA limits to how much you can be charged and how long it should take. An online map at va.gov offers borrowers a way to find out the fees and number of days to expect for an appraisal in their state.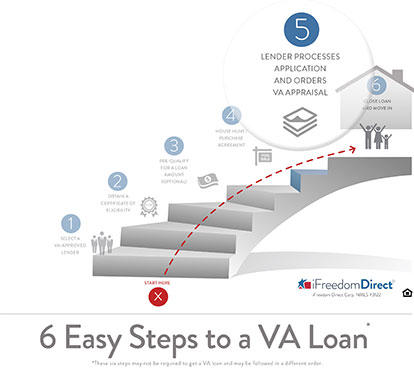 4. DON'T take personal questions personally.
If you're separated or divorced or you've had some credit issues in your past, you may be asked about it. Usually, you can show court documentation to prove a bankruptcy or foreclosure has been satisfied. And, a divorce decree and/or tax returns can show income or liability where alimony and child support are concerned. This is standard procedure. In any case, it's not a bad idea to ask your loan officer about the lender's practices for keeping your information secure.
5. DON'T forget the inspection.
One of the most important points to remember about the VA appraisal is that it does not replace the need for a home inspection. Yes, the VA-certified appraiser will check to make sure the home you are under contract to purchase meets VA minimum property requirements for safe living. But, the appraiser's findings may not help you later if you discover a problem. The appraiser works to value the home and determine if the home meets VA requirements, not necessarily to protect a borrower. Because of this, it is recommended that borrowers also hire a licensed inspector for a thorough check of appliances, plumbing, heating, cooling, roof, windows, structure, signs of water damage and any other issues that may require repair.
6. DON'T panic if the appraisal comes in low.
Lenders almost always require an appraisal to be at or above the purchase price to approve a loan. If your appraisal happens to come in under the purchase price you've agreed to pay, you may have options. You and your real estate agent might be able to go back to the seller and renegotiate a new purchase price based on fair market value. Or, you might be able to cancel your purchase contract if your real estate agent included an "escape" contingency in the document. The VA Option Clause is one that is often included in purchase contracts associated with VA financing. This allows military borrowers to get their earnest money back should the contract fall through due to a low appraisal. Real estate brokers who are familiar with the VA loan process often ensure this language is added before a purchase contract is signed.
When you know what to expect during the VA loan process, there may be fewer surprises along the way.
NEXT STEP: For more information on the 6 Steps to a VA loan or to start your VA loan application now, click here to get connected to an experienced, VA-approved lender.