Following 6 easy steps to a VA home loan can make for a smoother process. Learn the DOS and DON'TS of the fourth step: House Hunting and Purchase Contract.
The fourth step of the VA Loan process can often be the most exciting and stressful: HOUSE HUNTING. Finding the right house, making an offer and submitting a purchase contract to the seller can be one of the longest, or shortest, parts of getting a VA loan. However, you must have a signed purchase contract in hand before you can move forward with your loan application.
Knowing a ballpark price range (in the optional Step #3: Prequalify) before starting a home search can help keep Step #4 more focused.
Whether you have a loan prequalification or not, here are some "Do" and "Don't" ideas to consider for house hunting and submitting a purchase contract.
1. DO make a "want it" and "need it" list.
Before you set out to find your dream house, define what that means for you. It's important to be realistic. According to the National Association of Realtors® (NAR), it's good to make a list of must-haves or things you can't live without. For some, this list might include a two-car garage, a master bath, a gourmet kitchen, central air and a big yard. Everybody's priorities are different.
If you anticipate another relocation in your future, you may want to consider choosing elements that will make your home stand out when you're ready to sell. According to the NAR, proximity to good schools can have a big influence on homebuyers. Homes near good schools cost an average $50 more per square foot, and buyers are willing to pay. You can find statistics for schools, like student-teacher ratios and performance, on the National Education Association website. For annual "top" lists, check out best school rosters from publications like US News & World Report and Newsweek.
2. DO consider a real estate agent who specializes in VA loan transactions.
Just as all lenders do not specialize in VA loans, not all real estate agents understand the VA process. Retired Major Tim Lewis, 23-year Army veteran and customer experience manager for iFreedom Direct®, was steered away from using his VA loan benefits by a real estate broker who had heard the process was long and daunting. "I was talked into another loan program that required a down payment and monthly mortgage insurance premiums. I ended up spending a lot of money upfront on that first home when I could have saved it with a VA loan."
You may want an agent who is well-versed in VA loan transactions, and in the "VA Option Clause." Including this clause enables Veterans to get their earnest money back if the home doesn't appraise as expected. You may also want to include other "escape" contingencies in case the home doesn't pass inspection or you can't get a loan, for instance.
Don't let a real estate agent convince you a VA loan is not your best mortgage option without investigating the facts with an approved lender or your VA Regional Loan Center. A real estate agent who's familiar with the guidelines can help you work closely with your lender to get the most out of the benefits you've earned.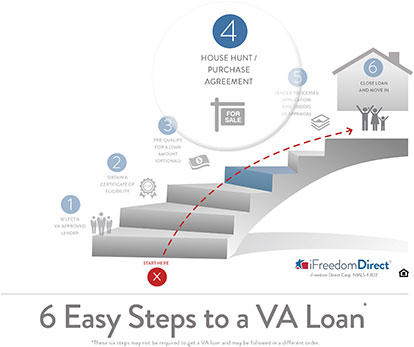 3. DO consider negotiating seller-paid fees.
Did you know VA allows for all approved closing costs and up to 4% concessions to be paid by the seller? Again, an agent who is familiar with the VA rules could be beneficial. Depending on the deal, you could negotiate these seller-paid fees into your contract. If the seller agrees, you could end up paying next to nothing upfront for your home purchase.
4. DON'T forget to consider writing a buyer's love letter.
Ask your real estate agent about including a buyer's love letter with your offer. It's a trend in home buying that can come in handy during a seller's market. When there are fewer homes on the market, buyers often compete for the same properties. A buyer's love letter is your opportunity to tell a seller with multiple offers why you fell in love with the house. It is also your opportunity to express what getting this home means for you. Maybe you've moved around a lot as a service member and the home will finally allow you and your family to grow some roots. No matter what you decide to relay, the letter should be from the heart as it has the potential to make your offer stand out from the rest.
5. DON'T overlook short sales and foreclosures.
Even in times when the housing market is strong, there is generally at least some inventory of short sales and foreclosed properties. Understand that once a property goes to short sale or is foreclosed, the bank has the say when it comes to accepting a bid for purchase. The bidding process may take a little longer, but these Real Estate Owned (REO) properties can often be obtained below market value. Short sales and foreclosures are usually sold "AS IS." Sometimes the previous homeowner ran out of money in the middle of a remodel, or the home just wasn't well maintained or was vandalized after it was repossessed. This can mean repairs if you purchase one of these properties. The VA home loan benefit can be used to buy a short sale or foreclosure as long as it meets minimum property requirements.
6. DON'T delay getting your purchase contract to your lender.
Once you and the seller can agree on price, and other terms, you should sign a purchase contract. Get it to your lender right away so that the underwriting and appraisal process can begin. The faster you get your purchase contract to your lender, the sooner you can move on to Step #5 of a VA Loan: Finalize Application and VA Appraisal.
Click here to contact a VA loan specialist today for help with all 6 steps of the VA loan process, including eligibility and prequalification.