When Do VA Loans Require a Down Payment?
Zero-down payment is the most popular feature of VA loans. But it's not always possible. A guide to VA loans and down payments can help you get the most out of your benefit.
It's finally time to use the VA home loan benefit you earned serving your country. You qualify for a loan, you find the home of your dreams and you're ready to get to the nitty gritty details of your loan. Then your loan officer says you need to make a down payment. Wait, what? Since when do VA loans require a down payment?
Why a Down Payment on a VA Loan is Sometimes Needed
In 1944, the VA Home Loan Guaranty program began to provide returning war Veterans with a way to buy homes with little or no cash up front. Since the program's inception, about 90 percent of VA purchase loans have been obtained without a down payment. Reasons for the other 10 percent with down payments include:
VA loan above county limit
Insufficient VA entitlement
Voluntary down payment
VA Loan Above County Loan Limit
The U.S. Department of Veterans Affairs will back for a lender 25 percent of a VA mortgage amount up to the loan limit, which is $424,100 in most areas. The limit can be higher in expensive housing markets. The limit is not a cap on borrowing, but represents the maximum loan the government will guarantee with no down payment.
That means if you buy a home priced over the limit, you'll most likely be making a down payment. Approved lenders usually need 25 percent of the total loan secured. Down payment is calculated on the amount above the county limit.
A hypothetical down payment calculation on a loan over the limit might look like this:

TIP: When a down payment is required, ask your real estate agent about negotiating seller-paid closing costs to minimize your out-of-pocket cash.
Update: Effective Jan. 1, 2020,  the VA will not cap the size of a loan a veteran can get with no money down, paving the way for veterans to buy higher-value homes. Of course, the lender may still issue a cap and deny a large loan. But the denial won't be due to VA home loan rules.
VA Entitlement Not Enough
With full VA entitlement, a qualified borrower can buy a home priced up to $424,100 in an average housing market with no down payment. This entitlement is how much liability the VA will assume. Let's say the borrower wants to buy a home valued at $300,000, which is well within the loan limit. However, part of this borrower's entitlement is already being used to back another home bought years prior for $150,000.
When a Veteran only has partial entitlement available, a down payment may be necessary if the remaining entitlement is not enough to back the loan. If this is the case, the down payment calculation might look like this: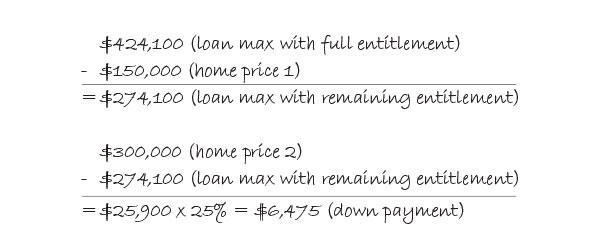 Voluntary Down Payment
Sometimes a Veteran decides to make a down payment on a home even though it's not required. Volunteering a down payment will result in a lower loan balance and monthly payment. If it's not a requirement here, the Veteran gets to choose the amount.
Imagine a borrower has full entitlement and wants to buy a home priced at $400,000―well within the limit. He has $20,000 he'd like to offer as a down payment. You can see how volunteering some cash up front can lower the loan balance.

Comparing VA and Conventional Down Payments
In the November Origination Insight Report from Ellie Mae, a mortgage software company that compiles monthly data on three major loan programs, the average loan-to-value (LTV) of conventional loans was 80 percent. Compare that with 98 percent for VA loans. Even if a down payment is required, a Veteran's cash out-of-pocket expense is generally far less with a VA loan than with a conventional loan. See the comparison below: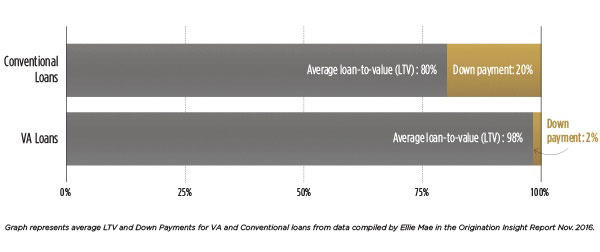 TIP: Compare loan programs to see which gives you the best advantage when it comes to down payment and other costs.
Ready to Get Started?
If you're ready to get started, or just want to get more information on the process, the first step is to get multiple rate quotes with no obligation. You can then discuss qualifications, debt to income ratios, and any other concerns you have about the process with the lenders.