VA loan rates are lower on average than other major loan programs. And Veterans can only be charged certain fees approved by the VA. Recent data shows how low rates and fees of the zero-down-payment loan program can be.
It's true that nearly 90 percent of all VA loans are obtained without a down payment. Naturally, one might assume that a zero down payment comes higher rates and costs compared to other types of home loans, right?
Many borrowers are amazed to learn that VA loan rates are very competitive―often even lower than those of prime conventional loans. And fees are limited to what the VA will allow. So when you put together great rates, low fees, and all the other unique features of the government-backed home loan for Veterans, there's really no other program quite like it. For more information on rates and costs, click here.
JUST HOW LOW ARE VA MORTGAGE RATES REALLY?
Stats can back up just how low VA mortgage rates have been compared to conventional loan rates. According to Ellie Mae Origination Insight Reports, average VA 30-year loan rates have been consistently lower every month than conventional and FHA since the company began including VA loans in its report in November 2014.
Just how much lower? The spread ranges from .25 to .42 points lower than conventional home loans. Just that fraction of a point in interest can translate to thousands of dollars saved in interest over thirty years.
The graph below shows a comparison of average 30-year conventional and VA loan rates since December 2014. You can see that these VA rates have been consistently lower than conventional.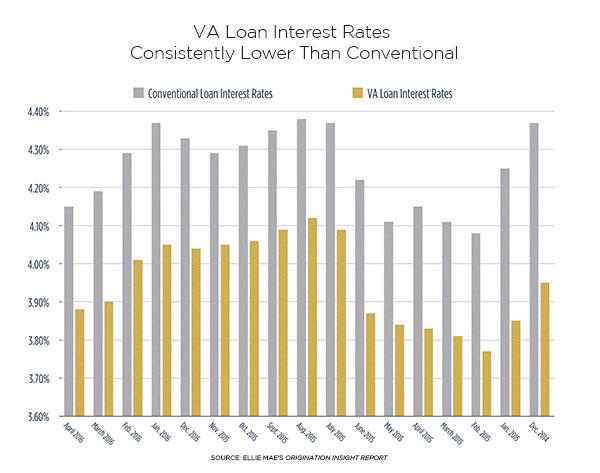 To show the interest rates savings, we amortized two $250,000 mortgages at the average April 2016 rates for VA and conventional loans. For comparison sake, both loans have 1% origination and .5 points as the basis for respective APRs:
VA Home Loan $250K x 3.88% (4.003% APR) = $1,176/month Total Payments: $423,470 Total Interest: $173,470
Conventional Home Loan $250K x 4.17% (4.295% APR) = $1,218/month Total payments: $438,541 Total interest: $188,541
As you can see, a slightly lower interest rate can save a little bit each month, and a small fortune over time.
HOW DO VA HOME LOAN COSTS COMPARE?
In reality, you can expect the VA home loan program to offer many similar costs compared to other loan programs, with a few exceptions. One fee a Veteran using home loan benefits will never pay is private mortgage insurance (PMI). It's a fee charged by lenders to secure some home loans. And, while PMI can add about $100 to a non-VA borrower's monthly payment for every $100,000 of the loan amount, VA home loan borrowers can use that money for other things.
One fee that is specific to the VA loan is the VA Funding Fee. This is a one-time fee (2.14% of the loan amount for first-time borrowers) that is collected by the lender and paid to the VA to cover costs to administer the VA loan benefit program. Borrowers are encouraged to pay the fee upfront, because if they roll it into the balance they will pay interest on it for the life of the loan. Certain disabled Veterans and most eligible Surviving Spouses qualify for exemption of the VA funding fee.
As far as other VA loan fees go, the Department of Veterans Affairs allows only certain charges on VA home loans. The VA allows the following fees:
Origination Fee of 1%
VA Funding Fee (unless exempt)
Reasonable Interest Rate Discount Points
VA Appraisal Fee
Credit Report Fee
Prepaid Fees for Escrow (e.g. taxes, insurance, etc.)
Any Other Closing Costs (e.g. title insurance costs, recording fees, etc.)
QUICK FACT: You or your real estate agent can ask the seller to pay many of these VA loan fees in your purchase offer. If agreed, the seller can pay up to all your closing costs and 4% concessions.
Finding the Right Loan for You
Buying a home is probably the biggest purchase an individual or couple will ever make in their lifetime. Finding the right program, researching rates and understanding the costs involved are important parts of obtaining a home loan. With the introduction of new laws and organizations overseeing the home loan industry, resources are now readily available to step potential homebuyers through the process from start to finish.
To help borrowers negotiate rates, HUD has published an online booklet that borrowers can use to understand the importance of asking not just for a rate quote, but also for points, fees, down payment estimates and mortgage insurance requirements. To learn more, click here.
Another useful tool is from the Consumer Financial Protection Bureau (CFPB). This government agency was created after the mortgage crisis of 2008 to make consumer financial markets work for consumers, responsible providers, and the economy as a whole. The CFPB recommends getting quotes from three or more lenders so you can see how rates and fees compare. They offer worksheets at http://www.consumerfinance.gov/owning-a-home/process/compare/
The CFPB also has a loan calculator that can help you understand how a lower rate doesn't always save you money, because it almost always comes with a higher fee. The page also has great tips for buyers who plan to buy now or later. This tool can be found at http://www.consumerfinance.gov/owning-a-home/explore-rates/
LEARN MORE NOW: To get connected to a VA loan specialist with experience in VA, FHA and conventional loans for Veterans and active military members, click here.
Veterans First is a trade name of Wintrust Mortgage, a division of Barrington Bank & Trust Company, N.A., a Wintrust Community Bank. I NMLS# 449042 I Equal Housing Lender