It's almost impossible to imagine the modern military-veteran community without its slate of vet-owned T-shirt companies.
Today's veterans, of course, are not the trailblazers for the popularization of graphic tees. But their World War II-era forebears were.
It all started with the July 13, 1942, cover of Life Magazine, which featured an Army Air Corps aiman in his training gear.
Nowadays, we would be hard-pressed to meet a vet who doesn't own at least one shirt emblazoned with a slogan or inside joke from their days of service. In the early 1940s, however, seeing men in tees was pretty uncommon, except among military members in training.
The soldiers training stateside for action in Europe and Japan would purchase athletic tees at their PX for wear during training on base. One airman, 23-year-old Cpl. Alexander LeGerda, was captured on film during this kind of training.
Sporting his aerial gunnery school T-shirt and a .30-caliber machine gun, his image was snapped by Life photographer Eliot Elisofon at the Las Vegas Army Air Field.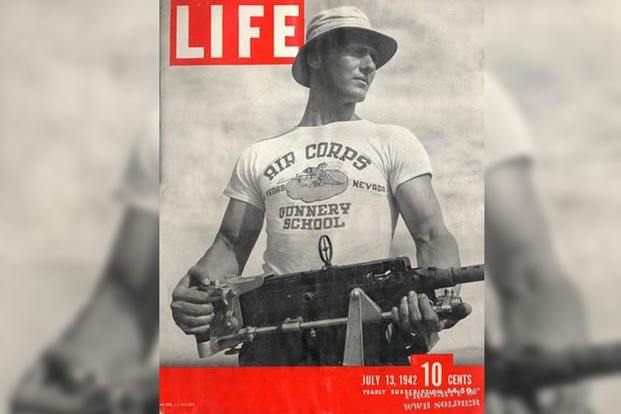 A native of Allentown, Pennsylvania, LeGerda's image ended up on the cover of the magazine. He was the first person ever to be photographed for a major publication while wearing an athletic T-shirt.
LeGerda's shirt was made by the American Athletic Company, based in Los Angeles, and the graphics were printed onto it. This included the lettering, as well as a winged horned toad firing its own .30-cal. machine gun.
These kinds of T-shirts were soon standard issue for military members. For decades after, they were marketed as military-style wear. Still, they were meant to be worn only as undergarments and training wear.
While the military's use of the tees popularized the wear of athletic-style apparel, it wasn't until Marlon Brando wore one in "A Streetcar Named Desire" and James Dean sported a white tee in "Rebel Without a Cause" that the T-shirt became a fashion statement -- and everyday wear.
In the 1970s, T-shirts really escaped their straight-laced military roots. The iconic "smiley face" tee worn by hippies in the counterculture movement is the best example of the spread of the T-shirt as a statement of personal expression.
Graphic tees, of course, carry designs for everything from political campaigns to brand advertising.
There is one important difference in how T-shirts were made for the U.S. military during World War II, however. The special looms designed to create athletic tees created one complete tube, so 1930s- and 1940s-era T-shirts have no side seams; they're a single piece with sleeves.
As for LeGerda, he would end up with the 94th Bomber Group, 8th Air Force, flying as a gunner in B-17 Flying Fortresses. He survived the war, leaving the military as a sergeant. He would return to his native Allentown, the first local resident to have been on the cover of Life Magazine. He died in 1998 at age 79.
-- Blake Stilwell can be reached at blake.stilwell@military.com.
Want to Learn More About Military Life?
Whether you're thinking of joining the military, looking for post-military careers or keeping up with military life and benefits, Military.com has you covered. Subscribe to Military.com to have military news, updates and resources delivered directly to your inbox.