Holland Pratt was a trainee during Cadet Summer Training at the U.S. Military Academy at West Point, New York, the first time that she encountered the Slide for Life.
As she climbed her way toward the start of the ominous-sounding exercise -- in which cadets slide down a zip line before letting go over a lake -- Pratt found herself challenged, intimidated and excited. Once she splashed into the water, another sensation engulfed her: confidence.
Now a rising senior and a commander cadet who is helping lead underclassmen during summer training in 2021, she saw younger cadets take their turn on the Slide for Life. One response stood out.
"The trainee gets out of the water, and they look at me with wide eyes and say, 'I cannot believe I just did that,''' Pratt said.
Summer is not a restful period at West Point. Every class there is involved in some exercises at summer training, beginning with Cadet Basic Training, or CBT, for incoming freshmen from June 26 to Aug. 9 at West Point. Cadet Field Training, or CFT, for rising sophomores started May 21 and will end June 30 at Camp Buckner, about eight miles southwest of West Point.
A cadet's final two summers before graduation normally include Cadet Leader Development Training, which is scheduled for July 8-28 at Camp Buckner; Cadet Troop Leader Training, during which cadets shadow platoon leaders here and abroad; and completing a military school -- normally air assault or airborne school, said Lt. Col. Adam Sawyer, who handles logistics and planning for summer training. West Point did not receive any airborne slots this year because of COVID-19.
Every upperclassman also must serve as a cadre member leading trainees.
Col. Alan Boyer, director of the Department of Military Instruction at West Point, considers Cadet Summer Training vital to the "47-month experience,'' spanning the time that cadets first step on campus until they are commissioned as second lieutenants upon graduation. "The most important thing we do in the summer is teach leadership, followership and instill the warrior ethos,'' Boyer said.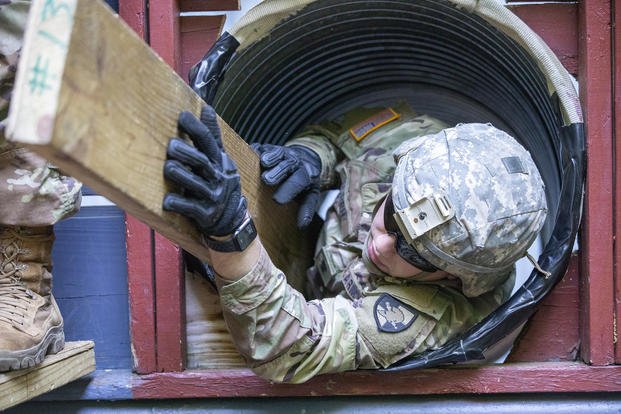 Skills taught at basic training are more individually focused, such as shooting a rifle, throwing a hand grenade, rappelling and undergoing the gas chamber -- during which cadets are exposed to a controlled amount of tear gas. Field training leans toward team-based activities, including a three-day overnight field exercise and a four-person team live-fire drill.
While the cadre consists of upperclassmen leading younger cadets, Task Force 2nd Battalion 87th Infantry Regiment from 2nd Brigade, 10th Mountain, at Fort Drum, New York, is overseeing the military tasks during CBT and CFT this year. The Sabalauski Air Assault School at Fort Campbell, Kentucky, is supporting six courses at West Point from June 21 to Aug. 7.
"They're sponges,'' Sawyer said of trainees. "They really want to hear what these sergeants and NCOs, active duty from Task Force 2-87, are going to teach them not only about the military tasks but about being in the Army, leading soldiers.''
A military history major from Spokane, Washington, Pratt said being thrown into complex instructions and relying on others to problem-solve promotes teamwork and builds a higher level of trust.
The constrained time frame increases the intensity.
"It's definitely surreal being in a leadership position now and looking back on being a trainee in this environment,'' Pratt said. "The academic year has its own challenges. But when you're out in the woods and you're getting down with it, the weather is not the best and the conditions, the training is really pushing you to your limits, you learn a lot about yourself and the classmates around you.''
Command Sgt. Maj. Alex Denha, a rising senior, said cadets learn how to handle being uncomfortable during the summer. They also discover they can do more than they think, along with one more important realization: Nothing beats a good, reliable teammate.
"We allow cadets to feel their way through this training environment,'' said Boyer, who is in his 25th year in the Army. "They'll get it right and will impress the heck out of me a lot of times, and sometimes they'll get it wrong and they learn very, very valuable lessons.''