It was a day like any other day. Dwight Johnson was on his way to the nearby corner store to get some food for his infant son. When he walked in the store that day in April 1971, he accidentally walked in on the store being robbed. That's when the storekeeper shot him to death.
While he was in Vietnam, he seemed impervious to bullets. Dwight Hal Johnson wasn't gunned down until he left his home to go to the nearby liquor store at the wrong time.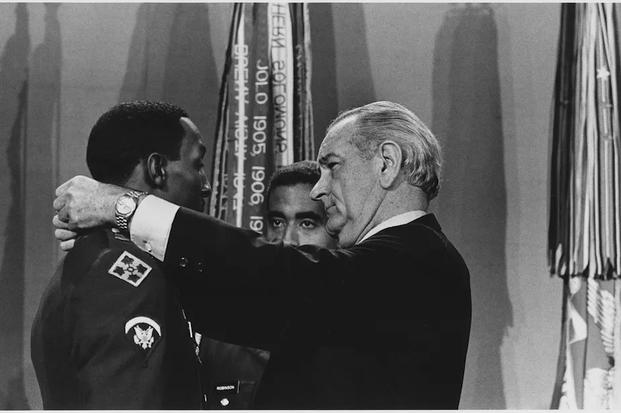 In 1968, Army tank driver Spc. Dwight Johnson was part of a reaction force near Dak To, in Vietnam's Kontum Province. With his platoon in the middle of fierce combat with North Vietnamese regulars, Johnson's tank threw a track. It would not move. With friendly forces to his rear, and a heavily entrenched enemy coming at him, a regular person might have told Johnson not to leave the safety of the tank and just wait. That wasn't Johnson's style.
Since Johnson was unable to drive the tank, he figured it was time to stop being a driver. He grabbed his pistol and hopped out of it. He cleared away some of the enemy from the perimeter, and then hopped back into the tank, somehow not getting hit by the hail of enemy gunfire and rockets. He had just run out of ammo.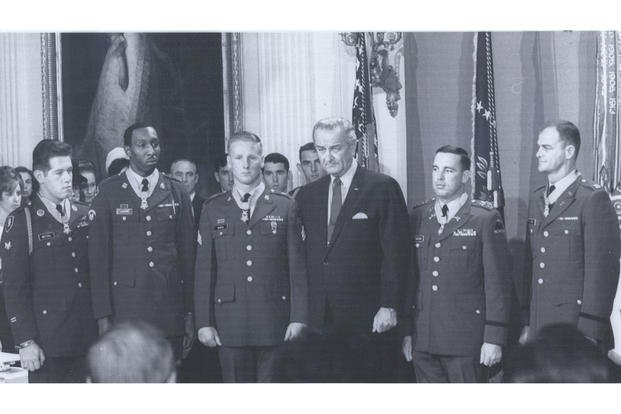 He tossed his pistol down and grabbed a submachine gun. Returning to his former position, he began to take out more of the oncoming enemy fighters. Unconcerned with the situation being a well-planned and well-placed ambush, he stayed put, killing the enemy until he ran out of ammo again. After he used the stock of his rifle to kill one more, he moved to his platoon sergeant's tank, carried a wounded crewman to a nearby armored personnel carrier, then went back to the tank to get a pistol so he could fight his way back to his own tank. Again.
Instead of hopping in, however, he mounted the .50-cal on the back of the tank, using the heavy machine gun to force the enemy back and end the ambush while protecting his wounded comrades in arms. For most of the time, he was engaged in close quarters combat, vastly outnumbered by an often-unseen enemy, Spc. Johnson was carrying only a Colt .45 pistol to defend himself.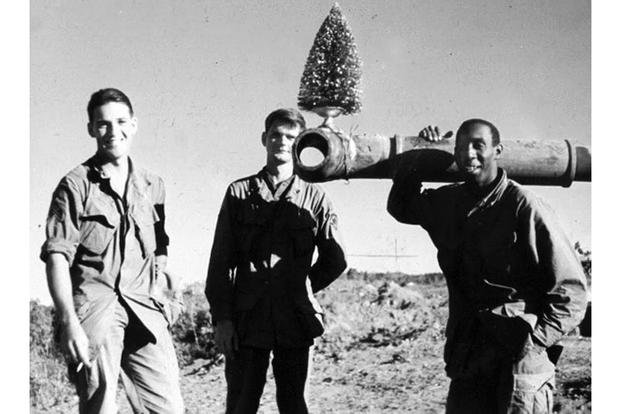 Growing up in some of Detroit's rough neighborhoods gave Johnson an edge in keeping his cool under fire. Johnson never quit, never left anyone behind and fought an enemy who outnumbered him 10 to one while restoring American dominance to a situation that got out of hand. Sadly, it was those same mean streets that would do him in just a few years after coming home from Vietnam.
A Medal of Honor recipient, Johnson struggled with regular life when he returned home, as most veterans did and still do. He struggled with debt and depression until he walked into the Open Pantry Market on April 30, 1971, just one mile from his home. The store owner saw that Johnson was a Black man -- just like the ones robbing his store -- and shot one of America's heroes four times, killing him. Johnson was later buried in Arlington National Cemetery. The store owner was never brought up on charges for the killing.
More posts from We Are the Mighty:
Why getting in trouble early makes you a better leader
The ridiculous anatomy of most Army Reserve drill days
7 real excuses troops use that no NCO ever believes
We Are The Mighty (WATM) celebrates service with stories that inspire. WATM is made in Hollywood by veterans. It's military life presented like never before. Check it out at We Are the Mighty.
Want to Learn More About Military Life?
Whether you're thinking of joining the military, looking for fitness and basic training tips, or keeping up with military life and benefits, Military.com has you covered. Subscribe to Military.com to have military news, updates and resources delivered directly to your inbox.