On Sunday morning, Feb. 4, 1968, Marine Corps Sgt. Alfredo Cantu "Freddy" Gonzalez and his buddies were striding uneasily through Hue City, as the Tet Offensive raged like a forest fire all across the Vietnamese countryside. Tet took U.S. military commanders by total surprise, because it was a holiday for the Vietnamese—their New Year.
Gonzalez was a member of Alpha Company, when the roughly 100 men arrived from nearby Phu Bai to check things out--to find out if intelligence reports of an enemy build-up there were accurate. They were joined by Australian troops, with a total number of about 200 men in the ancient imperial city of Hue.
Gonzalez was given the Medal of Honor posthumously, after being killed defending his platoon—3rd Platoon, AKA Third Herd—even after being ordered by his company commander, through combat-hardened vet, Gunnery Sgt. John Canley, to evacuate for medical treatment.
"Sgt. Canley…I told him to go relieve Gonzalez and later he came back to me and said `Lt. Smith, I will go and follow Gonzalez around if you want me to, but Gonzalez is in command of third platoon,'" said Ray Smith, now a retired Marine Corps general. Even a tough Marine like Canley was impressed by Gonzalez and his leadership qualities at a critical moment in the Vietnam War.
Into Enemy Fire
When the platoon of 30 or so men reached the St. Joan of Arc Catholic Church inside Hue, they were hit hard on all sides by the enemy forces.
To help distract enemy fire away from his pinned-down platoon, Gonzalez grabbed a dozen or so light anti-tank weapon (LAW) rockets from his men, climbed a stairway of the church school, and ran through an open school room door. He fired all his rockets, suppressing enemy fire long enough to save the platoon from total annihilation. Then, the NVA fired back and hit him in the mid-section, blowing his body in two pieces—the legs were on one side of the small room, and his torso and head on the other, as Navy Corpsman Jim O'Konski arrived on scene to assess the damage.
"He was still breathing, and his eyes were open, but he tried to say something and he knew he was a goner, and while he was still alive I administered morphine and then more enemy rounds were hitting all around the doorway, so I ran out to get away. I've always been haunted by that moment, leaving him while he was not yet gone," O'Konski said, in an October 2006 meeting with Gonzalez's mother in her hometown of Edinburg, Texas. He cried and hugged Ms. Gonzalez, and said later it seemed like she absolved him of all guilt.
"He Gave One Hundred Percent"
Ms. Gonzalez, now almost 90, only had one child and the father was married with another family, so she raised Freddy alone, on the wages of a waitress and a farm worker. They were very close.
"I was 16 when he was born," Ms. Gonzalez said. "I almost died after the delivery, and so did he." But her boy would grow up to be fearless, and strong. "He was the soul of our football team," said former Edinburg High coach Fred Akers—also a legendary coach in later years at University of Texas at Austin.
"He wasn't fast, or big, but he gave one hundred percent on every play," Akers said, remembering Gonzalez. "He was the best player I ever coached because of his heart, and he gave his all, and so the team rallied around him when the times were bad."
The Marine Corps has announced that Sgt. Canley, now 80, will soon be given the Medal of Honor—a step up from the Navy Cross he received for courageous actions at Hue. Somewhere Gonzalez must be smiling. He was the type of guy who would have been horrified to be given the top medal when he saw so many other fellow marines, like Canlye, doing brave things daily. Some gave their lives, and Gonzalez was there to see it. This only hardened his resolve.
The following is Canley's account of the actions he saw up close, when he had time to observe Gonzalez:
On the morning of 31st of January, Company A was assigned the mission as a reaction force. On that day Sergeant Gonzalez was acting platoon commander of the 3rd Platoon. The company moved by truck but because of enemy activity in (Phu Bai), the company was forced to move by foot. Sergeant Gonzalez's platoon was assigned the mission of searching and clearing the east side of Highway 1 North. On many occasions, I observed Sergeant Gonzalez move throughout his platoon sector under sniper fire to direct and control the platoon, showing no regard for safety of his life.
The company mounted up on tanks to cross the south river (Perfume River) into Hue. Thirty meters on the north side of the river the company was surprised by enemy rocket and automatic (machine gun) fire. A Marine was hit with the automatic fire in the leg. I observed Sergeant Gonzalez go out in an open area under fire to retrieve the same Marine to cover. In doing so, Sergeant Gonzalez was hit with shrapnel from a rocket. He refused treatment in order to keep his platoon moving. The next mission for the Third Platoon was to take the point for the company. Company A was held up on Highway 1 west of the radar station when the lead tank commander and the company commander (Smith) was hit with sniper fire. There were snipers in the houses on the east and west side of the road. There was a bunker on the west side of the road with an automatic weapon in it firing south down the road.
I observed Sergeant Gonzalez move his platoon up on the east side in the rice field to a dike across from the bunker. Sergeant Gonzalez moved from the dike to the road and knocked out the bunker with four hand grenades. In moving to the dike, one Marine was killed by a sniper from their rear. On 3 February 1968 Sergeant Gonzalez was wounded by shrapnel from enemy 60 mm mortar fire in both arms and his left leg, but still kept on going. On 4 February, the company came under heavy automatic and rocket fire. Sergeant Gonzalez exposed himself several times to fire eight or ten LAW's while under automatic enemy fire.
"I'll Come Out of This Just Fine"
On Jan. 24, 1968, Gonzalez wrote to his mother after learning that a friend of his from Texas had died in combat, and he wanted to try and somehow prepare her for his own death—he felt it coming.
"Mother, I was shocked to hear that Victor got killed, but it's things that will happen in war. Mom please don't worry about me, cause I'll come out of this just fine. Remember what I told you before I left, that I would come back all right. I hope all the people back home remember Victor, cause he didn't give his life for nothing. It was in the line of duty. His life was given willingly, rather than taken. That's the way I want you to think…"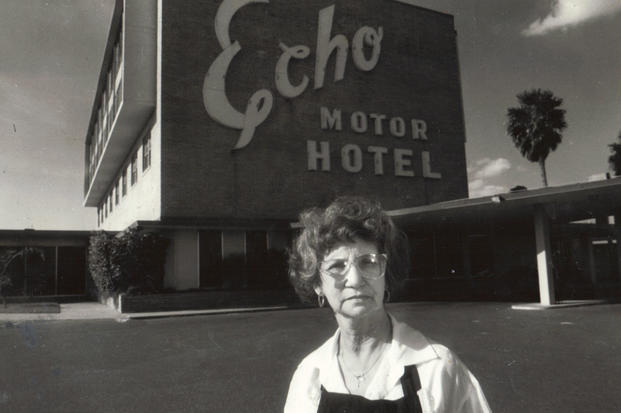 Her letters in reply were sent back, marked "return to sender" in blood red letters. She was terribly alarmed, and while at work one day, waitressing at the City Café, a Marine in dress uniform walked in, and she knew. He approached her, with a local law enforcement escort.
"I saw him and just collapsed," she said. "(Freddy) was my whole world. But when the Navy commissioned a warship named for him, it gave me a lot of sons and daughters. They look after me, and I try to take care of them. The Navy and Marines have been very good to me."
Ms. Gonzalez has a marker in Hillcrest Memorial Cemetery just outside downtown Edinburg, and it is right beside her boy's grave. She visits it often, even in her old age. She was proud to hear about Sgt. Canly getting the nod for a Medal of Honor this year—finally. He is one of her boys, and she's seen him and other survivors of Hue City in annual reunions over the decades.
"We're not promised happiness in this life, only in the next," she said, quoting St. Bernadette, as she wiped away tears at her Edinburg home—a photo of her young son in dress uniform on the living room wall. It's the same home she bought in 1969 with the $10,000 death benefits from the VA.
"I still miss him, and it seems like he's just been away for a long time. I will see my boy again," she said.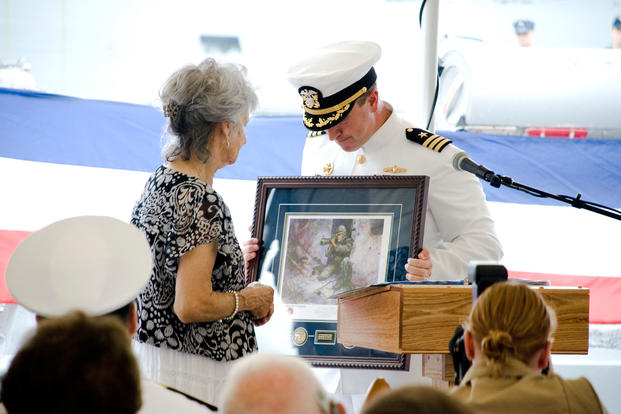 John W. Flores, an author and disabled veteran, is a former investigative reporter who has been published in several newspapers in Texas. In Aug. 2009, he was presented the U.S. Navy Meritorious Public Service Award, signed by Marine Corps Commandant James T. Conway, at the 4th Recon Battalion in Albuquerque, NM.