Imagine being a reporter covering President Lyndon Baines Johnson as he boards Air Force One on a hot Texas day. As he talks to reporters on the plane, he slowly begins to shed his clothing. Soon, the president of the United States is as naked as a jaybird, waving a towel for emphasis.
It happened. In fact, a lot of history happens aboard the iconic blue and white aircraft. It's just the nature of being synonymous with the leader of the free world.
Operated by the 89th Airlift Wing out of Joint Base Andrews, Maryland, there are actually two specially modified military versions of the Boeing 747-200B, known as VC-25A.
But they earn the Air Force One call sign only while the president is aboard; in fact, any plane carrying the president will be designated as Air Force One, no matter what kind of aircraft it is. Planes carrying the vice president are designated as Air Force Two.
When VC-25A or the currently under development VC-25B are in the air but not carrying the president, air traffic controllers may refer to them by their tail numbers, Special Air Missions (SAM) 28000 and 29000, or by a call sign of their choosing.
Related: Military Moves Forward with Plan to Make Air Force One Supersonic
As these two planes reach retirement age, the Air Force has already made plans for their replacements, converted Boeing 747-8 airliners. The VC-25A have one of the heaviest maximum takeoff weights of any Boeing airliner and are the longest in its fleet (until their replacements come along, that is).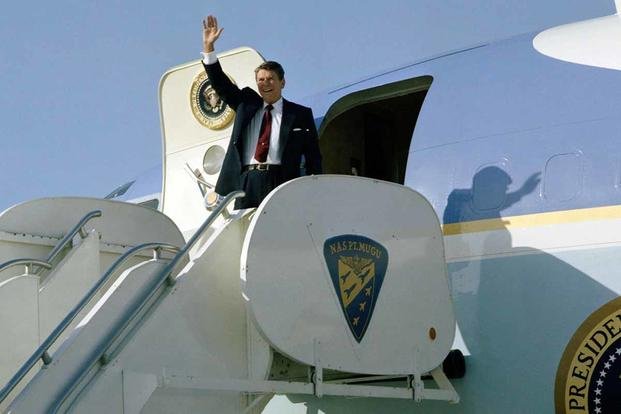 The History of 'Air Force One'
Franklin D. Roosevelt was the first sitting U.S. president to fly in a plane. During World War II, he flew on a special Pan Am flight to attend the first planning meeting between Allied powers in Casablanca, Morocco. The Secret Service was not thrilled to know the president of the United States was flying commercial.
By the time FDR flew again, it was 1945 and he was headed to the Yalta conference on a specially built Douglas VC-54C nicknamed "Sacred Cow." It wasn't until a near-tragic in-flight mix-up in 1953 that the Air Force gave the president's plane a special call sign. Thankfully, it opted against going with "Sacred Cow."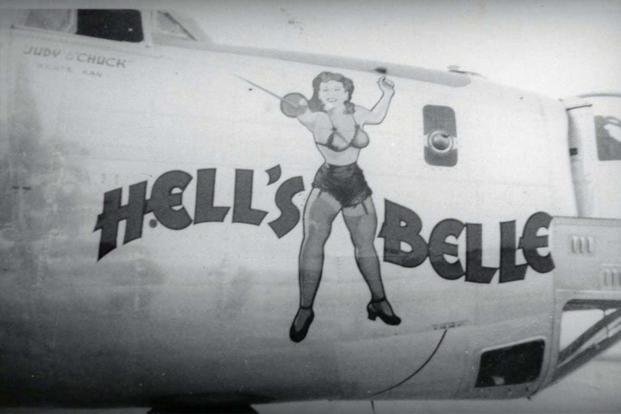 Eastern Airlines' Flight 8610 nearly collided with Air Force Flight 8610 over New York City. When air traffic controllers learned AF 8610 was carrying then-President Dwight D. Eisenhower -- and they had almost killed him -- they quickly decided a special name for any plane carrying the president was necessary. "Air Force One" was created.
Air Force One's Special Features
We can't list all of the special features of the president's plane here because a lot of them are classified. But the aircraft has come a long way since FDR's "Sacred Cow."
In 1959, Eisenhower commissioned three Boeing 707s to become the first jet aircraft designed for the president. Air Force One, as we know it today, began to take shape.
Ike had the interiors of these aircraft modified for comfort and advanced communications equipment, features included in later designs. In 1962, a C-137C specially purposed for regular use by the president -- and only the president -- entered service.
That plane was SAM 26000 and served the Kennedy, Johnson and Nixon administrations. In 1972, SAM 27000 entered service until it was retired by President George W. Bush in 2001.
All of the president's planes are designed to be a "Flying White House."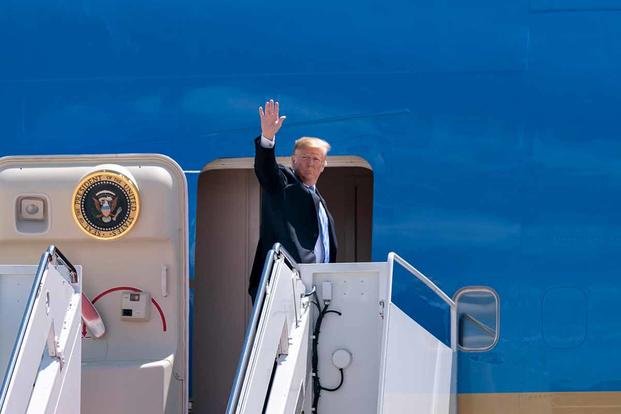 The VC-25A planes used as Air Force One are the most well-equipped and well-defended aircraft flying. Ready for business (with 85 phone lines) or wartime (they really can withstand a nuclear blast on the ground), today's Air Force One planes have 4,000 square feet of space for up to 76 passengers and a crew of 26. They each boast two galleys, with stocked fridges; a medical department; a supply of blood; and a well-stocked pharmacy.
For the president, each plane is equipped with a private suite that has a small gym, bathroom, shower and sleeping quarters. Each has a flying Oval Office and its own situation room. Their defenses include electronic countermeasures, radar jamming and flares to confuse enemy missiles. They are also protected against electromagnetic pulses.
The planes even have their own side exit doors, so they don't have to rely on airport stair vehicles.
The Look of Air Force One
Until the delivery of SAM 26000 (pronounced "2-6-thousand," if you want to be down with the lingo), the president's plane was designed for any VIP, not just the president.
With the arrival of a plane that would be synonymous with the office, the sitting first family believed a few design changes were necessary for a democratically elected leader, meaning the Kennedys thought the red on the aircraft looked too "imperial."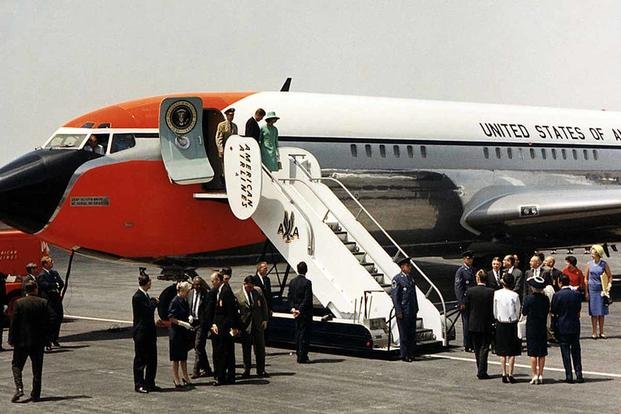 The Kennedys commissioned designer Raymond Loewy (who also created the curved Coke bottle) to redesign the plane's exterior. The same design extends to today's VC-25A aircraft, as well as smaller aircraft acquired for runways too small to accommodate the primary presidential planes.
The new 747-8 planes being specially built for the president may look a little different. On Boeing's Air Force One website, the photo of the new 747-8 features a more subdued blue along with a return to red, albeit a different shade.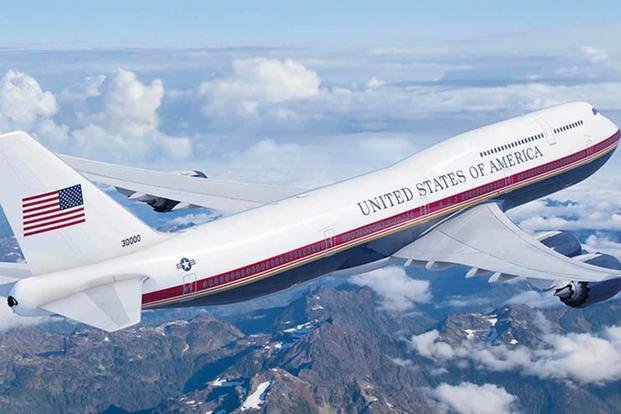 The interiors have undergone a lot of changes as well. The interiors of today's Air Force One planes, SAM 28000 and 29000, were designed by first lady Nancy Reagan, who used the American Southwest for inspiration. The Reagans would not fly on the new planes as president and first lady, as the first was delivered to President George H.W. Bush in 1990.
Air Force One Facts
LBJ loved flying on SAM 26000, logging more than a half-million miles all over the world as president. Stories about him, such as the infamous naked press conference, abound:
After he complained about the cabin temperature too many times, the crew installed a fake thermostat for him to use. He stopped complaining.
Johnson had doggie doors installed for his dogs to come and go from the conference room.
He designed the office to have a giant leather chair surrounded by couches that people would gather around to work. Aides dubbed it "The Throne."
SAM 26000 delivered his remains to his Texas home after his death in 1973.
President Richard Nixon turned a United Airlines DC-10 into Air Force One when he took a commercial flight from Washington, D.C., to California in 1973 to save fuel during the gas crisis. He is also the only president to take off in Air Force One but land on SAM 27000. The VC-137C carrying Nixon took off as Air Force One but changed its designation to SAM-27000 somewhere over Kansas City, Missouri. It marked the moment his resignation went into effect, and the aircraft was no longer carrying the president of the United States.
Presidents will send SAM aircraft to ferry former presidents to special events as well. This can be for any state event or official function.
After the assassination of President John F. Kennedy, the crew refused to put the casket of the slain president in the cargo hold. Instead, they used a hacksaw to cut away part of a forward bulkhead along with four rows of seats so he could return home in the main cabin.
When President Gerald Ford sent SAM 26000 to pick up President-elect Jimmy Carter for his inauguration, Carter was so excited that he forgot to take his mother with him.
President Ronald Reagan sent three former presidents to Egypt on SAM 26000 for the funeral of Anwar Sadat. The old rivals got into a heated exchange on the flight. It was former President Nixon who finally calmed everyone down.
Reagan also sent Carter to Wiesbaden, Germany, aboard SAM 26000 to greet the hostages freed from captivity in Iran in 1981.
SAM 26000 carried President Nixon's remains to his childhood home in California after his death in 1994.
While the plane may seem like the lap of luxury for those aboard, it's not a free ride. Members of the media press pool traveling with the president must reimburse the government for the cost of travel. Secret Service rules also forbid anyone from going forward of their assigned seat. They can move freely only to the rear of the plane. To address the media aboard the plane, the president must walk back to them. Journalists board the plane in the rear.
There is a "Navy One" to go along with Air Force One and Marine One, the presidential helicopter. Navy One would be any Navy aircraft carrying the president. So far, the only Navy One aircraft was a Lockheed S-3 Viking transporting President George W. Bush to the USS Abraham Lincoln to give his now-famous "Mission Accomplished" speech.
It costs more than $200,000 per flight hour to fly the current planes because of their age. The new Air Force One program will cost the United States $3.9 billion, but President Trump will never see his proposed design changes as president. They aren't scheduled for delivery until 2024.
-- Blake Stilwell can be reached at blake.stilwell@military.com. He can also be found on Twitter @blakestilwell or on Facebook.
Want to Know More About Veteran Jobs?
Be sure to get the latest news about post-military careers, as well as critical info about veteran jobs and all the benefits of service. Subscribe to Military.com and receive customized updates delivered straight to your inbox