See also: African American Contributions in the Military.
Dating all the way back to the American Revolution, African Americans have played key roles in the history (and success) of the U.S. military. Profiled below are some notable African Americans and their achievements, as well as milestones in the integration of African Americans in the U.S. military.
Crispus Attucks, First African American Casualty of the American Revolution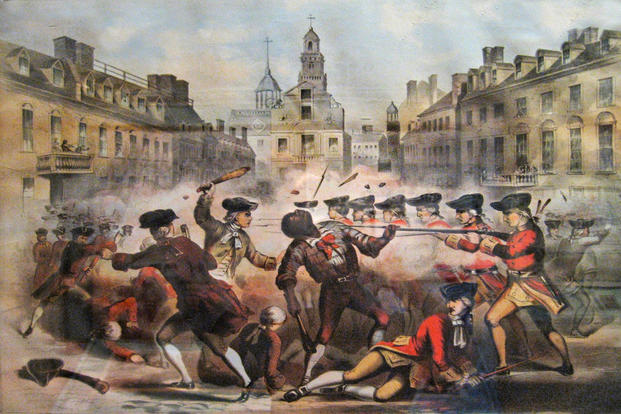 Amid rising tensions between colonists and British soldiers, on March 5, 1770, a crowd of colonists confronted a sentry who had chastised a boy for complaining that an officer did not pay a barber bill. Both townspeople and a company of British soldiers of the 29th Regiment of Foot gathered. The colonists threw snowballs and debris at the soldiers and the soldiers opened fire on the crowd. Five colonists were killed, and six were wounded. Attucks took two ricocheted bullets in the chest and was believed to be the first to die.
Buffalo Soldiers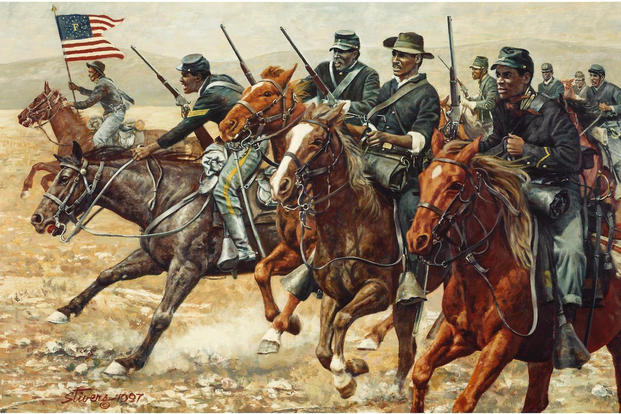 Buffalo Soldiers originally were members of the 10th Cavalry Regiment of the United States Army, formed on Sept. 21, 1866, at Fort Leavenworth, Kansas. This nickname was given to the Negro Cavalry by Native American tribes who fought in the Indian Wars.
Although Native Americans bestowed the name upon the troopers, there are three major theories surrounding the origin of the name. One suggests the name was acquired during the 1871 campaign against the Comanches, when Indians referred to the cavalrymen as "Buffalo Soldiers" because of their rugged and tireless marching. Other accounts state that Native Americans bestowed the nickname on the Black troopers because they believed the hair of the Black cavalrymen resembled the hair of the buffalo. Another suggests that the name was given because of the buffalo-hide coats worn by the soldiers in cold weather.
On Sept. 6, 2005, Mark Matthews, the last living Buffalo Soldier, died at the age of 111. He was buried at Arlington National Cemetery.
369th Infantry Harlem Hellfighters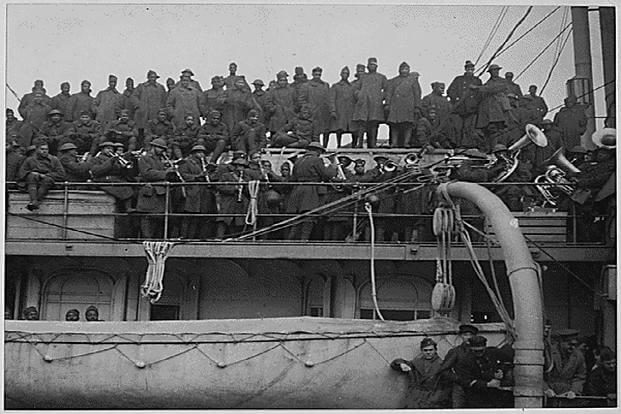 Among the first U.S. regiments to arrive in France for World War I, and among the most highly decorated when it returned, was the 369th Infantry (formerly the 15th Regiment New York Guard), more gallantly known as the "Harlem Hellfighters." The 369th was an all-black regiment under the command of mostly White officers, including commander Colonel William Hayward.
General John J. Pershing assigned the 369th to the 16th Division of the French Army, where they helped repel the German offensive and launched a counteroffensive. The Harlem Hellfighters fought at Chateau-Thierry and Belleau Wood, with a total of 191 days in combat -- longer than any other American unit in the war.
"My men never retire, they go forward or they die," said Col. Hayward. Indeed, the 369th was the first Allied unit to reach the Rhine.
The extraordinary valor of the 369th earned them fame in Europe and America. Newspapers headlined the feats of Cpl. Henry Johnson and Pvt. Needham Roberts. In May 1918, they were defending an isolated lookout post on the Western Front, when they were attacked by a German unit. Though wounded, they refused to surrender, fighting on with whatever weapons were at hand. They were the first Americans awarded the Croix de Guerre, and they were not the only Harlem Hellfighters to win awards; 171 of its officers and men received individual medals, and the unit received a Croix de Guerre for taking Sechault.
Untold Stories of the Harlem Hellfighters
African-Americans in World War I
Doris 'Dorie' Miller, WWII Navy Cross Recipient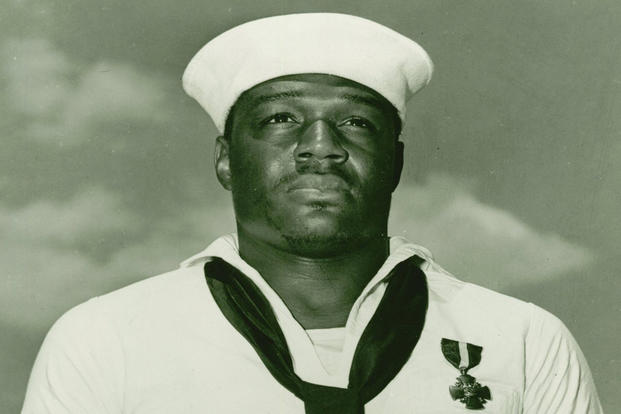 Doris Miller, who went by "Dorie," was one of the first heroes of World War II and was awarded the Navy Cross for actions during the 1941 attack on Pearl Harbor. His face was even used on a recruitment poster.
Miller was presented with the Navy Cross by Adm. Chester Nimitz, commander of the Pacific Fleet, in a ceremony on the aircraft carrier Enterprise. Miller's bravery was cited as follows:
While at the side of his Captain on the bridge, Miller, despite enemy strafing and bombing and in the face of a serious fire, assisted in moving his Captain, who had been mortally wounded, to a place of greater safety, and later manned and operated a machine gun directed at enemy Japanese attacking aircraft until ordered to leave the bridge. Miller was killed in action two years later when his ship, the USS Liscome Bay, a Casablanca-class escort carrier, took a Japanese torpedo.
Video: Remembering Dorie Miller
Benjamin O Davis Sr., first African American General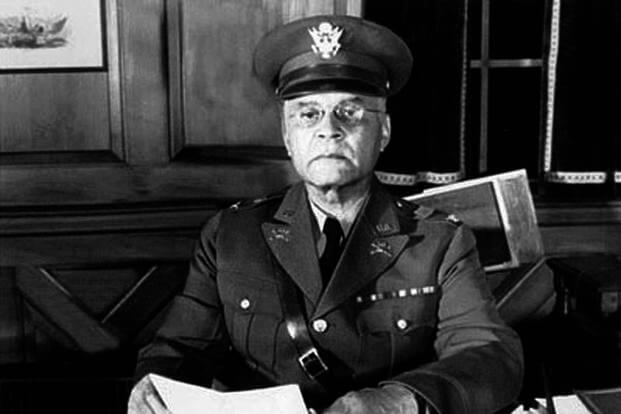 On Oct. 25, 1940, Benjamin O. Davis Sr. became the first African American to hold star rank in the U.S. Army and in the armed forces. He was promoted to brigadier general, temporary -- a situation with which he was all too familiar, as his promotions to major, lieutenant colonel and colonel had all originally been "temporary." Such was the situation for Black officers in Davis' day -- all two or three of them.
Davis' service as an officer with the famed "Buffalo Soldiers" regiment in the Philippines and on the Mexican border was exemplary, yet his subsequent assignments as a college ROTC instructor and as a National Guard adviser were far from the front lines. All of his postings, including duty as the military attache to Liberia, were designed to avoid putting Davis in command of White troops or officers.
As an adviser on race relations in the European theater during World War II, Davis, as his Distinguished Service Medal citation relates, showed "initiative, intelligence and sympathetic understanding" while conducting investigations, bringing about "a fair and equitable solution to problems which have since become the basis of far-reaching War Department policy."
Davis's slow, steady, and determined rise in the Army paved the way for countless minority men and women -- including his son, Benjamin O. Davis Jr.
Full Profile: Benjamin O. Davis, Sr.
Benjamin O Davis Jr., Commander of the Famous Tuskegee Airmen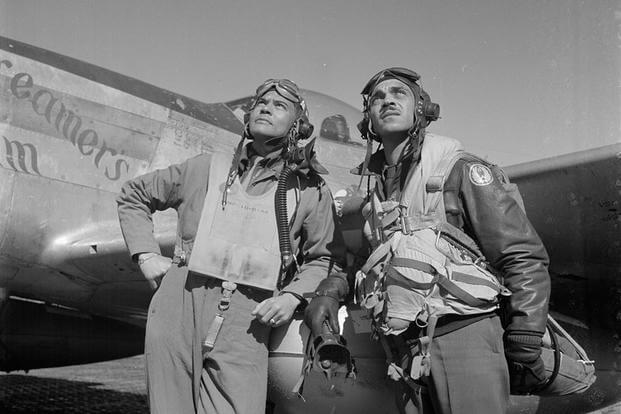 On Dec. 9, 1998, an Air Force general was awarded his fourth star, making him a member of that service's small circle of highest-ranking officers. However, as the first African American officer to receive this honor in retirement, Gen. Benjamin O. Davis Jr. is a member of an even smaller group. Founder and commander of the Tuskegee Airmen, 33-year veteran of three wars and son of the Army's first Black general, Davis is "a great warrior, a great officer and a great American," as Defense Secretary William S. Cohen said when Davis received his fourth star.
Davis Jr. was determined to fly, but after four years of being "shunned" (spoken to only for official reasons) as West Point's only Black cadet, he found that even his standing as 35th in the 276-member Class of 1936 could not convince the Army Air Corps to allow him to enter flight training.
However, after President Franklin D. Roosevelt promoted the elder Davis to brigadier general, he ordered the Army Air Corps to create a flying organization for colored troops. Davis Jr., the only living Black West Point graduate, was ordered from Fort Benning, Georgia, to Tuskegee Army Air Field in Alabama.
Although critics and early reviews reported that "the Negro type has not the proper reflexes to make a first-class fighter pilot," Davis used a combination of political diplomacy and professional action to convince detractors that his men were more qualified than some and braver than most. Their March 24, 1945, escort mission to Berlin, resulting in three direct kills and no loss of friendly bombers, is legendary.
Full Profile: Benjamin O. Davis Jr.
President Harry Truman's Executive Order 9981
Executive Order 9981 was an executive order issued on July 26, 1948, by President Harry S. Truman. It abolished racial discrimination in the U.S. Armed Forces and eventually led to the end of segregation in the services.
Samuel L. Gravely Jr., 1st African American Admiral in the Navy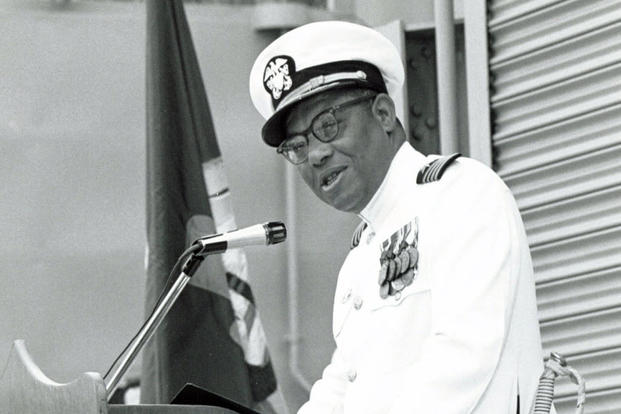 Vice Adm. Samuel Lee Gravely Jr. enlisted in the Navy Reserves on Sept. 15, 1942, and was trained as a fireman apprentice. In 1943, he participated in a Navy program (V-12) designed to select and train highly qualified men for commissioning as officers in the Navy.
As a newly commissioned ensign, his first duty assignment was at Camp Robert Smalls at the Great Lakes Naval Training Center, Illinois, as the assistant battalion commander for new recruits. After that, Gravely began his seagoing career as a sailor aboard the PC 1264, a submarine chaser that was one of only two World War II ships with a largely Black crew.
Gravely went from recruiting sailors to building a Navy career that lasted 38 years and included many distinguished accomplishments, including a string of impressive "firsts": the first Black to command a U.S. Navy warship ( USS Theodore E. Chandler); the first Black to command an American warship under combat conditions since the Civil War (USS Taussig); the first Black to command a major naval warship (USS Jouett); the first Black admiral; the first Black to rise to the rank of vice admiral; and the first Black to command a U.S. fleet (commander, 3rd Fleet).
Frank E. Peterson Jr., 1st African American Marine Corps Aviator and General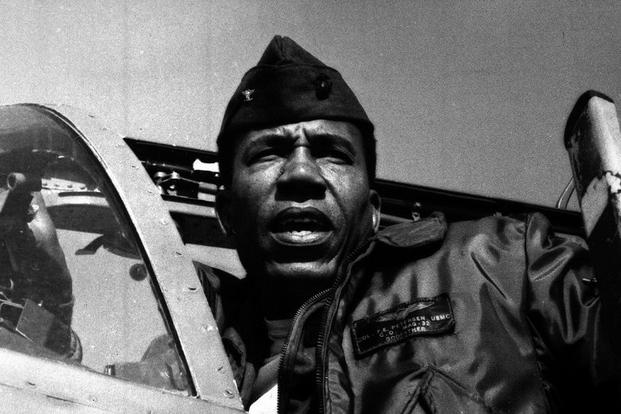 Peterson enlisted in the U.S. Navy in June 1950 as a seaman apprentice and served as an electronics technician. When Petersen aced the Navy's entrance exam, the recruiter told him he would make a "great steward." However, being motivated by the recent Korean War combat death of the Navy's first black aviator, Jesse L. Brown, in December, Petersen vowed to be a combat pilot.
In 1951, he entered the Naval Aviation Cadet Program. In October 1952, he completed flight training and accepted a commission as a second lieutenant in the Marine Corps. Petersen served a combat tour in the Korean War (1953) and Vietnam War (1968). His first tactical assignment was with Marine Fighter Squadron 212 during the Korean War. He flew more than 350 combat missions and had more than 4,000 hours in various fighter/attack aircraft. He held command positions at all levels of Marine Corps aviation, commanding a Marine Fighter Squadron, a Marine Aircraft Group and a Marine Aircraft Wing. He was also the first Black to command a fighter squadron, a fighter air group, an air wing and a major base.
On Feb. 23, 1979, he was promoted to brigadier general, becoming the first Black general in the Marine Corps. In May 1983, he advanced to the rank of major general, and on June 12, 1986, he was promoted to lieutenant general. Upon his retirement, he was presented the Distinguished Service Medal for exceptionally meritorious service as the commanding general, Marine Corps Combat Development Command, Quantico, Virginia, from June 1986 to July 1988.
On Feb 21, 2017, the keel was laid for the future guided-missile destroyer USS Frank E. Petersen Jr. (DDG 121) at Huntington Ingalls Industries shipyard, Pascagoula, Mississippi.
Gen. Peterson speaks about discrimination in the military in the following video:
In Memoriam: Gen. Frank E. Peterson Jr.
Hazel Johnson-Brown, First African American Female General in the US Army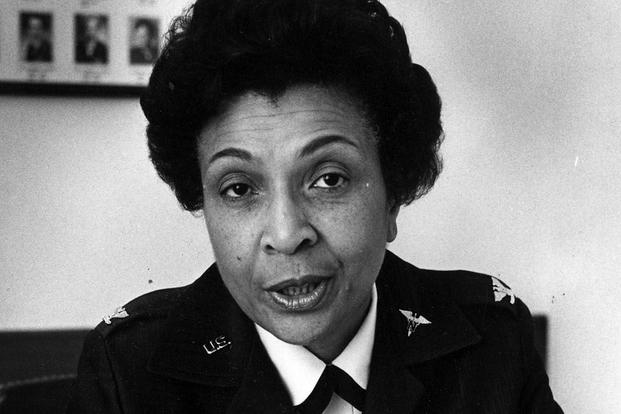 Hazel Winifred Johnson-Brown was a nurse and educator who served with the U.S. Army from 1955-1983. In 1979, she became the first Black female general in the U.S. Army and the first black chief of the U.S. Army Nurse Corps. She was also the director of the Walter Reed Army Institute of Nursing.
Hazel Johnson was born in 1927 in West Chester, Pennsylvania, one of seven children. Her application to the West Chester School of Nursing was rejected because she was Black. She moved to New York City, and enrolled in the Harlem Hospital School of Nursing in 1947.
Johnson-Brown enlisted in the Army in 1955. In 1960, Johnson-Brown become a first lieutenant and joined the Army's Nursing Corps. She was a staff nurse in Japan and chief nurse in Korea. She earned her bachelor's degree in nursing from Villanova University while enlisted, a master's degree in nursing education from Columbia University and a doctorate in education administration from Catholic University of America -- all while serving active duty in the Army.
In 1979, Johnson-Brown earned the rank of brigadier general, becoming the first Black female general in the United States Army to hold that rank. She was also the first Black chief of the Army Nurse Corps. Johnson-Brown served with distinction and stands as a testament to what grit and persistence can accomplish in the face of adversity.
Colin Powell, 1st African American Chairman of the Joint Chiefs of Staff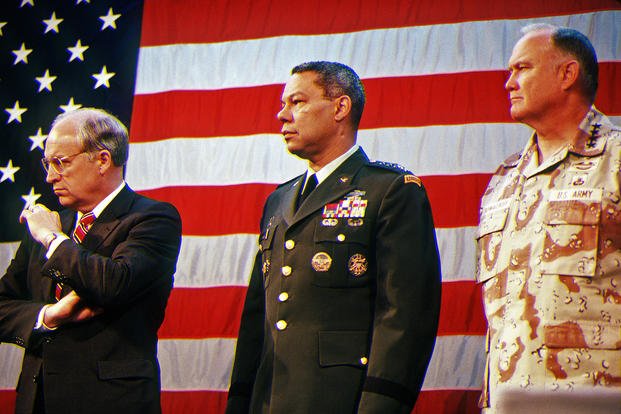 Colin Powell was the 10-year-old son of Jamaican immigrants in 1948 when President Harry S. Truman ordered the desegregation of America's armed forces. As the 10-year-old boy would say 50 years later, "This isn't ancient history; this is my generation."
Racism was far from gone by the time Powell became an Army officer. But you wouldn't have been able to tell by Powell's meteoric career. After graduating from City College of New York with an ROTC commission as an Army second lieutenant, Powell became an Airborne Ranger and served two tours in Vietnam. His commands included a battalion, a brigade and the Army's V Corps while his awards included two Presidential Medals of Freedom, the Defense Distinguished Service Medal (with three Oak Leaf Clusters), a Purple Heart and numerous decorations from other countries -- even British knighthood.
From Oct. 1, 1989, to Sept. 30, 1993, the boy from the Bronx, N.Y., served as chairman of the Joint Chiefs of Staff, the principal military adviser to presidents George H.W. Bush and Bill Clinton. Upon retiring from active duty in 1993, Powell wrote his autobiography, "My American Journey," and began a busy lecture circuit. Powell served on the board of several organizations, including the Board of Trustees of Howard University, the United Negro College Fund and the Boys & Girls Clubs of America.
In January 2001, when President George W. Bush took office, Powell again took an oath to serve the U.S. government -- this time as the country's first Black secretary of state.
In 2016, while not a candidate for that year's election, Powell received three electoral votes for president of the United States.
Vernice Armour, First African American Female Combat Pilot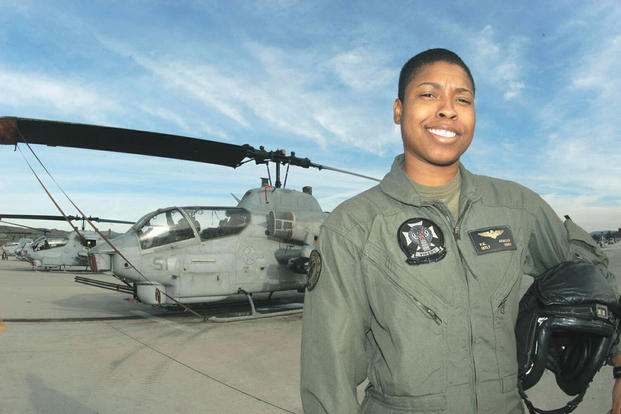 In 1998, Armour became the first Black female to serve as a police officer in Tempe, Arizona, before joining the Marines as an officer candidate in October 1998.
Armour was sent to flight school at Naval Air Station Corpus Christi, Texas, and later Naval Air Station Pensacola, Florida, and earned her wings in July 2001. Armour was not only number one in her class of 12; she was number one among the last 200 graduates.
After flight school, Armour was assigned to Marine Corps Base Camp Pendleton near San Diego for training in the AH-1W SuperCobra. While at Camp Pendleton, she was named 2001 Camp Pendleton Female Athlete of the Year, twice won the Camp's annual Strongest Warrior Competition and was a running back for the San Diego Sunfire women's football team.
In March 2003, she flew with HMLA-169 during the invasion of Iraq, becoming America's first Black female combat pilot. She completed two combat tours in the Gulf. Afterward, she was assigned to the Manpower and Reserve Affairs Equal Opportunity Branch as a program liaison officer.
After the Marine Corps, Armour began a career as a professional speaker and expert on creating breakthroughs in life.
In 2011, her book, "Zero to Breakthrough: The 7-Step, Battle-Tested Method for Accomplishing Goals that Matter," was published.
Keep Up With the Best in Military Entertainment
Whether you're looking for news and entertainment, thinking of joining the military or keeping up with military life and benefits, Military.com has you covered. Subscribe to the Military.com newsletter to have military news, updates and resources delivered straight to your inbox.