ABOARD THE USS GEORGE WASHINGTON--The Navy is getting closer to declaring the carrier-variant F-35C ready for combat with a third and final round of carrier tests taking place this month off the coast of Norfolk, Virginia.
For the first time, operational pilots are getting a chance to fly the aircraft, with a dozen instructors from Fighter Squadron 101 out of Naval Air Station Oceana getting carrier-qualified this week with ten arrested landings and two touch-and-go maneuvers apiece.
The seven F-35Cs aboard the carrier George Washington got a lot of action Monday as test pilots and instructors conducted carrier qualifications. Later on this month, they'll be testing out asymmetric load-outs, helmet display upgrades and more.
We'll have a story on that soon at Military.com. In the meantime, enjoy these photos from today's carrier quals aboard the George Washington.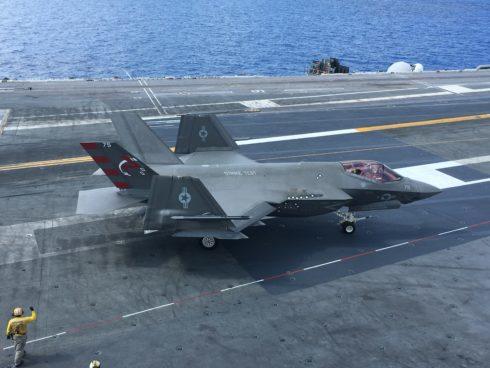 An F-35C from Air Test and Evaluation Squadron-23 on the flight deck of the USS George Washington between landing and take-off evolutions. Photo by Hope Hodge Seck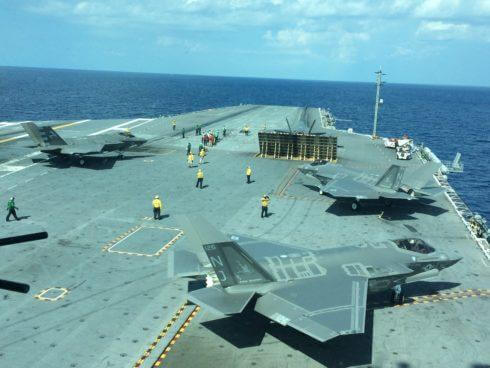 Four F-35Cs wait to take off from the flight deck of the USS George Washington. In all, seven F-35Cs conducted qualification exercises aboard the carrier Aug. 15. Photo by Hope Hodge Seck
[caption id="attachment_31081" align="alignnone" width="490"]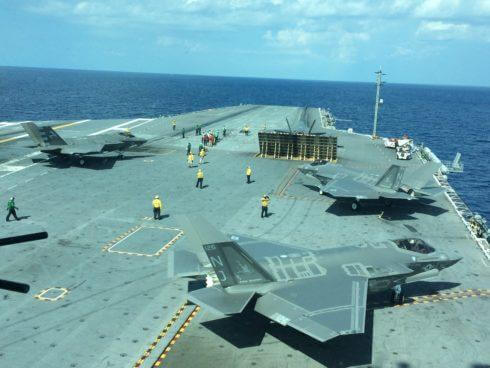 [caption id="attachment_31082" align="alignnone" width="490"]