A Marine-turned-Navy SEAL operator is under investigation for having ties with extremist groups such as the Proud Boys after local reporters and activists, as well as major media outlets, revealed he attended many protests and events throughout Southern California.
Chief Special Warfare Operator Bryce Henson is under investigation following allegations of "possibly participating with, or supporting, extremist causes," Navy spokesman Cmdr. Ben Tisdale confirmed to Military.com.
Henson rose to prominence over the past year while attending protests as well as school board and city council meetings, where he pushed anti-LGBTQ+ rhetoric under a false name and often in the company of Proud Boy members.
Read Next: Army Identifies 5 Special Operations Soldiers Killed in Black Hawk Crash in Mediterranean Sea
Tisdale said that "while sailors are always allowed to exercise their rights to freedom of speech and assembly if they follow the law and policy restriction, participation with hate or extremist groups of any kind is contradictory to the core values of the Navy and is not tolerated by [Navy Special Warfare]."
In a report released in December 2021, the Pentagon created new guidelines for activities that are banned for all service members by adding more detail and clarity on what constitutes extremist activity as well as "active participation."
The new rules also said that "advocating widespread unlawful discrimination" based on gender identity or sexual orientation fell into the category of extremist activity.
The Los Angeles Times covered Henson's activities -- largely conducted under the name "Ben Richards" -- in an October report. But local reporters and activists were aware of his true name since the spring. KPBS, San Diego's PBS affiliate station, also reported on Henson last week.
Online, the pseudonym Ben Richards is described as the founder of "SoCal Parent Advocates," but the group's social media presence largely showcases a man that has been identified in reporting as Henson. He told the L.A. Times that the fake name was a move made initially for his safety, but now he is doing it as a way of deriding transgender people.
Transgender people shouldn't question his decision to "'identify' as [Ben Richards] if they want him to 'respect their crazy identity,'" Henson told the L.A. Times.
Military.com reached out to the account via social media and email for a statement on the investigation -- as well as the apparent dual identity used by Henson -- but did not receive a reply.
The account did release a statement Friday that, while still using the pseudonym, described Richards as "a father, Marine and Navy SEAL" who "is currently involved in an ongoing investigation."
It said that "he is confident that the investigation will vindicate him of any wrongdoing, demonstrating that he has only been a dedicated and responsible father and a hero for knowingly assuming risk to help parents under attack."
The Marine Corps confirmed to Military.com that Henson served more than four years in the Marines prior to joining the Navy.
One of the first events where Henson was spotted by journalists was a protest outside of a YMCA in January. The gym in Santee, California, became the target of protests after a 17-year-old girl complained to the city leaders about a transgender woman being allowed to use the women's locker room.
Kelly Stuart, a photojournalist who has been attending protests and rallies in Southern California since the early days of the pandemic and the murder of George Floyd, was there and spotted the man she would come to know as Henson on two nights -- Jan. 18 and 21.
All around Henson on both days were people wearing the distinctive yellow and black garb of the Proud Boys -- a violent, neo-fascist organization whose members were convicted on a range of charges following the siege of the U.S. Capitol on Jan. 6, 2021. Its one-time leader, Enrique Tarrio, was convicted of seditious conspiracy, among other charges, in May.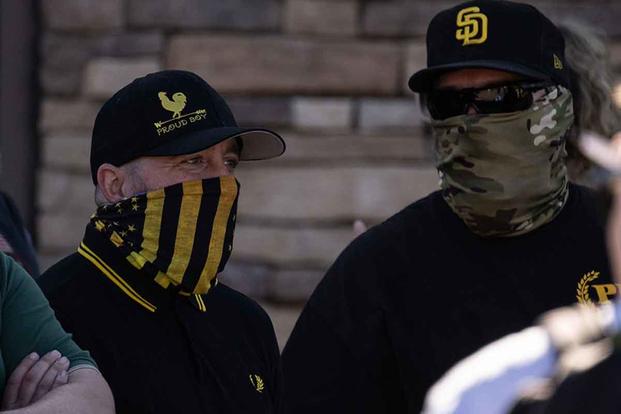 One of the Proud Boys present on the night of Jan. 18 was wearing a hooded sweater with the phrase "stand back and stand by" -- a phrase that President Donald Trump coined during his first debate with Joe Biden as he failed to condemn far-right groups and specifically mentioned the Proud Boys. Others wore hats, shirts or bandannas with the group's name or logo.
Another man, also present on both days, was sporting several, prominent Nazi tattoos, including a swastika. Henson was photographed standing just feet from him on both days.
On the night of Jan. 18, Henson "was kind of unhinged," Stuart recalled. "He was screaming, 'Take your mask off, pussies'... [and] calling people pedophiles." However, on Jan. 21, Henson was no longer part of an angry crowd but a formally dressed speaker in a blue blazer, dress shirt and denim jeans.
"We're making headway on the schools that we've flipped, because we've flipped four in this region," Henson said in a speech recorded by Stuart.
That speech -- far more strategic and calculating in its message than any of the others -- caught Stuart's attention.
"When I posted about him on social media, a lot of people came forward and said, 'This guy harassed me,' and so a group of people started trying to figure out his identity," Stuart said.
Eventually, Stuart said that after finding several clues on social media, a group of activists and grassroots reporters identified the man calling himself "Ben Richards" as Henson.
Since the pair of rallies at the YMCA in January, Henson became a regular at protests as well as public hearings of governments and school boards across Southern California. Between Stuart's photos and social media profiles associated with Henson, it appears that he's been present for at least nine rallies or hearings this year.
According to Marine Corps records provided to Military.com, Henson enlisted in the Marines in November 2004 as a combat engineer. He served until February 2009 and left as a sergeant, having deployed to Iraq and received the Combat Action Ribbon and the Navy and Marine Corps Achievement Medal.
Navy records then say he enlisted in that service in May 2010 and went through the arduous SEAL pipeline straight out of boot camp, reporting to his first team in 2011.
Tisdale, the Navy spokesman, confirmed that Henson served just over a year at the Navy Special Warfare Development Group -- more commonly known as SEAL Team Six. The unit is considered one of the military's premier special operations units and is often tasked with performing the most complex, classified and dangerous missions.
In March 2023, Henson did an hourlong interview with a Christian-focused podcast, representing himself as Ben Richards. He described himself as being "activated" into protesting various school policies in April 2022, and his group's mission is "to expose, challenge and resist critical race theory, radical gender ideology, and COVID and vax tyranny in our schools."
"It's a Marxist indoctrination," Henson said, seemingly referring to the LGBTQ+ movement.
At one point in the conversation, Henson said he believed a "radical trans army" had targeted women, and as a result he "brought people over to these rallies and they need protection and they need that masculine energy."
Stuart says that over the months covering the far right, she came to know and recognize Henson, and the two engaged in conversations on several occasions. In one instance, in July, Stuart asked the sailor about his association with the Proud Boys.
Initially, Henson said he didn't know what the Proud Boys were. However, in the middle of the taped conversation, a group of people walk close to Henson, leading Stuart to remark, "There's your Proud Boy friends."
"Can they not be my friends?" Henson replied on the recording reviewed by Military.com. "So what? They're my friends."
In a social media post Friday, the "SoCal Parent Advocates" account released a statement that slammed Stuart as a "known violent antifa member" and alleged her photographs were doctored.
In an email to Military.com, Stuart disputed the characterization, which she saw as an effort to delegitimize her work. "I do not belong to any group, [and] I share information with other journalists and researchers," she said.
-- Konstantin Toropin can be reached at konstantin.toropin@military.com. Follow him on X at @ktoropin.
Related: The Threat from Extremist Groups Is Growing. Service Members and Vets Are Getting Sucked into the Violence.