A platoon of soldiers filed into a briefing room at Fort Carson, Colorado, on a spring day in 2021. Some sat on the floor after the seats by the cookie-cutter office tables filled. Some flipped through their phones, likely scrolling dating apps or playing games, expecting another unannounced monotonous thing a soldier had to get through to clock out at the end of the day.
The platoon leader walked in. He said they were going to talk about extremism, fulfilling an obligation that had been ordered for all service members by the secretary of defense to much fanfare in Washington, D.C., nearly 1,500 miles away. The requirement was unveiled in February 2021 -- less than a month after the insurrection of Jan. 6 -- amid a growing realization that tens, if not hundreds, of veterans were among the rioting crowd.
But the young officer was clearly improvising, relying on a couple of notes jotted down in a standard-issue green Army notebook. Little had been offered from on high to soldiers like these to guide what they should talk about, or how they could help dissuade those in the ranks from being lured by radical groups. No briefing documents, or research, or really anything.
Read Next: Marine Corps Commandant Hospitalized Due to Medical Emergency, Service Says
"No one was really paying attention," an active-duty noncommissioned officer recalled of the briefing. "I remember the commander talking about what he thought were radical groups like Black Lives Matter. I think he sorta missed the point and wasn't too aware of the actual insider threat we were supposed to talk about."
The platoon leader finished his remarks -- box having now been checked -- and the soldiers went on their way. Possibly the single greatest effort in recent history to combat extremism in the military had quietly concluded.
For years, military officials had been dismissing calls for greater action against efforts by groups to radicalize either those in uniform or who had recently jettisoned their camis despite examples like the Klu Klux Klan operating, sometimes openly, on military bases. A constant drumbeat of arrests of individuals harboring extremist ideals has lingered for years, with many experts pointing to Army veteran Timothy McVeigh who killed 168 people in the 1995 Oklahoma City bombing as the forefather of a troubling community.
Experts worry that the current environment of political violence is increasing the risk. In 2020, members of a group that included two Marines and styled itself as a "modern day SS" were arrested on allegations that they were plotting to destroy the power grid in the northwest U.S. In February, in a completely unrelated case, a former Guardsman and self-identified Nazi was also arrested for plotting to destroy an electrical substation -- this time in Maryland.
The attack on the U.S. Capitol on Jan. 6 created a new sense of urgency, a willingness to talk about the problem, and Secretary of Defense Lloyd Austin's stand-down order marked a move by military leadership to get its arms around the extremism problem.
But the military and its transition programs have largely failed to provide what experts say is necessary to steer troops and veterans away from extremist causes and groups, which have been growing in power and persuasion in the U.S., a multi-year investigation by Military.com found. Instead, the briefings on extremism took on a familiar and largely inconsequential pattern, as recounted in interviews with 14 active-duty troops serving in the Army who attended separate stand-downs worldwide.
Experts argue there are ways to help make service members and veterans less susceptible to radicalization, and those who have deradicalized describe moments that helped counter the lure of extremist groups.
"It seems that a lot of people get involved in radicalization because they don't feel listened to," Arno Michaelis, a former Nazi who has worked to help many leave the extremist world behind, said in an interview.
Michaelis pointed in particular to opportunities in which those who hold a grievance are forced to confront the humanity of the group they've demonized.
"When they are listened to -- and especially when they're listened to by someone that they claim as an enemy because of their skin color, their religion or their sexuality or whatever -- it becomes all the more powerful, because then it completely defies the narrative of 'us versus them.'"
But the stand-down, haphazardly organized with commands largely left to themselves, typically didn't transmit that information, or really anything else that would help prevent radicalization, to troops.
"Well what does extremism even mean? To some people, patriotism is extremism," one Army officer recalled a lieutenant asking at a briefing.
This story is the third and final installment in a series on the rise of extremism and its effect on troops and veterans. Part 1 looked at how extremist groups are targeting and radicalizing those who have served their country in uniform. Part 2 tackled the threat radicalized troops pose.
One Day of Diversion from Extremism
The stories from troops who were present for the extremism stand-down paint a grim picture of what has been the Pentagon's largest and most visible effort to tamp down extremism within the ranks in recent history.
A defense official who worked on anti-extremism efforts told Military.com that the cursory efforts like the troop-led discussions instead of a more robust, formalized approach were a conscious choice -- a strategic decision not to use precious time and funding on a problem that leadership considers minor.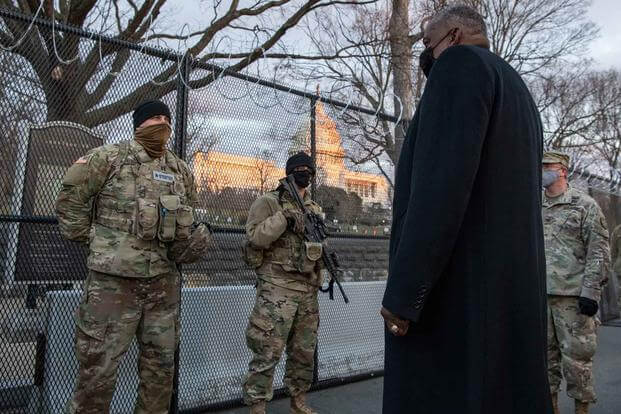 Soldiers recalled that the events were little different than many of the mandatory trainings they have to endure and the mood reflected similar boredom. They all described a standard "check the box" lecture that was held in classrooms and auditoriums from Fort Liberty, North Carolina, to Fort Riley, Kansas, to Fort Campbell, Kentucky. For most, it blended into other daily briefings mandated by senior officials.
Many units turned to the classic PowerPoint presentation. Some commands went to the trouble of producing videos for the event that ran from brief introductions to one that was an hour and half long, created by an Air Force psychologist.
But while the production quality of the presentations ran the gamut, the substance appears to have been devoid of significant discussion of how troops are often targeted by extremist organizations like the Oath Keepers, how veterans often rise to top leadership positions at these organizations, or even why so many service members and veterans ended up at the siege of the U.S. Capitol on Jan. 6 just weeks prior.
Videos created as part of the stand-down, like the one produced by the Defense Logistics Agency, were chock full of stock images and leaned on the decades-old "if you see something, say something" slogan. Others, like the video for the Air Force's 96th Test Group, quickly dove into technical lingo about ingroups and outgroups to discuss the topic with the air of an academic presentation instead of something that has real-world consequences.
Some of the troops who spoke with Military.com also recalled their briefings conflating groups associated with left-wing protests such as Black Lives Matter and Antifa and far-right groups such as the Proud Boys and Oath Keepers even though experts agree that the latter is a much larger danger for Americans today.
The result was training that cost the services, combatant commands and Joint Staff just $535,000 out of a budget that is more than $700 billion, according to a letter sent by Chairman of the Joint Chiefs Gen. Mark Milley to Congress in early 2022.
The official plan to combat extremism that was released months after the stand-downs put much of the responsibility on individual commanders to police their troops, and officials for the military stressed that there were no plans to look at service members' social media accounts, though such public-facing feeds could reflect increasing radicalization.
Experts on the military and extremism say that active-duty commanders are not only ill-equipped to tackle the issue, they're also too busy and not sufficiently informed.
And unlike other problems facing service members, the military has not set up special programs that either target the issue with counseling instead of punishment, as in the case of alcoholism, or offer commanders unique reporting tools, as in the case of sexual assault.
Instead, disciplinary punishment is the only real option left for a commander who is interested in addressing the issue.
The former official familiar with the Defense Department efforts to combat extremism told Military.com that leadership understood that most of the people who would be caught up in a push for greater punishment would be in their teens or early 20s.
"Having an approach which is so draconian that they get slammed, as soon as you say they're part of Group X, which they may or may not have understood what Group X actually stands for, is, frankly, not fair," the former official said.
While there is some evidence units have sought outside assistance to help tackle this problem by inviting extremist experts to educate their formations, those instances seem to be restricted to elite units or academic settings and don't touch the vast majority of troops.
Jon Lewis, a research fellow at the Program on Extremism at George Washington University, said he has been invited to lecture special operations units as well as cadets at West Point about domestic extremism over the last year.
Lewis said his course was integrated into days-long training that focused on other topics, to include foreign terrorist organizations. He found that it was effective to use that baseline knowledge, something that all Global War on Terrorism troops are familiar with one way or another, to talk about the domestic side of the coin by comparing and contrasting the two.
Like many of the other experts Military.com has interviewed on the topic, Lewis also noted that the message to troops should focus on how many extremist groups -- Oath Keepers, the Boogaloo Movement, Atomwaffen Division and other domestic extremist groups -- deliberately target service members and veterans into their ranks.
Extremism as Political Football
The limited efforts military leadership have taken to combat extremism have faced increasing resistance from some lawmakers who have argued there is no significant issue with extremism and that to suggest otherwise is anti-veteran or anti-service members.
In an October 2021 House Veterans Affairs committee hearing, Rep. Jim Banks, R-Ind., described the efforts to combat radicalization as an insult.
"The fact that you're going to save our veterans from becoming political terrorists is offensive to every veteran in America," he said.
Another Republican, Rep. Andrew Clyde from Georgia called efforts to screen troops for extremist ideology something that "smacks of the 'Thought Police'" during a Homeland Security committee hearing in the weeks following Jan. 6.
Both Banks and Clyde served in the Navy.
Since the riot and insurrection of Jan. 6, the topic of extremism within the ranks has become a political football, and Republicans in Congress have used the annual National Defense Authorization Act, or NDAA, to halt any effort to root out extremists.
A Senate committee report released as part of the NDAA for 2023 stated the view of the Armed Services Committee very plainly: "Spending additional time and resources to combat exceptionally rare instances of extremism in the military is an inappropriate use of taxpayer funds, and should be discontinued by the Department of Defense immediately."
Meanwhile, Military.com's investigation found that cases of domestic terrorism have skyrocketed in the last decade and the groups behind many of these incidents are actively recruiting veterans into their fold, where they often quickly move into leadership positions.
For example, of the 11 top Oath Keepers whom federal officials charged with seditious conspiracy for their role in the Jan. 6 siege, five were military veterans.
While many efforts to fully halt the department's work on extremism failed -- largely along party lines -- top defense leaders have had to sit before committees and be grilled on the necessity and cost of these policies over the last few years. Legislators on the right have also signaled that they are not done with these efforts.
Experts say there are ways to ward off extremism, and even reach those who have already taken up the ideology, though little is being done right now to lay that groundwork for the active-duty force. However, in the veteran community, some not-for-profit organizations are working hard to take action.
It is veterans -- not active-duty service members -- who make up the vast majority of those from the military community who are arrested for extremist activity, a fact that is partially related to the significant difference in scale of the two groups, but also attributed by some experts to specific moments of vulnerability in veterans' lives.
In particular, they point to a vacuum left immediately after service members leave behind their uniforms, a loneliness from a loss of community and a purposelessness from a loss of mission that can compound into fertile ground for extremist recruiting.
Of all the arrests stemming from the siege on Jan. 6, 131 defendants had a military background, according to data collected by the George Washington University Program on Extremism. Of those 131 people, 117 were veterans.
A recent survey by Rand Corp. found that nearly 1 in 3 veterans agree with the racist "Great Replacement Theory" -- a cornerstone of white supremacist ideology that claims powerful elites are trying to replace native-born Americans with immigrants and people of color who share their political beliefs. It's often also known as "white genocide."
Dr. Carl Castro, a professor at the University of Southern California and a 30-year Army veteran, said that, while leaving the military presents service members with great opportunity, it's also a period of risks.
"If you don't get a job, if you're unemployed for a long period of time, you start feeling your sacrifices by serving in the military were not appreciated," he explained. "I've never spoken to a single veteran or service member leaving the military, and they say, 'My plan is to start this radicalized group. ... It's what happens when their other plans don't work out."
Castro said those in the military community can be protected from the deception often tied to radicalization through a better understanding of the way the government functions and the issues facing different communities. But that work has to start early.
"These are the kinds of things that you can inculcate … in military personnel when they join and throughout their career," he added.
Jeremy Brown -- a 47-year-old man who is currently serving a seven-year prison sentence in Florida on weapons charges and awaiting trial for his role in the Jan. 6 insurrection -- is one example of a veteran who went down the rabbit hole of extremism after service, according to his family. Court records allege he helped the Oath Keepers stockpile weapons at a hotel just outside of Washington, D.C., where the militia group planned follow-on insurgent attacks against police and National Guardsmen.
Brown has a 20-year background in Special Forces and retired from the Army in 2012. His ex- wife, Elizabeth Brown, said Jeremy's fall into extremism started after he failed his second attempt to get into the Army's secretive Delta Force -- considered one of the most elite military units in the world.
Failing to get into Delta sent Brown into a tailspin, she said, describing him as charismatic and physically fit, but always a bit of an outsider as he tried to make it in the special operations community. He was driven and seemed to get what he wanted; failing those Delta tryouts was the first time he was told no.
He became a fundamentalist Christian and then turned to anti-government beliefs around the time of their divorce and when Elizabeth was granted exclusive custody of their children.
In an interview with Military.com from his prison cell, Brown denies the federal allegations and says he was not armed when at the Capitol.
"I've done nothing wrong," Brown said. "I have no regrets."
Military Separation and Solutions
To help service members with the transition from military service to civilian life, they are required to go through the Transition Assistance Program, or TAP. Although the program has its roots in the massive demobilization that occurred in the wake of the Cold War's end, it was made mandatory in 2011 after it became clear that post-9/11 veterans were struggling to get jobs at a far greater rate than civilians.
The working group that the Pentagon stood up to study extremism did make minor changes to the curriculum to help inoculate soon-to-be veterans against recruitment by extremist groups.
The report that was released in December 2021 said that the Pentagon added language to the course that "reinforces the key messages from the stand-down and underscores the need to honor the oath of office and to support and defend the Constitution," as well as ways to make reports about extremism to law enforcement.
Although the courses are mandatory, many service members have reported mixed to poor results from their TAP experience. Its aim to avert unemployment and chaotic transitions has been somewhat successful. Veteran unemployment is now on par or lower than the civilian rate.
However, as a way to avert radicalization, it's far from a solution. That's simply not the program's goal despite the fact that extremist groups actively target veterans like Brown for recruitment with similar calls to service and offers of comradeship and belonging. In the process, organizations like Patriot Front, Atomwaffen, Oath Keepers and the Nazis actively recruit members and veterans and gain a valuable asset.
The Pentagon's primary responsibility is to identify extremists, not necessarily deradicalize them, but on-the-ground experts say that the military is making progress, albeit slowly.
"The most significant thing about the [extremism] working group was that they defined extremism for the first time," said Kris Goldsmith, an Iraq combat veteran who runs Task Force Butler, a nonprofit that researches and tracks extremism online. "Having the definition of the problem is the first step."
But what if all domestic extremists were booted from the military? Where would they go next?
Lewis, the extremism researcher, argued that -- without better care from institutions like the Department of Veterans Affairs and Pentagon -- it is a recipe for further isolation, and by extension increases the likelihood that the veteran could become further engrossed in extremist activity.
"If that individual just has his entire life pulled out from under him and is now just placed back into his community with presumably no support network and no understanding by those around him that this individual is, let's say, a violent white supremacist," Lewis said. "I don't think that is doing the job the right way."
Once discharged, the only real connection most veterans are left with to their military service is the VA, which is also not able to act as a way to help troops avert radicalization.
Chris Buckley, an Army veteran who served in both Iraq and Afghanistan and later went on to join the Klu Klux Klan, said that the lack of direct outreach on extremism is helping fuel recruitment.
"I think that there's an attraction to filling a void, to compensating or providing some relief to some feelings of abandonment," he told Military.com in an interview. "When a soldier doesn't have a war, he'll find one, and sometimes they end up in the wrong war."
The lack of substantial deradicalization and diversion solutions means that veterans who go down the path of extremist ideology are left with basically no government resources to help them if they're targeted, recruited and utilized by organizations that often espouse violent and dangerous ideology.
On top of that, experts who actively track and study extremists say that America has become far more sympathetic to their ideals in recent years.
Goldsmith explained that the problem of extremism is only getting worse and "a big part of that is the normalization not just of extremist rhetoric and politics, but of acts of extremism."
Many of the veterans who have become radicalized and later left that life behind describe their way out as being a serendipitous or chance encounter that led to a realization that hate and violence was not for them. Others say that outside pressure helped make that choice for them.
Buckley, who first joined the Army straight out of high school, eventually rose to the rank of sergeant in the 201st Engineer Battalion of the Kentucky Army National Guard. It was a connection with Michaelis, the former Nazi, that changed his trajectory.
Michaelis said that he'd "probably talked to 50 people over the past 12 years" about leaving extremism and was quick to add that "they're not always successful," while describing Buckley as "far and away my biggest success story."
The root of his deradicalization was exposure.
"I took him to Los Angeles, and we went and fed 400 homeless people dinner one night at the LA mission downtown," Michaelis said. "That was done without any sort of agenda -- and that's a really important part of the de-radicalization process is that you don't want to butt heads with someone on political issues, you don't want to butt heads on the actual nuts and bolts of ideology."
Instead, he told Buckley that they were just going to feed dinner to people who needed help.
"I didn't want to be like 'well, now you're going to understand that it's people of color who are oppressed and blah, blah, blah,'" he said. Buckley "picked up the ideological implications of all things without me having to say anything."
-- Konstantin Toropin can be reached at konstantin.toropin@military.com. Follow him on Twitter @ktoropin.
-- Steve Beynon can be reached at Steve.Beynon@military.com. Follow him on Twitter @StevenBeynon.
-- Travis Tritten can be reached at travis.tritten@military.com. Follow him on Twitter @Travis_Tritten.
-- Drew F. Lawrence can be reached at drew.lawrence@military.com. Follow him on Twitter @df_lawrence.
Related: Trading on Patriotism: How Extremist Groups Target and Radicalize Veterans