Three volleys of blank shot thundered across Section 71 on Tuesday morning, echoing over white headstones as Army Maj. Ian Fishback was laid to rest at Arlington National Cemetery.
Fishback was a Special Forces veteran, whistleblower and philosopher who died nearly two years ago. During his military career, he reported 82nd Airborne Division abuses of prisoners in Iraq, prompting landmark U.S. anti-torture legislation. At the end of his life, Fishback was medicated with antipsychotics, racked by paranoia that he was under surveillance by the government, and virtually immobile in a court-ordered adult foster care home.
The Army officer believed beating and caging Iraqi prisoners was unacceptable, and with the late Sen. John McCain helped enshrine a prohibition into law in 2005. During his later mental health struggles, the government was indeed watching him -- the FBI created a file on Fishback due to its concerns over his behavior, according to exclusive documents obtained by Military.com.
Read Next: Veterans Hit with Error Messages While Filing to Make PACT Act Deadline
Ripples from the blank shots faded and the sound of cicadas returned to the ears of roughly 60 family members, veterans and well-wishers gathered for Fishback's funeral service. The service was a reminder of his complex legacy and the deeply American tragedy of his 42 years of life, one that tracked with the bitter realities of the Iraq War.
The struggles at the end of his life made Fishback's story all the more complicated.
"Ian fought with honor, integrity and courage for his nation and fellow soldiers," the military chaplain presiding over his interment service said. "And with those same values, he also stood up for those some viewed only as enemies, but knew were people who had the right to just treatment and dignity."
"I have buried many heroes," she said. "But none like Ian Fishback."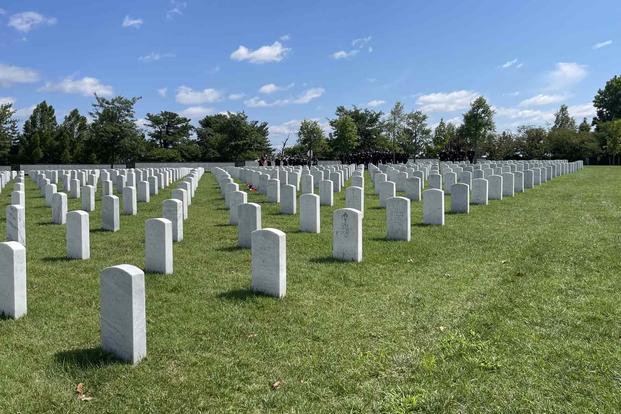 The Warrior and Whistleblower
Fishback, a West Point graduate, deployed to Iraq with the 82nd Airborne Division in 2003. He was 24 years old and about to make one of the biggest decisions of his life.
It was the dawn of the invasion, and Fishback witnessed his unit treating Iraqi prisoners inhumanely, according to The New York Times Magazine, which published an in-depth biography on him six months before his Arlington service.
The treatment included beatings -- at least once with a baseball bat -- sleep deprivation and confinement to makeshift cages where a prisoner had to lie in the fetal position to fit. NPR also reported mistreatment that included breaking prisoners' bones and leaving them nude in the cold.
Fishback, then a captain, raised his concerns about the abuse to his superiors, but they fell on deaf ears.
In 2004, the U.S. was shocked by a separate abuse scandal at the military-run Abu Ghraib prison in Iraq. Photos were published by the press showing Iraqi detainees being terrorized by working dogs, others bound and forced into stress positions, and male inmates in simulated sexual positions while U.S. military personnel looked on.
After two years of no traction within his chain of command, Fishback reached out to the non-governmental organization, Human Rights Watch. He also penned a letter to McCain, an Arizona Republican and former prisoner during the Vietnam War.
"Dear Sen. McCain: I am a graduate of West Point currently serving as a captain in the U.S. Army infantry," the letter began, articulating that abuse occurred because of a lack of guidance on prisoner treatment.
"I am certain that this confusion contributed to a wide range of abuses including death threats, beatings, broken bones, murder, exposure to elements, extreme forced physical exertion, hostage-taking, stripping, sleep deprivation and degrading treatment," he wrote.
The letter eventually led to the Detainee Treatment Act, which was signed into law by President George W. Bush in 2005 and prohibits anyone in U.S. custody from cruel, inhumane or degrading treatment. It thrust Fishback into the public spotlight, too. The following year, he was named one of Time magazine's most influential people.
His whistleblowing during a period of patriotic fervor and political division over the Iraq War ostracized him from some in the military community, a community he worked so hard to become a part of -- and to hold accountable.
Still, Fishback was entrusted with teaching philosophy at the U.S. Military Academy at West Point.
It was there that Fishback seemed to settle into a second calling in life as a philosopher and teacher, according to The New York Times. Mental illness, exacerbated by the tumultuous spotlight of whistleblowing, rumbled in his mind, however. He left the Army in 2014, but continued to teach.
The Just War Scholar
Between West Point and the University of Michigan, where he pursued his doctorate, Fishback accrued many admirers and followers who believed his lessons on just war theory, a philosophical argument for ethical warfighting that the Special Forces veteran lived firsthand.
"At one time, he was one of the foremost thinkers in just war theory," a current Army officer who was an on-off mentee of Fishback's for the better part of a decade told Military.com on Wednesday. The officer was granted anonymity because he is not authorized to speak to the press.
The officer was introduced to Fishback through a family connection at a time when he was trying to decide whether to join the military.
"He was very candid about the moral dilemmas that he found himself in throughout his service," the officer said. "But the impression I got was that Ian thought the armed services were the tip of the spear, the operational domain for ethics in practice, and so he wanted good people to be in the arena with him.
"I always felt -- in a very friendly way -- that he was sort of vetting me to see if I had that kind of judgment."
The officer wears a black band on his wrist in memory of Fishback. The text reads, "Once an Eagle," an allusion to a 1,300-page book by Anton Myrer about two soldiers -- one who serves with honor, the other who chases self-serving opportunities.
Fishback recommended the book to the officer when he was in high school, about to join the military.
"I wanted to read it and finish it so I could tell Maj. Fishback that I'd read it and discuss it with him," the officer said. "I didn't get the chance to do that."
The Investigation
Fishback's disillusionment, and paranoia, of the government metastasized during his time in academia, even as he racked up acclaim, according to The New York Times.
While he was a graduate student instructor, even Fishback's students began to perceive something amiss, according to the FBI investigation documents obtained by Military.com.
The FBI initiated an assessment in July 2019 with a case name that read "Former U.S. Army Major Claims Abuse by U.S. Government and Threatens Disclosure of Classified Information." The bulk of the investigation contains information from April of that year into early fall. Military.com received the documents through a Freedom of Information Act request.
"In end of class evaluations that [redacted] finally reviewed in January 2019, several students reported that, mid-term, something seemed to have changed in Fishback's demeanor that affected his ability to effectively communicate the information on the syllabus," said one document, referencing an interview with a University of Michigan professor.
That April, Fishback allegedly made comments "concerning a possible justification for killing those who may violate a person's rights." The interviewee did not find the comments threatening, however, and when interviewed later by a campus police officer, Fishback denied he said anything about killing.
That same month, Fishback sent an email to other graduate students saying, in part, that they and the department as a whole "lack the intellect and honor of professional scholars," according to an email included in the FBI file.
In July 2019, the messages became more explicit and less tethered to reality. Fishback wrote to his colleagues alleging that he was tortured and raped at the University of Michigan, and that he was retaliated against by "U.S. Special Operations, the NSA, and/or the CIA."
In one email, he denied that he was suffering from mental illness. He also worried he "might be killed."
It was around this time that Fishback traveled to Europe to speak and teach, becoming only intermittently available to authorities who wanted to question him.
That summer, according to the FBI investigation, the U.S. Capitol Police contacted University of Michigan authorities stating that someone named Ian Fishback called then-House Speaker Nancy Pelosi with a "veiled threat."
But it was a Fishback threat to share classified information that seemed to garner the most attention from the FBI. "If the U.S. fails to protect me, I will make every attempt to share high level, sensitive classified information with the governments of European Union member states," he wrote in an email collected in the investigation.
"I feel justified in doing so because the U.S. has tortured me for the better part of my adult life," he added. A report included in the investigation from the University of Michigan police marked Fishback as a "suspect."
Amid its investigation, the FBI decided it should not participate in an interview with Fishback upon his return from Europe, recognizing his "apparent paranoia with respect to the Federal Executive Department," according to investigatory notes.
Despite the concerns, a special agent out of the FBI's Ann Arbor office contacted Fishback under the auspices of helping the Special Forces veteran get the government off his back.
"It is my understanding that you have alleged United States federal government employees have violated your rights, possibly by means of classified technology," the agent wrote. "It is also my understanding that you are seeking legal accountability for the alleged violations of your rights. ... I take these allegations very seriously and would like to speak with you at your earliest convenience."
Fishback said that it "might be useful for us to meet," but said that Rep. Debbie Dingell, D-Mich., was assisting him. The investigation does not indicate that the FBI ever interviewed Fishback, and campus police "did not find any additional information that would give cause to believe Fishback is a threat to campus."
The FBI appeared to close the case. In March 2021, however, the agency shared his case with the Department of Veterans Affairs. Eight months after Fishback died in adult foster care, the FBI added a one-page update, seemingly from a tipster. It is redacted.
'It Won't Solve It, But It Will Help'
Fishback died on Nov. 19, 2021. The New York Times reported that he died of "sudden cardiac death in schizophrenia." In the months leading up to his death, Fishback endured a Kafkaesque race for care headed by his family. Despite being awarded his doctorate that year, he slipped quickly and deeply into a mental health collapse.
The Times reported that the year he died, Fishback "took to roaming on foot, wearing a backpack decorated with Disney characters, talking to himself." The Department of Veterans Affairs had essentially denied him care leading up to his death, too, one it vowed to investigate.
Bedridden, unable to move on his own and speaking slowly, the Times said, Fishback died in adult foster care.
But on Tuesday, he received the high honor of being interred at Arlington, a reflection of his life's accomplishments.
"It's been two years from it [his death], for this moment," John Fishback, Ian's father and a Vietnam veteran, told Military.com on Tuesday at his son's service. "It will help. It won't solve it, but it will help."
Of the FBI investigation, John seemed unperturbed and said, "There's a point where you do things that cause them to actually investigate you."
The main problem, he said, was the failure of the mental health system. "A lot of it was a total failure of the mental health system. They dropped it bad."
Closer to his mind -- and the minds of other attendees, some of whom were in uniform or sported 82nd Airborne Division and Ranger tab pins -- was Ian's legacy. Before the ceremony and the cavalcade of cars that quietly rolled down Patton Drive at Arlington Cemetery, mentees, family and friends spoke proudly of that legacy, of how Ian had touched their lives and spurred them to be better people.
Service members and veterans in the crowd told Ian's parents how proud they were to know him and how much his tutelage and friendship meant to them. His father received Ian's flag after the volley echoes faded and the bugler finished Taps.
"He was a peaceful warrior," John Fishback told Military.com. "A very peaceful warrior."
-- Drew F. Lawrence can be reached at drew.lawrence@military.com. Follow him on Twitter @df_lawrence.
Related: Judge Rejects Military Contractor's Effort to Toss Out Abu Ghraib Torture Lawsuit