Two Army soldiers were injured Sunday in a helicopter crash in Talkeetna, Alaska, roughly 150 miles north of Anchorage, according to U.S. Army Alaska Public Affairs.
Media Relations Chief John Pennell said Monday that the AH-64 Apache was one of four from the 25th Attack Battalion based at Fort Wainwright, Alaska. The group was doing a training mission when the helicopter flipped over at the Talkeetna airport.
Both service members were transported to a medical facility for treatment; one was evacuated by air, while the second was transported via ambulance. Pennell said he did not have a status update as of Monday morning.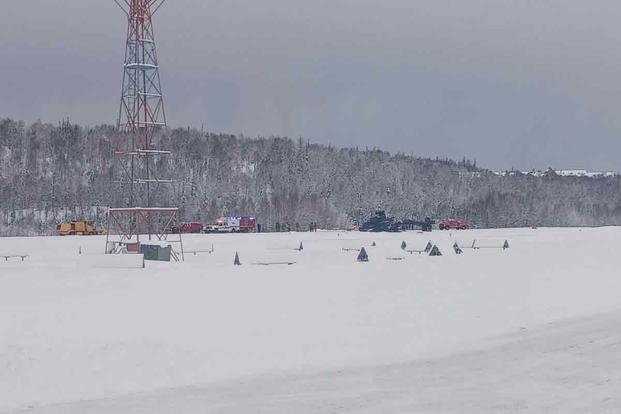 Read Next: Training for Oahu Army Medics Is Enhanced with Cadavers
Conditions at the time of the crash were windy with light snow.
Pennell said it was "too early to speculate as to the cause" of the accident. He added that Army Combat Readiness Center investigators will make those determinations as a result of their investigation.
The airport remains closed, according to Robert Stumpf, an employee of Sheldon Air Service, based in Talkeetna.
Stumpf added that billowing snow kicked up by the rotors may have played a role in the mishap.
Last year, a Utah Army National Guard UH-60 Black Hawk sustained $9 million in damages when its pilot lost track of his landing site in blowing snow, crashing near Snowbird Ski Resort.
Sunday's crash is the second in eight months for the AH-64 Apache. In June, two Army aviators sustained non-life threatening injuries when their helicopter crashed near Ozark, Alabama. That helicopter was based at Fort Rucker, home to the Army's Aviation Center of Excellence.
According to the U.S. Combat Readiness Center, the AH-64 Apache was involved in 77 mishaps across more than 660,000 flight hours from fiscal 2016 to fiscal 2020, causing 12 deaths.
The accidents caused nearly $385 million in damages.
Center officials said roughly 87% of the most severe accidents, known as Class A mishaps, were related to human error, while material failure accounted for 13%. Roughly 4% of all mishaps, from minor to major, were related to bird strikes.
-- Patricia Kime can be reached at Patricia.Kime@Military.com. Follow her on Twitter @patriciakime.
Related: Navy Investigation Faults a Failed Part in Deadly Helicopter Crash