Read the original article on Business Insider.
US Navy forces recently intercepted a fishing vessel smuggling thousands of AK-47 rifles from Iran to Yemen, the US military said on Tuesday.
The vessel, which was crewed by six Yemeni nationals, was sailing through the Gulf of Oman on January 6 when it was caught, US 5th Fleet said in a statement. A team from the patrol coastal ship USS Chinook discovered and boarded the ship with support from fellow Cyclone-class patrol ship USS Monsoon and the guided-missile destroyer USS The Sullivans. Navy forces found that the ship was carrying 2,116 AK-47 assault rifles.
The vessel was traveling along a route historically understood to be used for the transfer of lethal aid to Yemen's Houthi rebels — a violation of a UN Security Council resolution and international law, 5th Fleet said.
Iran is the main backer of the Houthis, who have fought a devastating years-long civil war against Yemen's internationally recognized government. The bloody conflict has previously been characterized by experts as a proxy war between regional foes Iran and Saudi Arabia, which leads a military coalition in support of the government.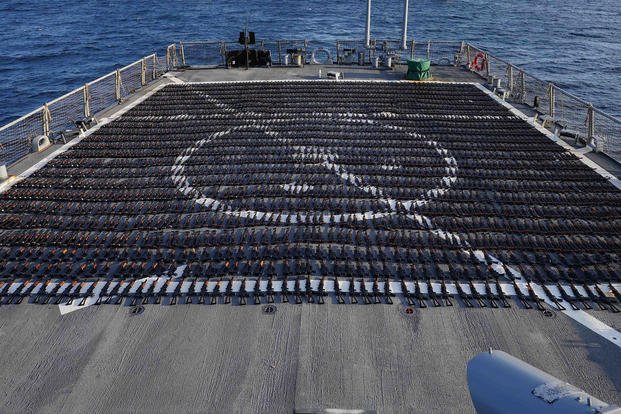 US Central Command's Gen. Michael Kurilla said in a statement that the "illegal flow of weapons from Iran through international waterways has a destabilizing effect on the region."
"We are committed to the security and stability of the region and the enforcement of international law," Kurilla, who is the CENTCOM commander, added. "Alongside our partner forces, CENTCOM will deter and interdict this kind of lethal material into the region whether it comes by air, land, or sea."
Over the past few months, US forces have intercepted several vessels transferring lethal aid from Iran to Yemen. In November, 5th Fleet seized a "massive amount" of explosive chemical material that can be used to fuel ballistic missiles. A few weeks later, the service said it recovered more than 50 tons of ammunition and rocket parts.
The recent shipment "is part of a continued pattern of destabilizing activity from Iran," Vice Adm. Brad Cooper, who commands US Naval Forces Central Command, US 5th Fleet and Combined Maritime Forces, said in a statement.
"These threats have our attention. We remain vigilant in detecting any maritime activity that impedes freedom of navigation or compromises regional security," he added.
Malign Iranian activities have been reported in waters off the coast of Middle East countries multiple times in recent weeks — sometimes leading to run-ins with US Navy and US Coast Guard vessels. In December, for example, an Iranian patrol vessel tried to use spotlights to blind the bridges of US Navy ships as they were operating in international waters.