Chief Yeoman Mary Raissa Stewart, a trailblazing World War II SPAR beloved by the U.S. Coast Guard, has died at the age of 101, roughly a century before she planned to go.
"Mary Stewart lived a life," said her longtime friend and neighbor on the island of St. Croix in the U.S. Virgin Islands, Peggi Morris, 84. "When she turned 95, she told me, 'I'm on a five-year plan.' I said, 'A five-year plan?' She said, 'Well, I'm five years from 100 and I need to start checking things off that I need to do.
"She wanted to be 200!"
On June 24, 2022, the U.S. Coast Guard Academy feted the SPAR veteran they called "Aunt Mary" with a gala 101st birthday party. On Thursday, Dec. 29, 2022, a little more than six months later, she died, following a bout with the COVID-19 virus.
"Mary was an eccentric trailblazer whose inner fire was fueled by breaking boundaries," the U.S. Coast Guard proclaimed in a Tuesday announcement about Stewart's death. "Enlisting into the USCG in 1943, Mary quickly rose to the rank of chief yeoman, and directly contributed to the Allies' victory in the Second World War. Fly high, Chief!"
Stewart joined the war effort shortly after she received her bachelor's degree from American International College. Her first duty station in the US Coast Guard Women's Reserve — called the SPARs — was in Florida, where she taught business courses to military secretaries.
She later became the administrative assistant to an admiral in Washington, D.C., freeing others to battle abroad, according to her obituary.
"She was first stationed at The Breakers in Palm Beach. We used to joke, 'Poor baby!'" said Morris, whose husband, Walter Lee Morris, passed away in October at the age of 86.
Stewart used her GI Bill benefits to earn her Master of Business Administration degree in 1948. A brief marriage to Robert Stewart brought her to St. Croix and she began teaching business courses again, but this time to students at the University of the Virgin Islands.
Stewart never remarried, and she retired in 1986 as a professor emeritus who'd toiled to expand the university system to St. Croix from St. Thomas.
That gave her more time for her nieces and nephews, visiting them in Connecticut between her treks around the world, globetrotting that picked up pace after she hit 95.
"Greece. Russia. China. Africa," said Morris, ticking off destinations. "And she often would travel alone. She'd tell you to meet her someplace. So a trip might start off in Chicago, but then you'd be in Kigali, then Nairobi. She'd go everywhere."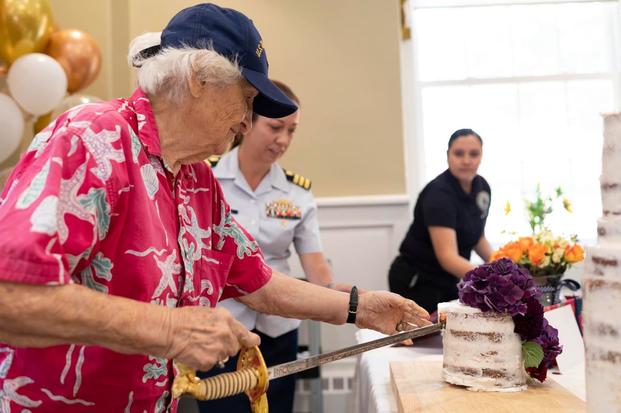 A fierce feminist, Stewart loved books, faraway tropical locales, good friends, bridge games, dancing with a cocktail on her head, beating the slot machines, the Coast Guard, and waging political campaigns on behalf of her niece, Susan Bysiewicz, the 109th lieutenant governor of Connecticut.
Stewart spent her final years in Deerfield, Florida, daring the doctors at the U.S. Department of Veterans Affairs to find anything wrong with her health.
Mary Raissi Stewart was born on June 25, 1921, in Enfield, Connecticut, to Greek immigrants Kyriakos Raissi and Anna (née Gavalas) Raissi.
The youngest of six children, she was preceded in death by her parents; her siblings, Pauline Scourles, Poppy Fowler, Evangeline Luddy, John Raissi, and Shirley Raissi Bysiewicz; and her nephew, John Fowler.
She is survived by her nieces, Lillie Fowler Doyle, Christine Luddy Bell, Lt. Gov. Bysiewicz, Karen Bysiewicz, and Gail Bysiewicz; and her nephews, Theodore Scourles, Robert Fowler, John Luddy, and John Bysiewicz.
Stewart's family will hold a private celebration in Connecticut to honor her long life and devotion to service.
Carl came to Coffee or Die Magazine after stints at Navy Times, The San Diego Union-Tribune, and Pittsburgh Tribune-Review. He served in the Marine Corps and the Pennsylvania Army National Guard. His awards include the Joseph Galloway Award for Distinguished Reporting on the military, a first prize from Investigative Reporters & Editors, and the Combat Infantryman Badge.
Read the original article on Coffee or Die Magazine. Follow Coffee or Die on Instagram.