An Air Force veteran who had been held in a prison in an area of Ukraine controlled by Russian-backed forces is on his way to Kyiv after a series of events that allegedly saw him traveling alone in the war-riddled region after being freed from custody six weeks ago.
Suedi Murekezi, a 35-year-old U.S. Air Force veteran originally from Rwanda, was captured in the eastern city of Kherson, Ukraine, in June. On Wednesday, Ukrainian officials said that Murekezi had been freed from the area in conjunction with a prisoner swap, and ABC News reported having spoken with Murekezi as he moved toward the Ukrainian capital.
However, the leader of a humanitarian rescue nonprofit says that his organization orchestrated Murekezi's release on Oct. 28, and that the veteran had spent the last six weeks in the Russian-backed Donetsk People's Republic, or DPR, after suddenly leaving during a transfer organized by his group.
Read Next: Here Are Your 2023 BAH Rates
According to Bryan Stern, the CEO of Project Dynamo, Murekezi spent roughly 140 days in a prison controlled by Russian-backed forces in Eastern Ukraine before he was freed as a result of the group's work. Stern provided images and videos to Military.com showing what Stern says are the events leading up to Murekezi's October release, including footage that appeared to show Murekezi after he had left the prison.
"We were supposed to move on the 29th of October," Stern said in an interview. "And the next morning, he elected to leave and do his own thing; we don't kidnap people or hold people that don't want to be rescued."
Stern said that the Ukrainian forces likely don't know about the group's alleged efforts.
"The Ukrainians are under the impression that they got him out of jail and that's what they believe to be true, and sadly this is the fog of war," Stern said. "The reality is he was walking around Donetsk for the better part of six weeks."
It's also unclear whether Murekezi might have been taken into custody after the October release, given reports that he was exchanged in a prisoner swap.
The Guardian first reported last week that Murekezi had been released, but he did not detail the circumstances of his escape to the publication and said that he was still "trapped" in Donetsk, the capital city of the DPR. Wednesday, Andriy Yermak, the head of Ukraine's presidential office, announced a prisoner exchange of 64 Ukrainian Armed Forces soldiers.
"It was also possible to free a US citizen who helped our people -- Suedi Murekezi," Yermak added in his tweet.
Stern said that his group had plans to get Murekezi out of the region and back to the U.S. by Nov. 1, including the necessary paperwork with a passport, and isn't sure why the Air Force vet stayed behind. Those plans, initiated in June shortly after he was captured, didn't proceed after Murekezi walked away from a person working with the group. Stern says he had been working with Murekezi's brother, Sele.
Murekezi spent eight years in the active-duty Air Force as a materiel management specialist, leaving the service in 2016 as an airman first class at Scott Air Force Base, Illinois, according to Air Force records provided to Military.com. He left the United States in 2018 to move to Ukraine, according to The Washington Post.
Murekezi had been living in Ukraine for at least four years before his capture, but when Russians occupied Kherson -- the city he was living in at the time of the renewed invasion -- he told the Guardian last week, "I did not want to run away. I love Kherson."
Project Dynamo shared a proof-of-life photo apparently sent to the organization that appears to show Murekezi holding up a piece of paper with the date Oct. 27 on it -- one day before his reported release and two days before Stern said he left on his own volition.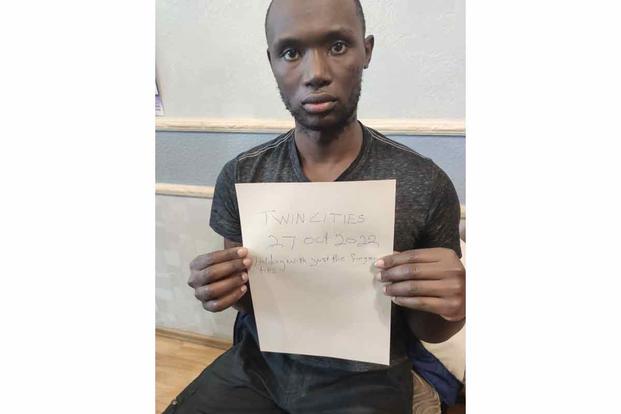 In addition to the date, the paper said "holding with just the finger tips," instructions that Stern said he gave his source, which the source took to mean literally. At this point, on Oct. 27, Stern said that Murekezi was still in Russian captivity.
Stern said Russian forces released Murekezi to Dynamo-controlled sources on Oct. 28. Project Dynamo shared a video with Military.com that appears to show the veteran stating that he is alive and the date of 28 October after an unnamed person prompts him to say both.
The next day, Oct. 29, Stern said that Murekezi left the location.
While it's unclear why Murekezi might have left, Stern noted that "he was locked up in a cage for months and tortured and all kinds of things, and this is a duress kind of moment."
The Guardian reported after its Dec. 5 interview that Murekezi was worried about not having identification or travel paperwork.
"I would really like to leave and get back to the U.S., but I do not know how. I do not know what is safe," Murekezi told the publication.
Stern told Military.com that he spoke directly to Murekezi on Monday when the veteran reached out to the nonprofit over the communication platform Telegram.
"I made contact with him and wished him well and said, 'Do you need anything,'" Stern said, adding that he had given the veteran some advice and told him to be careful as apparent Ukrainian plans were in motion to get him out of the Donetsk region. "And I said, 'OK, well, we're ready, willing and able to help you if you need it."
ABC News reported Wednesday that Murekezi was "freed from Russian-controlled territory by a team from Ukraine's military intelligence and is now being driven to Kyiv."
ABC also wrote, "He was later released by the Russians, but he was without his U.S. passport and was effectively trapped in Russian-controlled territory, living in the main city of Donetsk."
Military.com requested comment from the State Department earlier this month, after Stern told the publication that Murekezi had been released in October. An agency spokesperson confirmed it had heard reports that a U.S. citizen was released, but did not name Murekezi.
"We are aware of reports that a U.S. citizen has been released by Russian forces in Ukraine," a department spokesperson said over email to Military.com on Dec. 1. "Out of respect for the privacy of this individual and their family, we have no further comment."
Military.com followed up with the State Department after the Guardian report and asked if it could do anything to help Murekezi return to the U.S. A department spokesperson pointed the publication to its Ukrainian embassy website.
Murekezi told the Guardian that he was arrested while changing the oil in his Dodge Challenger and that he experienced torture and interrogation at the hands of his captors. The Washington Post previously reported that the separatists "falsely accused him of participating in pro-Ukrainian protests," according to his brother, Sele Murekezi.
"I am very happy to be free," the veteran told the Guardian.
"But I don't know what to do next. The Russians never gave me back my passport, and I feel trapped here," he continued, apparently still in the Donetsk region -- specifically, in the city of Donetsk, the capital of the Russian-annexed area, the publication reported.
Murekezi was reportedly in captivity with two other veterans who were released in September -- Alex Drueke, an Army veteran, and Andy Huynh, a former Marine, according to Dianna Shaw, a family spokesperson.
In one of his scripted phone calls to his family in August, Drueke told his mother, Bunny, that he and Huynh were imprisoned with a veteran who was originally from Rwanda. Murekezi's brother, Sele, told The Washington Post that his brother was being held by the Russian breakaway state, the Donetsk People's Republic, with the two other veterans who have now been released as part of a prisoner swap.
Military.com attempted to contact Sele to confirm details about his brother's release, but he did not immediately respond.
It is unclear why Murekezi was not released with Huynh and Drueke, and Stern is not sure either.
Project Dynamo is a nonprofit organization that is a conglomerate of Digital Dunkirk and Dynamo II -- two organizations that were involved in rescuing Afghan allies after the U.S. withdrawal from the country and other humanitarian missions in Ukraine, abroad and in the U.S, according to its website.
"The rescues are being facilitated by humanitarians and by gold star families with ties to Afghanistan and the U.S. military," the website says, with Stern adding that his organization claims over 200 rescued Americans at home and abroad.
This story is still developing, and updates will be added once they are confirmed.
-- Drew F. Lawrence can be reached at drew.lawrence@military.com. Follow him on Twitter @df_lawrence.
Related: American Veterans Captured by Russian-Backed Forces in Ukraine Coming Home, Families Say