French and Kuwaiti militaries participate in their 7th ever joint military exercise since 1992. The exercise, referred to as "The Pearl of the West" by U.S. military partners, combined armor, artillery, helicopters and Patriot missiles. (1st Lt. Austin May).
Related: Patriot PAC-3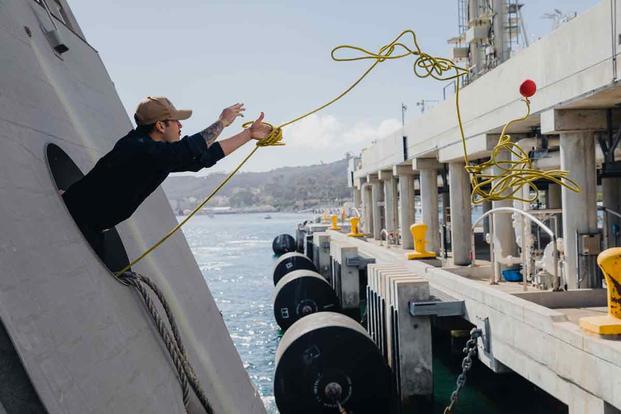 A sailor throws a line from the USS Montgomery in San Diego to support recovery of NASA's Orion spacecraft following the launch of Artemis I. (Mass Communication Specialist 2nd Class Lily Gebauer/U.S. Navy)
Related: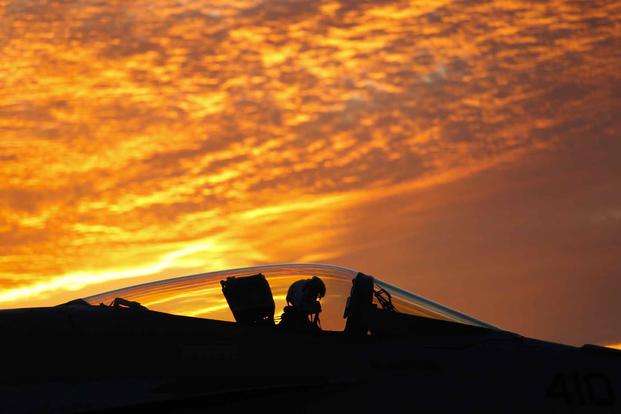 An F/A-18E Super Hornet taxies on the USS Abraham Lincoln. (Mass Communication Specialist 3rd Class Ian Thomas/U.S. Navy)
Related: F/A-18E/F Super Hornet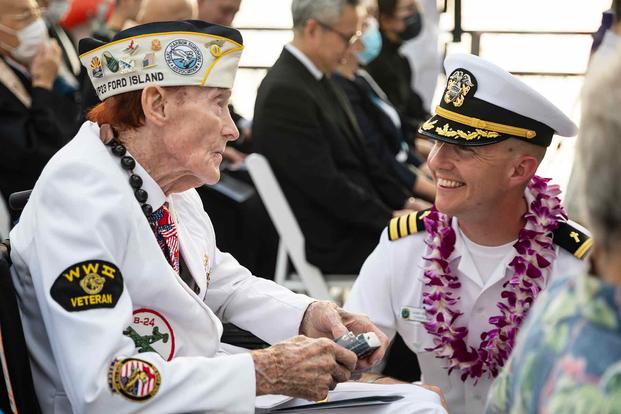 A Navy chaplain meets Jack Holder, a Pearl Harbor survivor, during a Navy event in Hawaii called the "Blackened Canteen" -- a ceremony at the USS Arizona Memorial remembering the day with imagery surrounding a blackened canteen that was pulled from the ashes during WWII and is seen as an inspiration for peace.
"Its blackness and heat-distorted shape represent the inevitability of conflict, yet its presence represents eternal hope for a future of peaceful understanding and reconciliation between former enemies." (Mass Communication Specialist 1st Class Ernesto Bonilla/U.S. Navy)
Related: Hawaii Remembrance Draws Handful of Pearl Harbor Survivors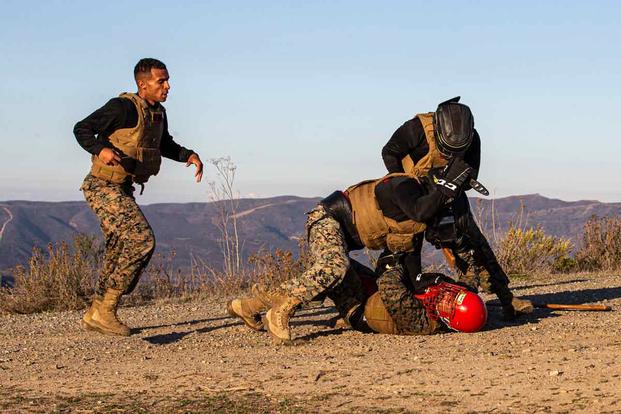 Marines are seen beating each other up at Marine Corps Base Camp Pendleton, California. (Lance Cpl. Gadiel Zaragoza/U.S. Marine Corps)
Related: 'Forever Chemicals' Found in Groundwater at South Carolina Base. Marines to Test Nearby Wells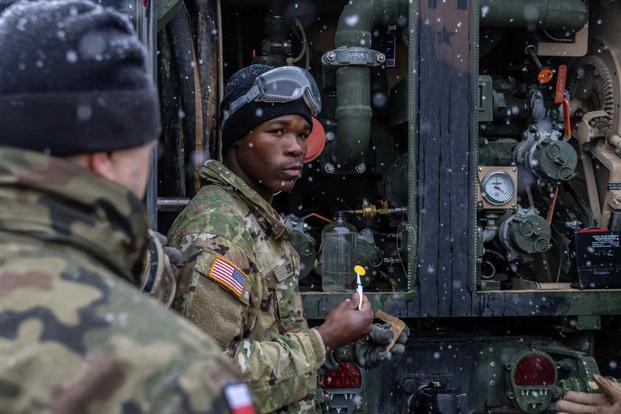 An Army petroleum supply specialist displays a fuel test pad to Polish soldiers in Wroclaw, Poland. (Spc. William Thompson/U.S. Army)
Related: A 'Barbed Wire Curtain' Rises in Europe amid War in Ukraine
-- Drew F. Lawrence can be reached at drew.lawrence@military.com. Follow him on Twitter @df_lawrence.