SIMI VALLEY, California -- The Pentagon's biggest backers in Congress are making their case for a traditional view of robust funding for defense and international alliances as a crop of far-right lawmakers threatens disruptions when Republicans take control of the House come January.
The fight over the direction of U.S. defense policy is likely to initially center on continuing the flow of aid for Ukraine's war against Russian invaders, something GOP firebrands have been increasingly vocal about ending.
While the slice of the Republican conference that wants to cut off aid remains small, there are signs it will wield influence with party leadership.
Read Next: The Army Keeps Booting COVID Vaccine Refusers as Shot Requirement May Be Dropped
House Republican Leader Kevin McCarthy of California said earlier this year he won't support a "blank check" for Ukraine. McCarthy, who is trying to court votes from his party's insurgents in his bid to become House speaker next year, has also called for delaying this year's defense policy bill over so-called "woke" policies supported by Democrats.
While the push gained no traction among defense hawks and the National Defense Authorization Act is still expected to pass by the end of the month, the comments were another indication of the power the far-right is expected to have in Republicans' razor-thin House majority.
With the showdown looming in Washington, defense-minded lawmakers, as well as Pentagon officials, military brass and defense industry executives, descended upon the Reagan Library in California earlier this month to argue for staying the course in Ukraine and the robust U.S. role on the world stage more broadly.
"It's in our national security interest when Ukraine prevails," Rep. Don Bacon, R-Neb., a retired Air Force officer who deployed to Iraq, told Military.com on the sidelines of the Reagan National Defense Forum. "A Russia-dominated Ukraine will cost us blood and treasure down the road."
Because of that national security imperative, Bacon added, supporters of Ukraine aid can't "shy away" from countering opponents.
Biden administration officials "just need to show that these weapons are getting to where they need to go and Ukrainians are making good use of them," he said. "So we got to defeat the false information."
Since the start of the war in February, Congress has approved more than $65 billion for Ukraine. Most of the funding has gone to weapons for Ukrainian forces and to support the 100,000 U.S. troops bolstering NATO allies elsewhere in eastern Europe, though billions have also gone to humanitarian and economic aid.
The weapons given to Ukraine have grown increasingly sophisticated -- evolving from mostly Javelin anti-tank missiles to artillery systems, advanced surface-to-air missiles, self-detonating drones and more -- though the administration has continued to deny Kyiv's request for even more complex and sensitive platforms such as Gray Eagle armed drones.
In an apparent nod to concerns about oversight of aid, the administration recently publicized that U.S. personnel are now doing inspections of weapons shipments inside Ukraine, though officials stressed that staff would be far from the front lines. The administration had previously insisted American troops would not enter Ukraine amid the conflict, beyond the small presence guarding the U.S. Embassy in Kyiv.
The White House, wary of the incoming GOP House majority, has asked Congress to approve another $38 billion in Ukraine aid before the end of the year. Though fighting will likely slow during the winter, both Russia and Ukraine are expected to try to use the lull to prepare for spring offensives.
Polling released by the Reagan Foundation ahead of its conference showed continued public support for aiding Ukraine. But Democrats expressed stronger support than Republicans.
About 57% of poll respondents agreed America "must continue to stand with the people of Ukraine and oppose Russian aggression in order to protect a friendly democracy and prevent future Russian threats to Europe." Broken down by party, 73% of Democrats and 51% of Republicans agreed with that statement.
Conversely, 33% of respondents said America "has enough problems at home and cannot afford to spend more on the conflict and risk further provoking Russia," a stance taken by 41% of Republicans and 19% of Democrats.
A separate poll released by the Chicago Council on Global Affairs this week showed GOP support for providing military aid to Ukraine dropped from 80% in March to 55% now.
The view that aid to Ukraine is detracting from addressing domestic problems is the one being espoused by far-right lawmakers and prominent conservative media figures such as Tucker Carlson.
"Under Republicans, not another penny will go to Ukraine," Rep. Marjorie Taylor Greene, R-Ga., said last month at a rally in support of former President Donald Trump. "Our country comes first."
Greene later introduced what's known as a "resolution of inquiry" to compel the Biden administration to audit the Ukraine funding. The measure is not likely to go anywhere in the waning weeks of the Democratic House majority, but she has vowed to reintroduce it next year.
Some Republicans, such as McCarthy, have walked a finer line -- not ruling out more aid but calling for more oversight of the funding before they'll approve more money.
But supporters of more Ukraine aid argue the calls for oversight are a red herring.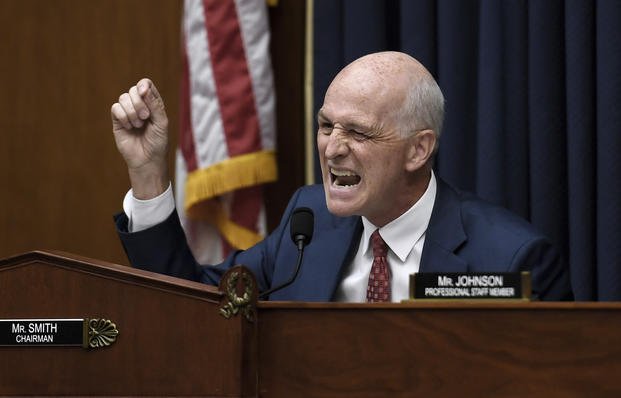 "Number one, the focus on that is part of Russian propaganda," House Armed Services Committee Chairman Adam Smith, D-Wash., said during a panel at the Reagan forum. "Second, Ukraine is spending the money really well. That's why they're winning."
Russian officials and pro-Kremlin media have aggressively pushed the narrative that the flood of U.S. weapons entering Ukraine could end up on the black market or in the hands of terrorists. While there's no evidence that's happened this time, the United States does have a history of losing weapons it promised to track, including about $716 million worth of weapons and equipment in Syria.
The importance of supporting Ukraine was a message hammered home throughout the conference.
In a speech, Defense Secretary Lloyd Austin vowed that the United States would continue to "stand with Ukraine as it fights to defend its citizens and its sovereignty."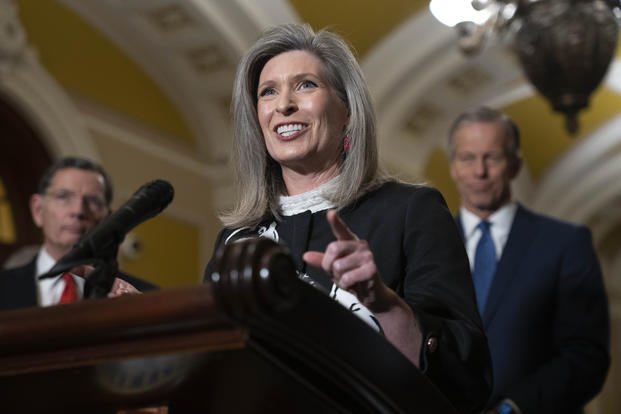 Sen. Joni Ernst, R-Iowa, an Army National Guard veteran who served in Iraq, implored fellow Republicans to "understand that if we are not engaged in a presence around the globe, if we are not pushing back on Vladimir Putin and Russia, they will continue to expand."
"For heaven's sake, we should be pounding the bloody hell out of the Russians through the Ukrainians so that they can't pop their head up and come back in another five to 10 years," Ernst said during a panel dedicated to the war in Ukraine.
But there were also some signs of cracks over aid even at the conference.
"There needs to be some oversight," Rep. Ronny Jackson, R-Texas, a former Navy officer who voted against the two most recent Ukraine aid packages, told Military.com on the sidelines of the conference when asked to respond to Smith's comments. "A lot of people right now, they're hurting when it comes to buying groceries and putting gas in your car. It's hard to convince some people in this country that we need to be giving billions of dollars to another country even though there may be a long-term benefit in it for us with defeating Russia."
Even if House Republican leadership bows to its hard-liners, Ukraine aid will still have powerful supporters next year. Democrats will retain control of the Senate, and isolationists in the Senate GOP conference have less leverage with their leadership than their House counterparts.
But the fight over funding for Ukraine is a microcosm of a larger debate that has been roiling Republicans since Trump drilled his "America first" mantra into the party. For example, in the Reagan survey, the percentage of Republicans who said the United States should be "more engaged and take the lead" on the world stage dropped from 46% in 2020 to 39% this year.
The change has forced Republicans who have traditionally advocated for interventionist policies into a high-wire act.
"America first, I think, is other people should do more, and we should not do it alone," Sen. Lindsey Graham, R-S.C., a Trump ally who has still supported global engagement, said during a panel on alliances at the Reagan forum. "Isolationism is fool's gold. It's fake security. I'm in the internationalist wing of the party. We're going to be fine. But we're going to have to understand that the public, not just Republicans, are asking us questions."
The shift has been apparent in the defense bill, too. Once a sacred cow that lawmakers in both parties brag has passed for six decades straight, the National Defense Authorization Act, or NDAA, would have been a verboten target in the past for a Republican leader to suggest delaying.
While concerns about "wokeness" in the military have broadly swept through the Republican Party, suggestions to block the NDAA over the issue were previously confined to far-right factions such as the House Freedom Caucus. But those rumblings have grown louder and more mainstream, with the Reagan survey finding 47% of Republicans believing woke policies have hurt military effectiveness.
Republicans have applied the "woke" label to a wide range of Biden administration policies they disagree with, from the military's COVID-19 vaccine mandate to efforts at increasing the diversity of the force. While the targets of conservative ire represent a grab bag of policies, many have a common theme of supporting troops who aren't white men while they serve, such as Republicans railing against relaxed hair and shaving standards meant to give women and racial minorities healthier options; working to prevent open service by transgender troops; and complaining about recruitment ads meant to appeal to young people with diverse backgrounds.
This year's NDAA is expected to proceed despite the wokeness fight. But the fight could ensnare the bill again next year, when any push by House Republicans to undo policies on diversity and other GOP taboos would run into the Democratic Senate and possible veto threats from the White House.
In a panel on the military recruitment crisis, Rep. Mike Gallagher, R-Wis., a Marine Corps veteran of the Iraq War, foreshadowed Republican efforts to target diversity, equity and inclusion, or DEI, initiatives.
"We have yet to see any evidence that DEI programs like unconscious bias training, like leveraging AI to reduce board bias, as the Navy recommended, is actually somehow going to improve lethality," Gallagher said. "They increase discord, friction and disunity, and that's the concern from my side."
Bacon, who said the conservative media focus on wokeness is an "exaggeration" that has nonetheless penetrated the minds of parents telling their kids not to join the military, predicted Pentagon officials will have their work cut out for them next year convincing skeptics to back them.
"I've gone to the four stars here and said, 'You have a problem. It's a perception, and perception doesn't really match reality here,'" Bacon said. "So we got to have four stars and the secretary of defense giving a clear message: We're about winning our nation's wars, we have a second-to-none military in the world, we'll kick anybody's ass to defend the greatest country in the world. That's why people want to join, so they're going to have to defeat this with strong messaging."
-- Rebecca Kheel can be reached at rebecca.kheel@military.com. Follow her on Twitter @reporterkheel.
Related: Vaccine Mandate Is Hurting Recruiting, Top Marine General Says