Aviation is a major contributor to global climate change, with some estimating the commercial aviation industry producing anywhere between 1.9% to 3.5% of annual greenhouse gas emissions. Military aviation, with more than twice the number of aircraft than commercial aviation, contributes as much as 15% of that total.
United Kingdom-based Rolls-Royce just took the first step toward reducing or eliminating aviation's enormous carbon footprint. In a partnership with the UK discount airline easyJet, it created a version of one of its most common aircraft engines -- one that runs entirely on hydrogen.
In a statement, the company said the test took place Monday at the UK's Ministry of Defense aircraft testing site at Boscombe Down. The test engine, which was stripped of bodywork and fastened to a test rig, was powered by hydrogen created by a tidal test facility on Eday in the Orkney Islands.
Hydrogen created by renewable-powered electrolysis, the kind used in the Rolls-Royce test, can be extremely expensive, almost three times as much as the kerosene jet fuel normally used. There are other processes for creating hydrogen fuel that are cheaper, but those create carbon emissions of their own.
Research for more efficient renewable hydrogen creation is ongoing, but experts say hydrogen-powered aircraft won't become commonplace for decades to come.
With the successful test, Rolls-Royce intends to continue with another series of rig tests. These will eventually lead to a full-scale test of converted Rolls-Royce Pearl 15 engines, currently used on the Bombardier Global 5500 and 6500 aircraft.
The test might also be the first milestone in an emerging technology race. In February 2022, aircraft manufacturer Airbus announced it would team with enginemaker CFM International to build a demonstrator aircraft using one of its A380 superjumbo airliners, fitted with an adapted hydrogen engine of its own.
Building an aircraft around the new engine will require a lot more research and investment. Hydrogen needs to be cooled to around -424°F to become a liquid, takes up four times as much space as the kerosene required to fuel current engines and needs to return to its gaseous state before it can be burned.
Rolls-Royce has long been a pioneer in both commercial and military aviation. During World War II, the company created the Merlin V12 piston engine, one of the most successful engines of the war, with 50 variants produced. They powered the Avro Lancaster heavy bomber as well as Hawker Hurricane and Supermarine Spitfire fighters.
The American version of the Rolls-Royce Merlin was the Packard V-1650, which powered the Curtiss P-40 Warhawk and P-51 Mustang fighters. In later years, Rolls-Royce created the Pegasus turbofan engine that powered the vertical takeoff and landing for the Harrier and the Olympus 593 engine that took the Concorde passenger plane supersonic.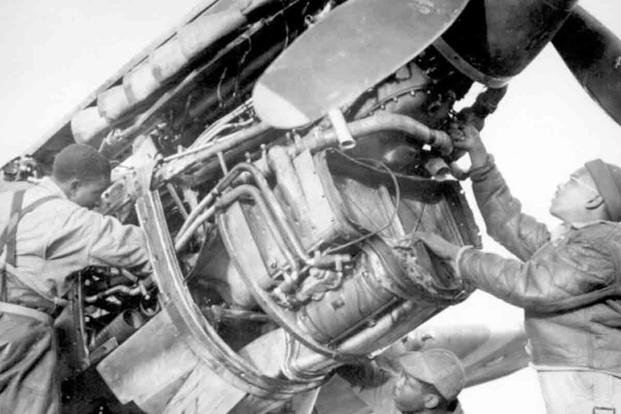 There's no vertical takeoff or supersonic capability about Rolls' latest development. The hydrogen-powered engine the company tested Monday is a version of its AE-2100A gas turbine, used on regional airlines around the world. The turboprop version of the AE-2100 currently powers the U.S. Air Force's C-130J Super Hercules transport planes.
Although the hydrogen-powered jet engine isn't Rolls-Royce's first foray into cleaner aircraft, it is the first real test of a cleaner engine. After acquiring Siemens' electric propulsion branch, Rolls partnered with Airbus to propose creating the first-ever hybrid electric aircraft, the E-Fan X (also powered by the AE-2100). That project was canceled in 2020.
"We looked at battery technology, and it was quite clear that the battery technology was probably not going to do it for the large commercial aircraft that we fly," easyJet COO David Morgan told the BBC. "We've come to the conclusion that hydrogen is a very exciting proposition for us."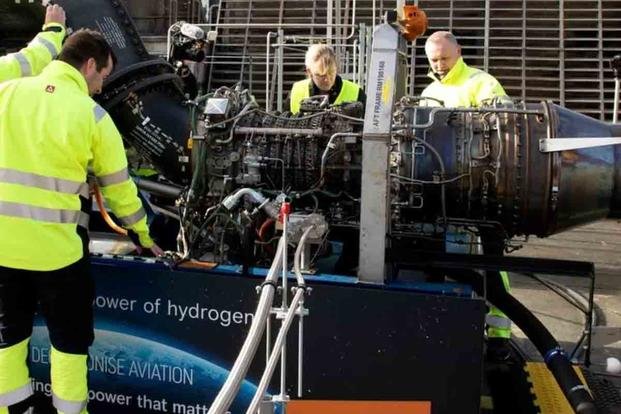 Rolls-Royce and easyJet partnered to create the hydrogen burning engine as a part of the United Nations-backed Race to Zero campaign. The campaign's goal is to sign countries, businesses and others to support achieving net zero carbon emissions by 2050, in line with the goals of the 2015 Paris Climate Agreement.
-- Blake Stilwell can be reached at blake.stilwell@military.com. He can also be found on Twitter @blakestilwell or on Facebook.
Want to Learn More About Military Life?
Whether you're thinking of joining the military, looking for post-military careers or keeping up with military life and benefits, Military.com has you covered. Subscribe to Military.com to have military news, updates and resources delivered directly to your inbox.