The phones and fax machine at David Scheidt's company lit up over the weekend with calls and requests from frantic military moms searching for baby formula.
Military Medical Supplies provides formula under a contract with Tricare, the Defense Department's health program, to roughly 200 families whose infants have dietary needs as determined by a doctor that preclude them from using breast milk or require specialty formulas, such as those formulated for feeding tubes or digestion issues.
But a Facebook post that went viral on military spouse sites over the weekend said Tricare "will now pay to have [formula] shipped directly to you" due to the baby formula shortage. The post included a form used by Military Medical Supplies that requires a pediatrician's signature but only touched on that requirement. And in the midst of desperately low formula stocks nationwide, the message was quickly traded between new military parents.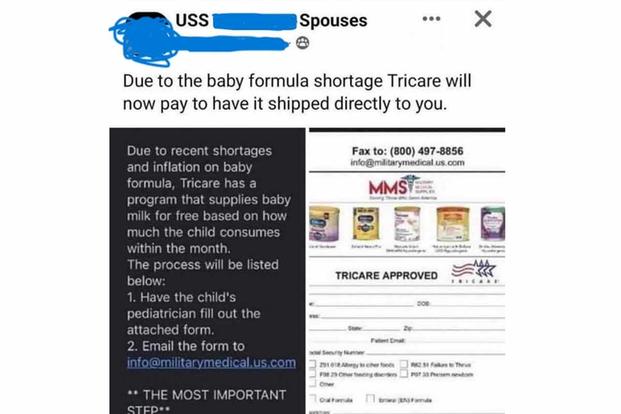 Read Next: Man Killed Outside of New Boston Space Force Station in Shooting Involving Military Contractor
The post is only partly true. Tricare does cover formula for some beneficiaries, but only under a doctor's order.
"The shortage has put everyone in a panic. Unfortunately, it seems like everyone now is trying to find an alternative way to get formula," Scheidt said in a phone interview Monday with Military.com.
Tricare covers nutrition costs for food considered to be medically necessary, including standard formula for children or adults who have feeding tubes or otherwise can't consume solid foods; high-protein formula for infants on ketogenic diets to control seizures; and special formulas for those who can't digest certain things.
But to receive Tricare-covered formula, families must provide clinical notes and have a pediatrician sign off on the order, according to Scheidt and others familiar with the benefit.
"We were really caught off guard here because we don't advertise or anything of that nature," Scheidt said.
Baby formula had been in short supply at the start of the coronavirus pandemic when parents stockpiled it during lockdowns. Ongoing supply chain issues have only exacerbated the problem.
But in February, Abbott Nutrition, maker of Similac and other powdered formulas, recalled its products after bacterial contamination at its Sturgis, Michigan, manufacturing facility sickened three babies and contributed to the death of a fourth.
Now, roughly 40% of the stock of baby formula has dried up nationwide. At the Department of Defense, current stock levels in domestic commissaries is at 50%, while commissaries overseas and in remote areas are a little better off, stocked at roughly 70%, Pentagon spokesman John Kirby said Monday.
"We're not immune to the same supply chain problems as families across America," Kirby said during a press briefing when asked by Military.com about the shortage. "We're working our way through this very, very hard."
President Joe Biden spoke with formula manufacturers and retailers last week to discuss the shortages and identify the production and transportation hurdles that are standing in the way of stocked shelves.
According to a White House official Monday, the executive branch is in talks with manufacturers Reckitt, Abbott, Nestle/Gerber and Perrigo, as well as retailers such as Target, Amazon, Walmart and others to determine where supplies may be critically low and how they can bolster them.
"We are also contacting suppliers to infant formula manufacturers to inform them that their materials are critical for boosting U.S. infant formula production and encouraging them to prioritize their production and delivery," the official said.
Scheidt said even his regular customers are seeing the effects of the shortage, with shipments delayed by several weeks.
"We are still facing supply issues as well just because of manufactured back orders. So it can be anywhere from three to four weeks before they even get formula," Scheidt said.
Many of the services' exchanges also carry baby formula and are taking steps to safeguard the supply, according to officials with the retail stores.
The Army and Air Force Exchange Service has placed a five-canister limit on purchases of Similac, Enfamil and Nutramigen, according to a spokesman, and is taking steps to procure formula by other manufacturers.
"The Exchange remains fully focused on maximizing supplier allocations as industry-wide production, distribution and recall challenges continue. In the interim, the [Food and Drug Administration, or FDA] advises parents to contact their child's healthcare provider for recommendations on changing feeding practices," AAFES Senior Public Affairs Manager Chris Ward said in an email Monday.
Navy Exchange Service Command told Military Times last week that it has placed special orders for baby formula in an effort to build up inventory in distribution centers and stores.
"We have also been aggressively activating brands and sizes not typically found in our previous baby formula assortment in an attempt to meet the demand," NEXCOM spokeswoman Kristine Sturkie said.
For parents scrambling to find their usual formula for their children and who aren't able to breastfeed, the FDA offers several recommendations and warnings for feeding their babies.
According to the FDA's website, parents should contact the baby's pediatrician for recommendations on changing their formula or feeding practices.
The FDA advises against making homemade formula, which may not have the nutrition necessary for developing babies, and it recommends against diluting infant formula, which also can cause nutritional imbalances.
The agency also cautions against purchasing formula online, as it may be counterfeit.
Families using the Special Supplemental Nutrition Program for Women, Infants and Children should check with their local or overseas office to see whether they have access to additional supplies as well.
Kirby said the DoD is doing everything in its power to ensure that military families have access to formula.
"The Defense Commissary Agency is already ahead of that problem and is doing everything they can to keep the shelves stocked," Kirby said.
-- Pentagon reporter Travis Tritten contributed to this report. He can be reached at Travis.Tritten@Military.com.
-- Patricia Kime can be reached at Patricia.Kime@Military.com. Follow her on Twitter @patriciakime.
Related: Tricare to Cover Doulas, Lactation Consultants for Some Starting Jan. 1