Russia lobbed missiles into Ukraine's cities and rolled tanks toward its capital Kyiv on Thursday, sending citizens fleeing in fear as U.S. forces and NATO allies watched the largest invasion of a European democracy in decades from the sidelines.
President Joe Biden unveiled new sanctions and a deployment of 7,000 troops and armor to Germany, another symbol of the U.S. commitment to NATO, after a deployment earlier this year of an equal number of service members to alliance countries in Europe failed to deter Russian President Vladimir Putin from trying to use military might to conquer his neighbor.
But Putin appeared unswayed by a bolstered NATO and increasing financial penalties as he pushed ahead in what Pentagon analysts now believe is a bid to decapitate the government of Ukraine. The country, which is not a member of the alliance, stood alone under assault Thursday, with refugees flowing across the border to Poland and Moldova as the violent incursion, which finally became reality after months of warnings from the U.S. and NATO, took shape.
Read Next: Taiwanese Fighters Scrambled Amid Fears Beijing Could Be Emboldened by Ukraine Invasion
In the end, Putin had not been bluffing when he spent nearly a year massing more than 150,000 troops at Ukraine's borders. And on Thursday, Biden held firm on his pledge that the U.S. will not fight on behalf of the former Soviet republic, which had hoped to move closer to the West.
"The next few weeks and months will be hard on the people of Ukraine. Putin has unleashed great pain on them," Biden said in an address Thursday. "But the Ukrainian people have known 30 years of independence. They've repeatedly shown that they will not tolerate anyone who tries to take their country backwards."
Ukraine President Volodymyr Zelensky, in an update after the first day of fighting, announced that 137 Ukranians had been killed, including 10 officers; 316 more had been wounded. He noted that Ukraine has been fighting the Russian invasion on its own.
"We're alone in defense of our country," he said. "Who will fight along with us now? To be honest, I see no one."
A senior defense official called Russia's moves the start of the invasion, and more Russian forces remained poised to fight, including ships in the Black Sea that could be used for a landing assault.
A series of last-ditch sanctions, backed by nations around the world, on the eve of the attack failed to stop the Russian advance.
Russia launched three assaults across the Ukraine border beginning late Wednesday that aimed for Kyiv, Kherson and Kharkiv, where initial fighting was heaviest. By Thursday afternoon, it had launched more than 160 airstrikes using ballistic missiles and fixed-wing bombers, according to a senior defense official who spoke on the condition of anonymity.
"We would describe what we're seeing as an initial phase, and it is likely that we will see this unfold in multiple phases. How many? How long? We don't know," the official said.
Ukrainian officials said that their estimates had more than 60 battalion-sized tactical groups deployed into the country out of 90 that Russia amassed on its border, with Ukrainian forces reportedly using Javelin missiles supplied by the U.S. to repel Russian tanks.
The Ukrainian government also reported that its military destroyed 15 Russian T-72 tanks using Javelin missiles, which were part of a U.S. aid package, valued at $650 million, delivered to Ukraine over the last year.
Russia's state-controlled media claimed it had taken out 83 Ukrainian military facilities, and destroyed four aircraft and a drone. But Biden and U.S. officials have warned repeatedly about Moscow spreading disinformation, especially about its progress on the battlefield.
Russian and Ukrainian forces fought Thursday morning over Chernobyl, the now-shuttered power plant and site of the world's worst nuclear disaster. Several hours later, Ukraine's Prime Minister Denys Shmyhal announced that Russian forces had captured the area.
In his update, Zelensky vowed to remain in Kiev despite being marked as "target number 1" and his family "target number 2."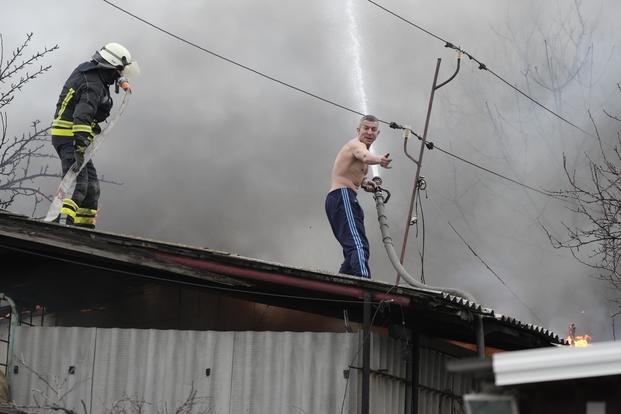 U.S. forces continued to flow into Europe on Thursday as the NATO alliance braced for the unknown in Ukraine.
The Germany deployment announced by Biden will include the 1st Armored Brigade Combat Team, 3rd Infantry Division, out of Fort Stewart, Georgia. Support personnel based outside of the base will deploy with the unit.
Meanwhile, six F-35 Lightning II fighter jets announced by Biden earlier this week were set to arrive in Estonia, Lithuania and Romania on Thursday, two in each respective country. AH-64 Apache attack helicopters were also expected to arrive in Poland and the Baltic region by late Thursday, after being delayed by weather.
The U.S. was not flying any surveillance missions over Ukraine, but Air Force reconnaissance aircraft such as the RQ-4 Global Hawk, RC-135 Rivet Joint, WC-135 Constant Phoenix and E-8C Joint STARS had been flying around neighboring countries for weeks. Two remotely piloted Global Hawks were seen on publicly accessible aviation trackers over Ukrainian airspace Wednesday and Thursday before the country restricted civilian flights.
Additionally, as cyberattacks continue to cripple Ukrainian government agencies and civilians, more attention is being paid to any possible attacks on NATO satellites. A senior defense official told reporters that U.S. space capabilities are working at "full capacity" but declined to answer whether Russia has attempted to interfere in any way.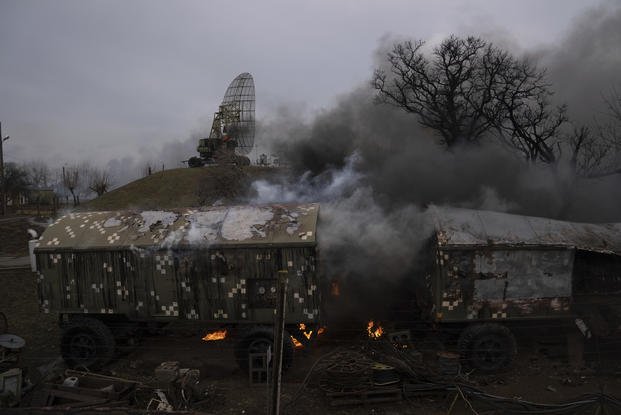 U.S. Space Command told Military.com in a statement that it is assisting U.S. European Command amid the Ukraine crisis with "intelligence, surveillance, and reconnaissance" as well as "satellite communications; weather monitoring, and missile warning."
U.S. troops had been pouring into NATO countries since the beginning of February, beginning with the Army's 82nd Airborne Division from Fort Bragg, North Carolina, and the 101st Airborne Division from Fort Campbell, Kentucky.
The 82nd was in Poland partnering with NATO forces there and preparing to receive any Americans fleeing across the border from Ukraine. The effort was backed by the State Department. Airmen with the 435th Contingency Response Group, which helps set up makeshift airfields in combat locations, have been relocated from Germany's Ramstein Air Base to Poland for possible assistance with Ukrainian evacuees.
The Navy confirmed that it had the aircraft carrier USS Truman and its strike group, as well as eight other destroyers, operating next to Europe but noted that none were in the Black Sea.
Russia has also positioned a sizable naval presence in the Mediterranean that includes two Slava-class cruisers and several smaller ships that have been in the area since last week, according to Russian state-controlled media. The British Ministry of Defense also said that Russia's Black Sea Fleet, which is led by another Slava-class cruiser, was active in the area and that Russia suspended civilian shipping in the Sea of Azov.
The Slava cruisers were launched by the Soviet Union in the 1980s to take on U.S. aircraft carriers by overwhelming them with volleys of high-speed cruise missiles. Each ship can carry 16 of these missiles.
But for now, the flow of Ukrainians trying to escape Putin's invasion forces, which has already begun, will be a problem for Poland and other European nations, according to the senior defense official.
"We've seen an increase over the last 12 to 18 hours" of refugees crossing the Poland border, the defense official said. "I think every expectation is that that number will continue to go up."
U.S. officials have estimated that Russia's military actions could produce between 1 million to 5 million refugees. Krish O'Mara Vignarajah, president and CEO of Lutheran Immigration and Refugee Service -- a religious nonprofit dedicated to helping those in need seek asylum, said in a press release that American military officials should prepare for the likely influx of families.
"Thousands could lose their lives, and millions more could lose the only home they have ever known," Vignarajah said. "The U.S. and its allies must prepare to respond to the very real possibility of a mass exodus of Ukrainian refugees."
-- Travis Tritten can be reached at travis.tritten@military.com. Follow him on Twitter @Travis_Tritten.
-- Konstantin Toropin can be reached at konstantin.toropin@military.com. Follow him on Twitter @ktoropin.
-- Thomas Novelly can be reached at thomas.novelly@military.com. Follow him on Twitter @TomNovelly.
Related: Cyberattacks Accompany Russian Military Assault on Ukraine