The highest ranking enlisted sailor, Master Chief Petty Officer of the Navy Russell Smith, made a few social media posts over the last few days that have had people scratching their heads over his choice of clothing.
In photos posted Jan. 28 and Jan. 31, Smith is shown wearing a two-piece, khaki outfit that is similar in structure to the current Type III Navy Working Uniform, or NWU, but without the distinctive green and black digital camouflage pattern.
In fact, the outfit didn't really look like anything sailors are currently wearing.
Read Next: Inside the Secretive Networks of Military COVID-19 Vaccine Refusers
According to Navy spokeswoman Lt. Cmdr. Madisyn Hansen, Smith's new outfit is part of the development of a two-piece garment aimed at offering an alternative to the Improved Flame Resistant Variant Coveralls. Hansen says it is popularly known as "the 2-Piece OC or 2POC."
According to Hansen, the "organizational clothing," not formally considered a uniform, is getting closer to hitting the fleet. It was approved by the Navy's top officer in late 2020 and, starting in October of last year, "40 Ambassadors started wearing the new organizational clothing at select East coast commands in order to showcase the new garment."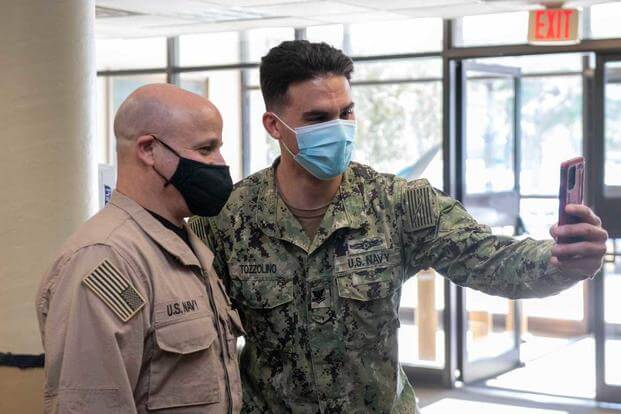 The 2POC, or the idea of an outfit like it, was announced at the same time that the current coveralls hit the fleet around 2017. Two year later, the Navy said the item was undergoing wear testing.
According to the service, officials hope that, once the new garment reaches the fleet, it will give sailors an option to have an outfit that is safe to wear in the operational environment of a ship but also formal enough to go out on the town -- an idea that has a troubled history in the Navy.
"Never again should we have to pass the words 'all hands shift into the uniform for entering port or getting underway,'" Fleet Master Chief Rick O'Rawe, a wear-test participant, said in 2019.
The original NWUs -- officially called the Type I -- were rolled out in late 2008 with the idea of being able to do some heavy maintenance on a ship and then grab groceries without a change of clothes. They featured the same tunic and pants design we see now but in a distinctive blue and gray camouflage pattern that earned them the nickname "blueberries." But that idea was not to be.
In 2012, a test report revealed that not only were those uniforms not flame retardant, they were dangerously flammable. The report noted the uniforms "burn robustly until completely consumed" when subjected to a flame and "melt and drip" as it burns.
"If this sticky molten material came in contact with skin it would contribute to increased burn injury," the test report noted.
After that discovery, the original NWUs were banned at sea and the Navy rushed to put out flame-resistant coveralls for sailors who didn't already wear flight suits or engineering coveralls, both of which are flame-resistant. The current coveralls sailors wear improved on these garments.
Since that time, sailors have juggled different uniforms both at sea and ashore as the Navy moved from the Type I to the Type III NWUs in 2017 despite the latter initially being intended only as "tactical uniforms for our expeditionary Sailors."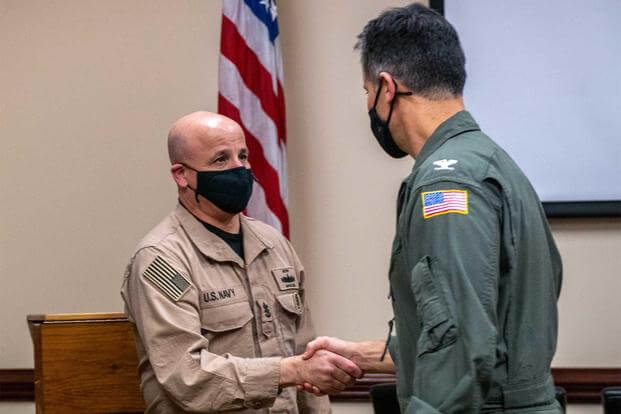 The Type II, a desert-style digital camouflage uniform similar to one used by the Marine Corps, kept its original purpose of only being worn by Special Warfare Operators and sailors who support them.
Now, the Navy hopes it is close to striking that balance and putting out something akin to a uniform that sailors like and doesn't require them to change clothes when changing activity.
"The new 2POC gives Sailors 'time back' because it is a flexible option to be worn in port and underway, and approved for wear off base," a statement from Hansen said.
Hansen also noted that "the 2POC is not an addition or a requirement for Sailors' sea bags, meaning it will not come out of their annual uniform stipend or paychecks."
Smith, in an emailed statement to Military.com, said it will be made available "at no cost to the Sailor."
-- Konstantin Toropin can be reached at konstantin.toropin@military.com. Follow him on Twitter @ktoropin.
Related: Navy Confirms Video and Photo Posted to Social Media Show F-35C Crash Aboard Carl Vinson