The Air Force is still far from its goal of training about 1,500 new pilots a year as it seeks to close a lingering shortfall, and help keep up with the long-running exodus of pilots going to well-paying commercial airline jobs.
But Air Education and Training Command said that it's seeing progress, and hopes that a combination of technologies and new approaches will help it increase how many new pilots it can graduate each year.
AETC commander Lt. Gen. Brad Webb said in a Sept. 13 call with reporters that the Air Force's technology-fueled revamp of pilot training is starting to yield results.
Read Next: Air Force Leaders: Time to 'Wake Up' About Racial Disparities in Service
"We're constantly blowing up and reinventing" the original Pilot Training Next technology, Webb said.
But there are still bottlenecks in the process -- particularly a problem with short-staffed simulator instructors -- which are holding the Air Force back from producing all the new pilots it needs.
The service graduated 1,263 new pilots in 2020. By the time fiscal 2021 ends later this month, Webb hopes this year's tally will hit about 1,350 graduates.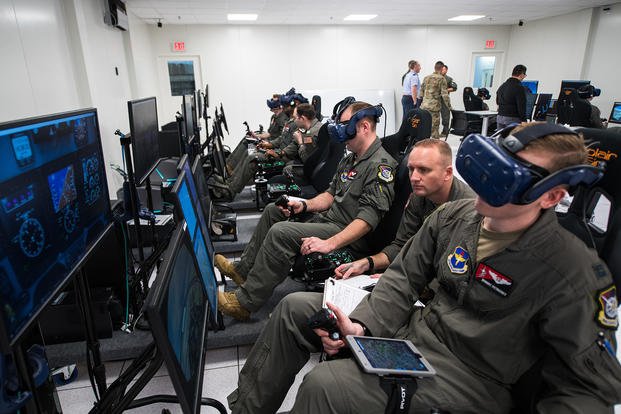 The Air Force needs about 21,000 pilots across its total force, which includes the active duty, National Guard and Reserve. At the end of 2020, the most recent year for which numbers were available, the service was short 1,925 pilots in all, leaving it with somewhere around 19,075. The active duty was short 800 pilots; the Guard, 675; and the Reserve, 450.
That's an improvement from the roughly 2,100-pilot shortage the Air Force recorded in fiscal 2019, but still represents a 9% shortfall. The severe economic blow dealt to commercial airlines in the early months of the coronavirus pandemic led them to greatly slow their pilot hiring. In spring 2020, for example, the Air Force gave at least 171 pilots who were slated to retire or separate permission to stay on longer.
But with commercial travel recovering this year, Webb said, that "grace period" is coming to an end, and pressure again is building for the Air Force to push to create more pilots.
One of the main bottlenecks in the process is simulator training, which is typically taught by civilians. Staffing is "not great," Webb said, and at about 80% across all flying training bases.
That means locations such as Vance Air Force Base in Oklahoma, Columbus Air Force Base in Mississippi and Laughlin Air Force Base in Texas have been forced to pull instructor pilots, who otherwise would be taking students up in actual training planes, off the flight line to teach on simulators. This makes it harder for students to get real in-flight experience and has hurt pilot production, Webb said.
The Air Force is looking for ways to get around those logjams, such as by conducting remote simulator instruction. For example, a commercial airline pilot who lives elsewhere in the country could "pipe in virtually" to training bases and instruct aspiring Air Force pilots on simulator flying, a technique the service hopes to prototype by next year, Webb said.
The Air Force in recent years has adopted a suite of other technologies and methods, originally developed under the Pilot Training Next program, that sought to streamline undergraduate pilot training by using virtual reality headsets, biometrics and artificial intelligence.
Officials in 2018 touted the VR-fueled training revamp, in which students at times simultaneously train in a series of stations next to each other, as far cheaper and more efficient than the legacy simulators. The AI and biometrics components track how a student pilot is doing on a virtual sortie and are capable of making the flight tougher if the pilot is finding it too easy -- such as by turning the weather stormy -- or easing up on the challenge if the pilot is having a hard time and growing frustrated.
But, Webb said, the push to incorporate VR training is still worthwhile, even if it hasn't been able to cut traditional simulator sorties out of the process. The combination of VR flights, traditional simulator time, and actual sorties in T-6 Texan II trainers is allowing the Air Force to award wings to new pilots earlier than ever, he said.
In March, the first class of pilots graduated from the Undergraduate Pilot Training 2.5 program, which includes the lessons and techniques developed under Pilot Training Next. Those 10 new pilots got their wings after seven months of instruction, as opposed to the traditional yearlong process.
This technology- and AI-fueled revamp of undergraduate pilot training is fully in effect at Vance, as well as Joint Base San Antonio-Randolph in Texas. This fall, it will launch at Columbus, and then at Laughlin next spring.
The Air Force earlier this year began a program called Accelerated Path to Wings, which aims to graduate new pilots after about nine or 10 months, quicker than the traditional year timeframe. Some students in that course came in with previous flight experience, allowing them to move through the process faster. Others already know which aircraft they want to fly, such as mobility aircraft or helicopters, so the program allows them to go straight to the T-1 Jayhawk trainer or training helicopters, and skip the usual period of flying the T-6, after finishing their preflight academics.
Another planned program, called Helicopter Training Next, also would allow aspiring helicopter pilots to go straight to learning to fly rotary-wing aircraft and free up about 90 T-6 training slots per year, Webb said.
The Air Force is still heavily focused on VR technologies, looking at training for jobs beyond flying aircraft, such as for maintainers or civil engineers, under a program now called Tech Training Transformation.
A detachment at Kelly Field in San Antonio, Texas, is developing training methods that use VR goggles and a "virtual hangar" that maintainers-in-training, or other airmen, can use to hone their skills.
There are multiple ways this virtual hangar can be used beyond maintenance training. For example, air transportation airmen, who are in charge of loading passengers and cargo aboard aircraft, can practice driving their cargo loading vehicles virtually without tying up a real vehicle.
Or aeromedical evacuation technicians can virtually practice securing all the equipment necessary to safely fly patients experiencing medical emergencies where they need to go.
Eventually, as this technical training technology becomes more standardized and commonplace, other parts of the Air Force outside of AETC could start to take advantage of it, according to officials.
Editor's note: This article has been updated to clarify the reference to the Helicopter Training Next program.
-- Stephen Losey can be reached at stephen.losey@military.com. Follow him on Twitter @StephenLosey.
Related: The Air Force's Virtual Reality Fighter Training Is Working Best for 5th-Gen Pilots