The Defense Department is investigating whether a former Army officer abused his position, either employing video he made while on duty or misusing military media assets for a partisan political ad for his congressional bid.
In April, Harold Earls, who served as an officer for just shy of six years, announced he was running as a Republican in Georgia's 6th Congressional District, which consists of the northern Atlanta suburbs.
His announcement, which used footage of Gold Star families burying and mourning dead service members, and close-ups of graves, was met with scorn on social media and by eight soldiers with whom he served who spoke to Military.com on the condition of anonymity.
"We are working to determine if and what appropriate action may be required," Defense Department spokeswoman Cynthia Smith told Military.com.
Earls' campaign launch ad focused almost exclusively on his military service. The video shows troops guarding the Tomb of the Unknown Soldier, and others performing burial duties at Arlington National Cemetery, where Earls served for the bulk of his time in the Army. Footage also includes close-ups of graves where the names of fallen service members are clearly visible. That does not break any laws, but it is unclear whether Earls' campaign received the families' permission to use the images in a partisan advertisement.
Earls gives his campaign pitch in civilian clothes. It is unclear whether he was still in the Army at the time the footage was shot. He served from May 2015 to October 2020, according to an Army spokesperson.
Some of the footage he used is military video in the public domain, meaning it was created with government funds and available for public use, according to multiple soldiers interviewed. Only one clip in the ad displays a mandatory disclosure stating that the use of military imagery doesn't imply an endorsement. The video of funerals does not contain the same disclosure, making it confusing what is in the public domain and what Earls shot himself.
Soldiers who served with Earls and spoke with Military.com called the use of Gold Star families in a political ad tasteless. All said that if Earls owned any of the footage himself, and used it without the families' consent, it would represent a violation of morals. It is unclear what specific regulations might have been broken, or what actions the Defense Department would realistically take if Earls were guilty of any rule-breaking.
"While not really morally acceptable, it is allowed," a junior noncommissioned officer currently serving at the cemetery said in an interview with Military.com. "However, he did utilize footage of him walking through headstones and standing by the tomb. Those were shot when he had already left the Army and was not cleared with the cemetery. This is part of the footage that is currently being investigated and brought up the chain of command."
Another NCO who served with Earls said he is confused why the ad leans so heavily on his military service, or why it is relevant to his district, given he has never deployed overseas and got out of the service relatively quickly. Evidence is mixed on any advantages former service members might have in election.
"I'm looking at his site. … I'm not gonna act like I'm a big politics guy … but I can't even really tell he's running for office, or where. It's all about him, not about the place he's running. You can see the ego problems. … His whole campaign is about minimal service in Virginia for an election in Georgia," an NCO stationed at Arlington National Cemetery told Military.com on the condition of anonymity. "Aren't these [candidates] supposed to show off doing community projects or shaking hands with [business] owners or something?"
Most service members interviewed on condition of anonymity either identified as Republicans or said they don't care enough about politics to have an ideology.
Neither Earls nor his campaign responded to multiple requests for interviews and comment. However, he defended the heavy use of his uniform and gravesights to The Atlanta Journal- Constitution.
"Arlington is not just part of my history, it's part of our American history -- a story that must be told," he said in a statement to the paper. "The sacrifices of our fallen and their families who fought for ALL of us should never be forgotten, and should inspire us to seek what unites us instead of this strangling divide so many have given into."
It's not the first time that Earls had apparently levied his prestige position for personal advantage. In January 2020, he posted a photo on Instagram of himself at the Tomb of the Unknown Soldier to sell "Higher Calling," a book he and his wife wrote.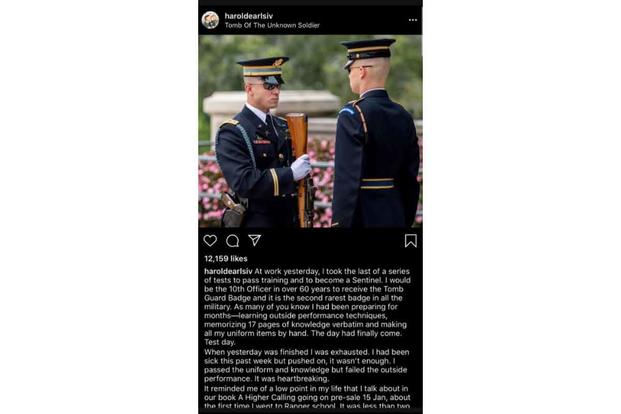 In the post, Earls wrote about failing the test to become a sentinel, a prestigious title at Arlington for soldiers who are chosen to guard the tomb. It is one of the rarest badges in the Army, and typically earned by enlisted soldiers.
"When yesterday was finished I was exhausted. I had been sick this past week but pushed on, it wasn't enough. I passed the uniform [inspection] and knowledge [test] but failed the outside performance. It was heartbreaking," Earls wrote in an Instagram post. "It reminded me of a low point in my life that I talk about in our book A Higher Calling going on pre-sale 15 Jan."
In Earls' campaign ad, and in multiple photos online, he is wearing a Sentinel Badge. But there is no record of him earning the award in Army records reviewed by Military.com. However, there are photos of him being awarded the badge in early 2020. He did earn the Ranger tab, Expert Infantryman Badge and Parachutist Badge, among other standard awards. 
While a cadet at West Point, Earl's enterprising activities also rubbed some the wrong way.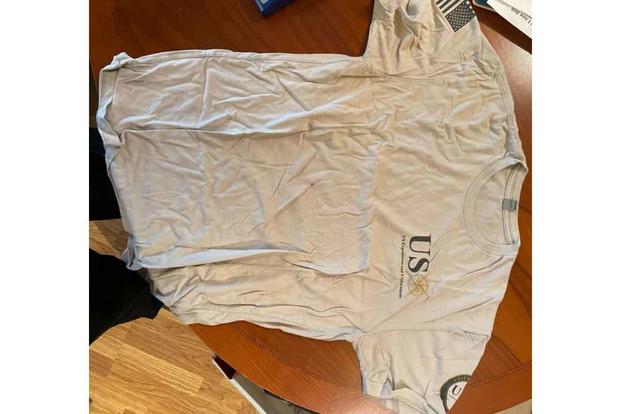 One classmate who was junior to Earls said he sold him a shirt to fund his trek up Mount Everest.
"He was supposed to be my upper-class mentor at West Point when I was a plebe," a former cadet said. "He sat me down at the mess hall, asked me how I was, and told me to buy one of the T-shirts he was selling to fund his Everest climb."
During the climb, Earls lost his goggles and shared a pair with a Sherpa who developed snow blindness and nearly fell off the mountain, according to reporting from ABC News.
Georgia's 6th is one of 47 House districts Republicans are targeting to flip in 2022, and will likely be one of the elections where both parties pour the most money into, according to reporting from CQ Rollcall. Democrats have a slim majority and have little room for error to hold onto their majority. It is unclear how many Republicans Earls will face in a primary election. If he moves onto the general election, he'll face Democratic Rep. Lucy McBath, who won her last election with 54.6% of the vote. However, in 2018, she eeked by with 50.5% of the vote.
Editor's note: This story has been updated to show that, while there is no military record of Earls being awarded the Sentinel Badge, there are photos of him receiving it in early 2020.
-- Steve Beynon can be reached at Steve.Beynon@military.com. Follow him on Twitter @StevenBeynon.
Related: Temporary Burial Place Has Been Decided for Army Chaplain Emil Kapaun, Family Says