CAMP PENDLETON -- It's kind of like Fight Club. Except it's mental, not physical, and Marines can't stop talking about it.
In the recently concluded first pilot of the new 14-week Infantry Marine Course, junior grunts and their instructors blew off steam and passed downtime with game after game of chess. For Marines, famous for staving off boredom in sillier and more reckless ways, hours spent playing the timeless game of mental strategy represents a bit of a departure.
Read Next: 'Failure Will Be a Catastrophe:' Marine Pilot Tests Spaceships for Virgin Galactic
But it's completely in keeping with the focus of the new infantry course, which calls on the Corps' most junior ground-pounders to think critically, take initiative and consider their training in the context of the service's larger strategy to prepare for a future fight against a peer adversary in a maritime environment.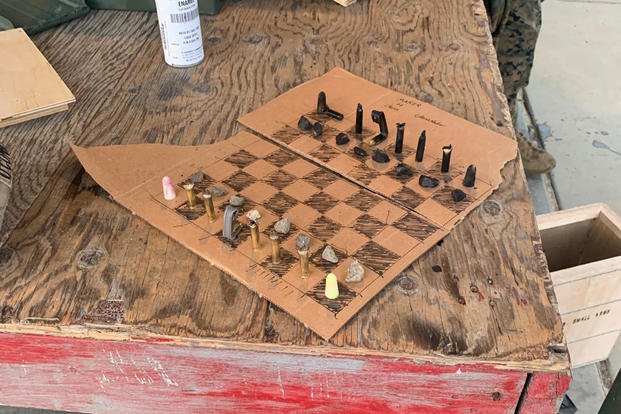 Capt. David DeLong, commander of Headquarters and Instructor Company within School of Infantry-West, told reporters during the course's capstone event that helping the Marine students to see the big picture regarding the skills they were learning boosted their performance and accelerated their learning.
"What we've seen is that has motivated [the Marines] to progress a lot faster," he said. "Competition is the ultimate motivator, right? And competition is vital to both the Marine Corps military, and just success overall."
Enter chess. Chief Warrant Officer 3 Amantangelo "AJ" Pasciuti, gunner for Infantry Training Battalion-West and a contributor to the new course's design, said the idea to incorporate chess came from his work with special operations troops at Camp Pendleton.
Nobody was required to play the game, he said, but chess boards were readily available to anyone who wanted a match. And students could challenge anyone -- even their most senior instructors. It turned out to be an irresistible offer.
Pasciuti said he experienced the value of the exercise firsthand when one of the junior infantry Marines challenged him to a game.
"This Marine, from whatever socioeconomic background, whatever his upbringing was, was able to sit across from me. Now, 20 years of service, versus nine months of service, and we were equals," he said. "What this did is, we're also putting a focus on intellect. Because it's really easy to say that Marines are the toughest, because we're the fastest and the strongest. But what if we put a value on intelligence?"
The chess-playing took on a life of its own among the students, who enthusiastically participated in a "March Madness"-style tournament against the instructors (called, appropriately, the Chess-ty Puller tournament in honor of a Marine Corps icon). Instructors wouldn't say who won the tournament, but said competition had been lively.
Gameplay had even entered the Marines' vocabulary: Pasciuti said he'd heard troops saying things like "don't be a pawn" when talking warfighting strategy and training.
More evidence of how well chess had caught on among the students came in the form of a photograph showing an improvised set on a piece of scrap cardboard, with pieces made from pebbles, spent brass casings and foam earplugs.
Pasciuti said two Marines had ended up on an all-night firewatch and had forgotten to bring along one of the available travel chess sets. The made-from-scratch board, with half its pieces spray-painted black, was their solution.
"They don't have their phones, right," he said of the Marines in the training course. "So, give them something to do -- something better than, you know, stacking rocks or something."
Chess also has served to break down barriers between students and instructors in a way that extends beyond the game. Two instructors told Military.com that their Marines felt more comfortable approaching them and learning from them in the course because they developed a rapport across from each other on the board.
"Many times I have students come up to me asking me questions," Gunnery Sgt. Sean Turner said. "Before I could see, they were just like, 'Oh, that's a staff [noncommissioned officer]. I can't talk to that guy. Really, I want them to approach me, pick my brain a little bit. And now, because we're playing chess and instructors are having these conversations, they'll go up to anybody."
Sgt. Jonathan Kosek, another instructor, said he felt the game had sharpened his students cognitively and encouraged them to think beyond their current taskings in the course.
"These students are performing at a level where, like, senior Marines come back from their first deployment. Some of them are able to make the same calls as team leaders in the Fleet Marine Force," he said. "And it's crazy to see them developing as students, because they're thinking about things instead of just being another guy in line."
The next Infantry Marine Course pilot at Camp Pendleton will include male and female infantry troops, and is set to kick off in June.
-- Hope Hodge Seck can be reached at hope.seck@military.com. Follow her on Twitter at @HopeSeck.
Related: Every Grunt a Swimmer: Behind the Marine Corps' New Focus on Water Skills