CAMP PENDLETON -- "Expect to start by getting wet."
That's about all the 138 newly minted grunts chosen to participate in the new Infantry Marine Course, or IMC, pilot had been told about the final two-day capstone test of their skills. But on Wednesday afternoon, just before the start of the event, they got the full scenario: They'd be dropped from a small boat into the South China Sea and have to swim, in full combat gear, 300 yards to a nearby ship.
For the purpose of training, they approximated this by waterproofing their buoyant packs, getting hosed down with their rifles and woodland camouflage utilities, and jumping into a 25-meter pool to swim 12 long lengths with gear in tow.
By the end of the first length, a few Marines were clinging to the side of the pool to catch a breath under the watchful eye of swim instructors. Others formed clusters of three or four, working together to keep their heads up and propel the bulky packs. A few strong swimmers settled into a kicking rhythm and quickly left the rest of the group behind.
Read Next: As Tank Battalions Shut Down, Dozens of Marines Are Joining the Army
But despite the struggles of some, infantry leaders standing poolside looked on in approval. Some of the Marines showed up to the course completely unable to swim; but at the conclusion of the 14-week course, 90% of them had achieved water safety intermediate certification, meaning they had the skills needed to survive in deep water.
"They're not just surviving in the water; they're thriving," Lt. Col. Walker Koury, commanding officer of Infantry Training Battalion, or ITB, said as he watched poolside. "Any of these Marines, you could throw them off a boat and they'd be all right."
The previous Marine Corps infantry training course had no water component at all. But after 20 years of fighting in desert regions in the Middle East, the service is reorienting itself to a new mission -- one where proficiency and comfort in and around the water is vital. And the loss of nine troops to drowning in a horrific Marine Corps amphibious assault vehicle accident last year has increased the sense of urgency to develop and maintain these skills.
The investigation into that fatal accident stated that at least one Marine inside the sinking AAV was panicking as the vehicle filled with water because he couldn't swim. Aleta Bath, the mother of Marine Pfc. Evan Bath, a 19-year-old from Wisconsin who died in the accident, said when she read that in the report, she knew it was referencing her son.
"He barely passed his swim qualifications, and then they didn't do any further training," she told Military.com in March. "I already had been told that he was very nervous that day and so when I read ... that, it's hard to see that in black and white."
Bath said she's haunted by picturing her son's final moments. The investigation found that several of the Marines in the AAV never completed egress training to leave a sinking vehicle and hadn't been given an emergency safety brief before heading into the water.
"Knowing the horror that he must have felt, and realizing that he's in this big ocean by himself ... and he can't swim very well," she said. "They put my son who couldn't swim with no training in there."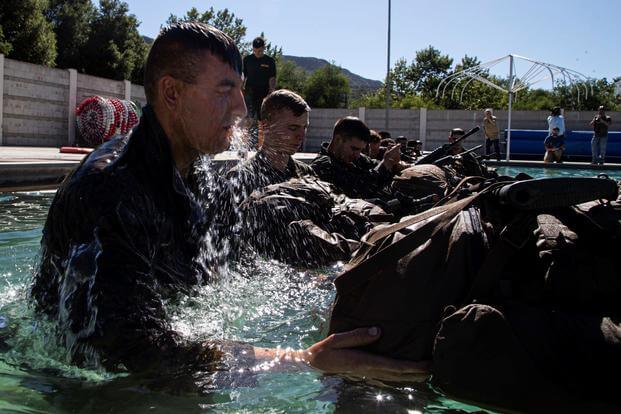 Koury, who completed multiple tours as a liaison and foreign exchange officer in Japan, said he drew on his experiences in the Pacific in developing the course's water component.
"We found that in a lot of these little places that you're working with, out in [the Japan-based] 3rd Marine Division, it's difficult to get to. So typically, you're seeing small boats, stuff like that," he said. "So when we were developing the course, we said, how can we best make this amphibious part work?"
Rather than focusing on safety from a specific small boat platform or connector, he said, planners decided to start with water skills.
"We used to joke that if you can dodge a wrench, you can dodge a ball," he said. "If you can [swim], we can pretty much put you on any type of platform and get you safely ashore."
The concept of making Marines better swimmers isn't entirely new. Then-Marine Commandant Gen. Robert Neller proposed a plan in late 2017 that would add swimming competency as a promotion requirement for enlisted Marines. He was motivated to do so, he said, after three Marines died in the water after their MV-22 Osprey went down off the coast of Australia. Neller's plan was never realized by the time he retired, however.
In the IMC pilot program, swimming was not mandatory. But all the Marines were given time at the pool every week, and they used it.
Sgt. Raz Ornelas, a swim instructor for the course, said he was thrilled to see every Marine get in the water.
"To me personally, I feel like it should always have been a huge emphasis, as we are an amphibious force," he said. "As well as the matter happening almost a year ago with a particular unit."
Asked if he was referring to the July 30 AAV accident off the Camp Pendleton coast, he nodded.
The horrors of that mishap are still fresh; a recently released investigation found aging equipment and flawed planning contributed to the tragedy.
"It's a black eye for us," said Gunnery Sgt. Blake Burkhardt, chief instructor for ITB. "So how do we fix it ... we need to make swimming a pass and failable event."
But swimming, the Marines are learning, is not just about water survival. It may also have injury prevention benefits. Despite the increased length of the Infantry Marine Course -- 14 weeks compared to eight-and-a-half in the previous iteration -- grunts are getting injured less often. Attrition in the course is down from 12% to just 4%, and only six Marines have gone down with musculoskeletal injuries, leaders said.
Col. Coby Moran, commanding officer of School of Infantry-West, attributed that in part to building swimming into physical training.
"So you're getting good at swimming. That increases your amphibious competence; we're getting better fitness out of it," he said. "And that's also deloading your system and reducing those musculoskeletal injuries. So when you look at that package, we, I think, have a much better appreciation of what swimming can do for you."
The service will conduct three more infantry course pilots over the summer -- one more on the West Coast, and two on the East Coast. Findings from the course will inform not only the final version of IMC, but possibly other training courses as well.
-- Gina Harkins contributed to this report.
-- Hope Hodge Seck can be reached at hope.seck@military.com. Follow her on Twitter at @HopeSeck.
Related: The Marine Corps Is Experimenting with a Concept that Could Reshape the Infantry