Sig Sauer has released a new video that shows glimpses of its prototypes for the Army's Next Generation Squad Weapon, or NGSW, firing to the point that suppressors glow red hot.
The video comes as Sig and its two competitors -- Textron Systems, and General Dynamics Ordnance and Tactical Systems Inc. -- wait for the Army to complete the final phase of testing. The service is scheduled to pick one of the three gunmakers in the first quarter of fiscal 2022 to produce NGSW rifles and auto rifles chambered for a new 6.8mm round to replace 5.56mm M4A1 carbines and M249 squad automatic weapons in infantry and other close-combat units.
"The Army's Next Generation Squad Weapons program is the most audacious effort in decades," Sig President and CEO Ron Cohen says in the video. "We are so impressed with the Army personnel; they are pushing us hard. ... They get it. They are letting us have access to the soldier. ... We are learning from each other, which brings tremendous value as we go forward."
Read Next: Air Force Quietly Ends Program Allowing Retired Pilots to Return to Service
The video shows Sig personnel test-firing its prototypes, something that hasn't been seen much in the Army's close-hold effort.
Sig's belt-fed NGSW automatic rifle prototype is 40% lighter and "doubles the effective range" of the M249, according to the company's news release on the video. The M249 weighs about 18 pounds and has a maximum effective range of 600 meters on a point target and 800 meters on an area target, according to Army online resources.
"I think that what we tried to do is stay true to the fact that ultimately someone has to carry these guns ... and it has to bring significant change to warfare," Cohen says in the video.
Sig is no stranger to Army small-arms efforts. In 2017, the service selected the gunmaker to make the M17 and M18 Modular Handgun System pistols that are replacing the Beretta M9 9mm pistols across the U.S. military.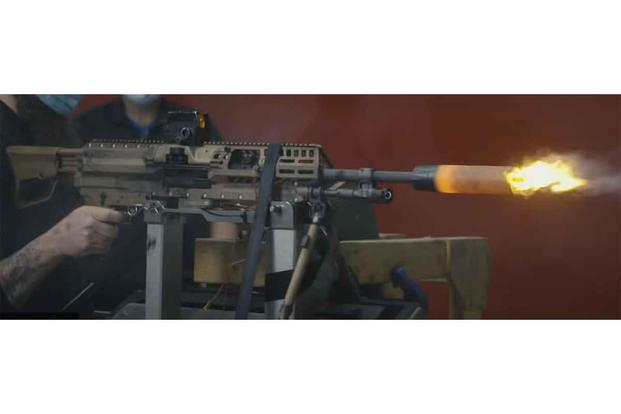 Among the questions that "everybody is asking is can Sig handle it? Are we ready? Can we handle the timeline; can we handle the enormity of the effort?" Cohen said.
"We are the singular small-arms company in this competition; we make small arms every day," he said. "For Sig, as a small-arms company, to compete at this level -- if we win this, this changes how we define ourselves as a company."
-- Matthew Cox can be reached at matthew.cox@military.com.
Related: 5 Army Weapons Soldiers Might Actually Get Their Hands on Soon