Despite all the disruptions of 2020, Army modernization officials have tested new, longer-range and more precise infantry weapon systems. They also announced efforts that could lead to future machine guns, precision grenade launchers and possibly even hand-held directed energy weapons.
Soldier lethality is a key Army modernization priority, one that has gained momentum since the service unveiled a strategy in 2017 to equip combat units with a new generation of air and ground combat systems.
In the short term, the Army wants to field new squad-level weapons to close-combat units and a set of high-tech goggles that projects a sight reticle in front of soldiers' eyes.
Read Next: Congress Authorizes New Arctic Icebreakers for Coast Guard
The service announced long-term efforts to develop new belt-fed, crew-served weapons, as well as to begin thinking about what infantry weapons will look like decades from now.
Here's a look at five weapons-related programs Military.com has reported on this year: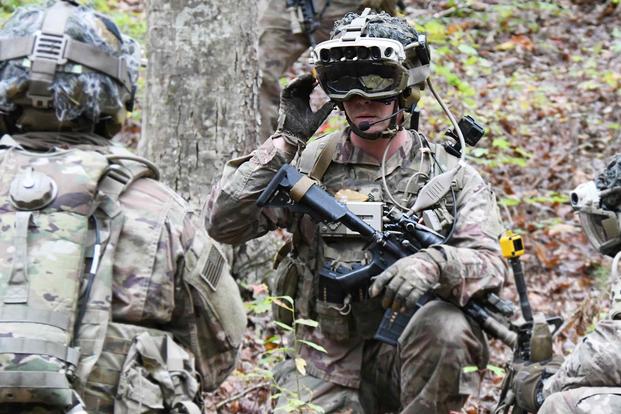 1. Integrated Visual Augmentation System (IVAS).
In October, Army modernization officials finished the third soldier touch point (STP) in which troops evaluated the first ruggedized version of IVAS. The Microsoft-designed goggles are intended to provide a heads-up display that offers infantry troops situational awareness tools to help them navigate, communicate and keep track of other members of their unit day and night.
But IVAS is also designed to enhance troops'' marksmanship with a tool known as Rapid Target Acquisition. A special thermal weapons site mounts on the soldier's weapon and projects the site reticle into the wearer's field of view via Bluetooth signal. Soldiers from the 82nd Airborne Division involved in the STP said it took some adjustment to learn how to shoot with IVAS, but most said they were easily hitting 300-meter targets from a standing position. If all goes well, the IVAS is slated to be ready for fielding sometime in 2021.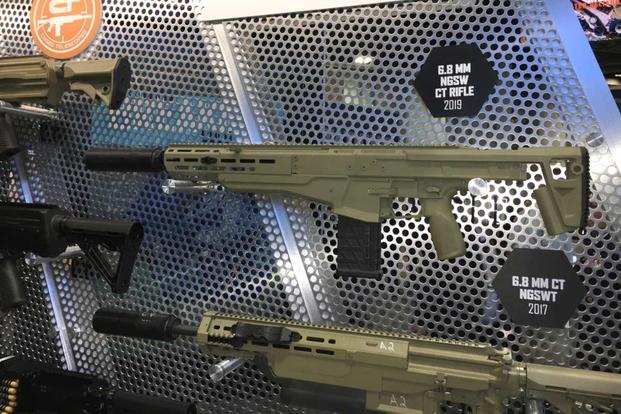 2. Next Generation Squad Weapon (NGSW).
The Army is in the final phase of evaluating NGSW rifle and auto rifle prototypes, chambered for a new 6.8mm round, that are slated to start replacing the 5.56mm M4A1 carbine and the M249 squad automatic weapon in infantry and other close-combat units in the fourth quarter of fiscal 2022.
Textron Systems, General Dynamics Ordnance and Tactical Systems Inc., and Sig Sauer have delivered prototype systems and ammunition that have gone through STPs. Each vendor's design is unique and fires a different version of the 6.8mm ammunition. The Army plans to select a single firm to make both the weapons and ammunition in the first quarter of fiscal 2022.
The NGSW weapons are so promising that U.S. special operations units such as the 75th Ranger Regiment and Special Forces units are expected to adopt them, as well as conventional units.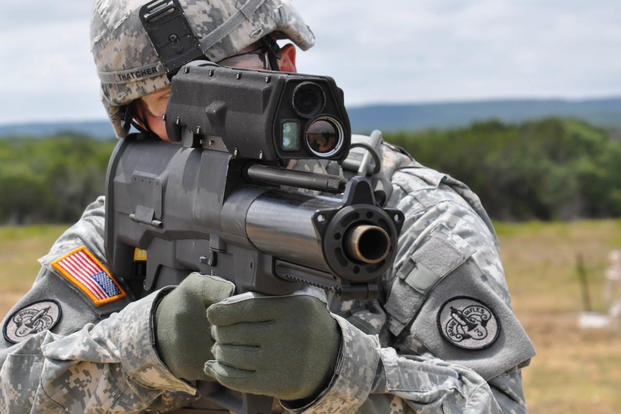 3. Precision Grenadier.
Army weapons officials announced in November that the service is pursuing a longer-term effort to arm some infantry squad members with a precision, counter-defilade weapons system designed to destroy enemy hiding behind cover. Currently, two infantrymen in each squad are armed with an M4A1 carbine with an M320 40mm grenade launcher to engage counter-defilade targets, but weapons officials have long wanted something more sophisticated.
During the past decade, the Army tried to field the XM25 Counter-Defilade Target Engagement System -- a semi-automatic, shoulder-fired weapon that used 25mm high-explosive, air-bursting ammunition. XM25 stirred excitement in the infantry community but, in the end, the complex system was plagued by program delays that led to its demise.
The Army is currently conducting the Platoon Arms and Ammunition Configuration (PAAC) study -- scheduled to be complete by 2024 -- which will look at the enemies the service will face in the future and help guide weapons officials to a new counter-defilade weapon sometime in 2028, Army officials say.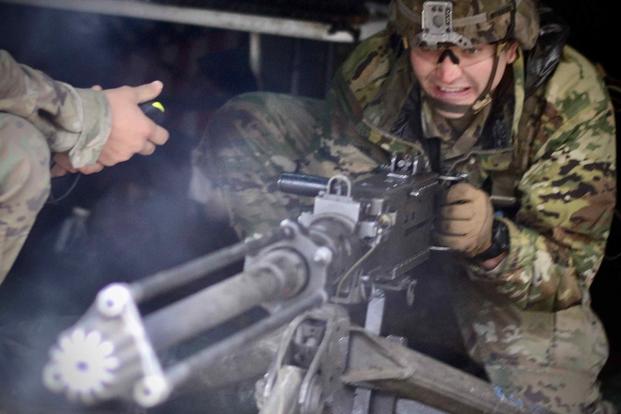 4. Next-Generation Medium and Heavy Machine Gun.
Army weapons officials also announced in early November that the service wants to eventually replace the venerable 7.62mm M240 and the .50 caliber "Ma Deuce" M2 with next-generation machine guns. But Army officials said that the decision to move forward on such a program will depend on the future performance demonstrated by the NGSW once it's fielded. The PAAC study will also help to guide decisions on what the next-gen medium and heavy machine guns would look like, according to Army officials.
The Marine Corps is working the Army on the next-gen machine gun effort but is also assessing a .338 Norma Magnum machine gun -- that U.S. Special Operations Command (SOCOM) is developing -- to potentially replace the M240s in Marine rifle companies.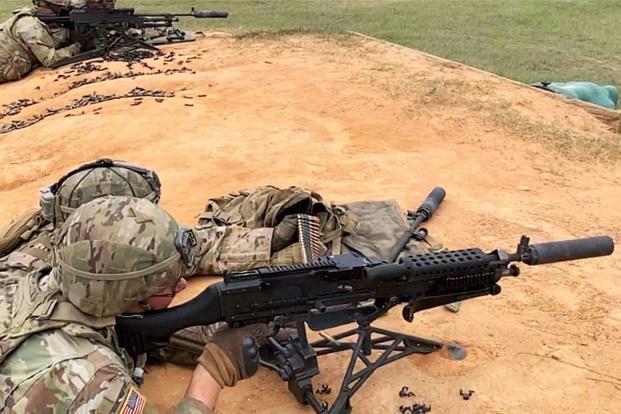 5. Machine Gun Suppressors.
The Maneuver Battle Lab at Fort Benning, Georgia, live-fire tested a promising M240 sound suppressor from Maxim Defense during Army Expeditionary Warrior Experiment (AEWE) 2021, which began in late October. Benning officials said this is the first year that a machine gun suppressor has created excitement in the maneuver community.
Other suppressors in past tests have not been able to stand up to the heat and audible roar produced by the 7.62mm M240. Finding a durable, affordable suppressor that can dampen the sound signature of an M240 would make it more difficult for enemies to locate and target machine gun teams from a distance, Benning officials say.
When the AEWE concludes in early March, Battle Lab officials will compile a report detailing the performance of equipment tested. If testing continues to go well, the Battle Lab may recommend that the Maxim suppressor undergo further testing for possible fielding, according to Benning officials.
Looking further into the future, it will likely be a long time until infantrymen are armed with the blaster weapons like those carried by Stormtroopers or Han Solo in the "Star Wars" saga, but Army weapons officials have already started thinking about it.
"We are working on the Next Generation Squad Weapon ... but then what's the next weapon after that?" Col. Rhett Thompson, director of the Soldier Requirements Division at Benning, said during the National Defense Industrial Association's Armaments, Robotics and Munitions conference in early November.
"Does it fire a round? Instead of a magazine with ammunition, is it some sort of energy capacity ... or is it something more directed energy or something else?" he said. "That is really what we are getting at as we get further out there, and some of that is kind of fun to think about."
-- Matthew Cox can be reached at matthew.cox@military.com.
Related: Army Modernization Programs Will Be Fielded on Time Despite COVID-19 Delays: General