The U.S. Air Force's principal hunter-killer drone, used for counterterrorism operations for more than a decade, is expanding its sea legs.
The service is finishing up another Agile Reaper exercise with the Navy and Marine Corps this week, during which it has tested how quickly airmen can launch, recover and rearm the MQ-9 Reaper for its next mission, according to officials from the 49th Wing at Holloman Air Force Base, New Mexico.
These exercises are readying crews to use fewer personnel and less equipment at forward-deployed locations as the MQ-9 takes on more maritime missions for the next dynamic conflict, officials said.
Read Next: The Marine Corps Is Known as a Force of Young Warriors. That's About to Change
During the second Agile Reaper exercise, a follow-on from the first held last fall, the Air Force has practiced enhanced maritime surveillance missions and moved toward close-air support strike to back up Marines going ashore, said Col. Ryan Keeney, commander of the 49th Wing. The exercise was conducted out of Naval Air Station Point Mugu and San Clemente Island in California.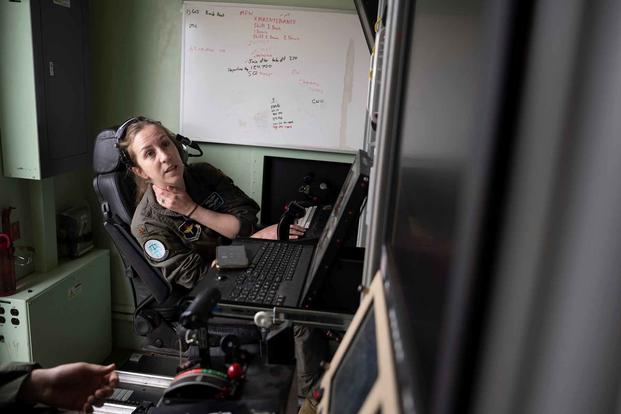 "This time, we also brought our weapons load crews, so both weapons and ammo airmen along with inert [Hellfire missiles], to see, essentially, if an aircraft landed, how quickly could we get it from there, fully rearmed and launch back off again. … So [we were testing], 'Can we have multiple launch and recovery sites that give us options for agility with turning aircraft and getting back airborne?'" he said last week in an interview with Military.com.
A slimmed-down personnel and equipment profile was used at San Clemente, which acted as a remote, forward operating location. C-17 Globemaster IIIs transported personnel and ground station and communications equipment, while pilots at Holloman operated three MQ-9s for the duration of the exercise, Keeney said.
He said he could not disclose the number of personnel involved for operational security reasons.
"[The Reaper] has a lot of game in a ton of other missions that you don't see a whole lot of ... because [it's] so highly requested and in [the Middle East]," Keeney said, adding that Marine Corps operators are also getting a taste of how the MQ-9 fits into their maritime littoral missions in the Pacific.
In October, the Marine Corps established a new military occupational specialty for Reaper operators, signaling a shift as the service takes on its own intelligence, surveillance and reconnaissance missions using a larger drone. While contractors have operated MQ-9s for the service in the past, Marines are currently training alongside airmen at Holloman for the ISR mission.
A group of Marines assigned to the 6th Attack Squadron participated in Agile Reaper this month, said Col. William Donnelly, commander of Marine Aviation Training Support Group 22.
"As the Marine Corps continues to utilize MQ-9s in our mission sets, the training our pilots and sensor operators receive at Holloman is invaluable," he said.
Marine Commandant Gen. David Berger said via Twitter this month that his service will double the number of unmanned squadrons flying the Reaper. "Forward-deployed Marines flying MQ-9 will be the eyes and ears of the Joint Force," he said.
The exercise, which began April 7, comes as another Navy-led drill paired the MQ-9B Sea Guardian with a guided-missile cruiser to track targets well beyond line of sight, referring to relaying signals or communications beyond transmittable range. The exercise, known as Unmanned Integrated Battle Problem 21, was the Navy's first to test how unmanned and manned systems work together.
While the objectives of the two exercises are different, Keeney said they are a testament to being able to integrate the MQ-9 into the joint environment in missions "that we traditionally haven't done."
"This is a new area for us," he said. "But the comments I got back from the Navy were that they were impressed with what they saw, and they want more of it. And the Marines were like, 'This is why we bought [into] the MQ-9.'
"I'm supportive of when we can put the MQ-9 in these other missions and show off our stuff," he added.
-- Gina Harkins contributed to this report.
-- Oriana Pawlyk can be reached at oriana.pawlyk@military.com. Follow her on Twitter at @Oriana0214.
Related: Air Force Tests Ability to Team Up Operators in Different Locations for Single Drone Sortie