Researchers are seeking hundreds of Marines to get high-tech body scans and special X-rays that could lead to military-wide updates to troops' body composition standards, which have long been criticized as outdated.
The Marine Corps is conducting what officials say is the most technologically advanced study of body composition standards since the 1980s.
"Taking care of Marines is always a leadership priority," said Maj. Lindsey Slyman with Marine Corps Training and Education Command's policy and standards division. "And taking care of Marines means not only vigorously enforcing our high standards, but constantly evolving those standards for a more healthy, fit and ready force."
Read Next: Army Astronaut Demonstrates 'Weightless' ACFT at International Space Station
Over the next year, the Marine Corps' Human Performance Branch hopes to get between 600 and 800 volunteers based in the Washington, D.C., area to participate in the new study, which could inform the military's strict weight and body-fat limits. The population will include Marines of all ages and those who are postpartum.
Starting last month, officers at The Basic School in Quantico, Virginia, were also given the chance to volunteer for the study. Those Marines will be assessed at both the start and completion of their six-month training. The goal is to have at least 100 female Marines participate in that portion of the study and about 300 men.
Data suggests that today's Marines are healthier and fitter than in any previous era, said Karl Friedl, the Army Research Institute of Environmental Medicine's senior research scientist for physiology. They also have more lean body mass and greater bone density, he said.
That has left some calling for reform. As four Marine officers put it in December, the Defense Department's body composition standards put more emphasis on being thin than they do on being fit.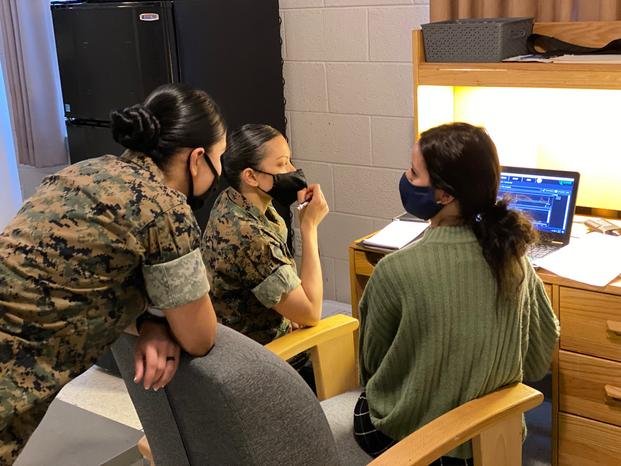 Now, the Marine Corps -- in partnership with the Army Research Institute of Environmental Medicine, which is leading the study -- is using new technologies to determine whether policy changes are needed to adjust how body fat is measured and calculated.
"It is possible the results of this study will be used to complement other services' information about body composition standards," said Brian McGuire, head of the Marine Corps' Human Performance Branch.
The process takes about 30 minutes and involves six parts, according to slides posted on social media to solicit volunteers. Marines will complete a questionnaire about their demographics, and their height and weight will be recorded. Tape measurements of their neck, hips and abdomen will then be taken, Friedl said.
A 3D full-body surface scanner, which can almost instantly compute a variety of body circumferences, widths and heights, will be used. Another machine will then use dual-energy X-ray absorptiometry, known as DXA, to measure Marines' soft-tissue fat, lean components and bone density.
A third technology, called bioelectrical impedance, will then assess body composition and total body water.
"This science-based research will add to the current dataset the Marine Corps uses to evaluate and implement appropriate policies, standards, and methods to drive positive behaviors that emphasize the health and performance of our force," Slyman said.
Results from those state-of-the-art tools will later be compared to measurements taken by tape, Friedl said. Marines and other troops have for years complained that the tape test is an inaccurate measurement of health and fitness. The Air Force announced in December that the tape test would no longer be used in that service.
"It has been a long time since those [tape-test standards] were first established, and it was a 1980s population," Friedl said. "We're training differently, and physique may be changing, especially with more strength training by men and women. We want to see how reliable those [measurements] are for ... a current population."
Lastly, the Marine volunteers will be asked to complete what's called a countermovement jump test on a special platform, Friedl said, which will measure lower-body explosive power and strength.
Marines will also be asked to bring a copy of their basic training record and most recent fitness test scores. The scores will be examined in relation to body composition measurements, such as muscle mass and body-fat percentage, said Maj. Kimberly Wade, head of Human Performance Branch's research and policy section.
The research team will not keep Marines' basic training records, she added. They'll just be used to verify volunteers' recent fitness test scores.
Researchers hope to complete the portion of the study from volunteers in the National Capital Region by next March. The portion at TBS is expected to be completed in June 2022.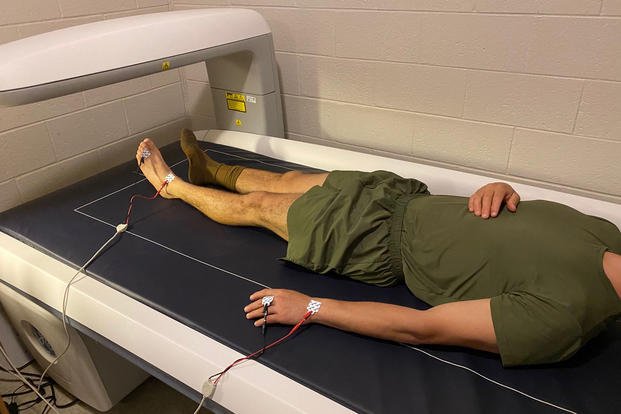 Discussions are also underway to extend the study beyond the National Capital Region to allow personnel in other areas to participate, Friedl said.
Findings from both portions will be presented to leaders at Training and Education Command, which oversees Marines' fitness and body composition standards.
The latest change to fitness tests and body composition rules were made in February, when the Marine Corps extended the time new moms are exempted from the rules from nine months to 12.
Major changes to the body composition program were last made in 2017, when Marines with high fitness test scores were exempted from weight and body fat limits. The maximum body-mass index, or BMI, for women was also increased from 25 to 26 that year. A study leading up to that change showed women with higher BMI had lower injury rates.
In 2008, the Marine Corps introduced age-specific body fat standards. Until the 1960s, no maximum weights existed for the Marine Corps at all -- only minimum weights to ensure troops were not malnourished and unfit to fight.
Whether this new study results in changes to body composition standards, tape test equations or other regulations remains to be seen, officials stressed. But anytime the Marine Corps works to modernize the health and fitness of its force, it is "a step forward," McGuire said.
"USMC fitness and body composition standards are in a constant state of analysis, assessment and modification if necessary," he said. "This study will examine the relationship between lean mass and performance in modern-day Marines so that the leaders can ensure that fitness standards and policies for all Marines best support readiness of the force."
-- Gina Harkins can be reached at gina.harkins@military.com. Follow her on Twitter @ginaaharkins.
Related: Female Marines Who Called Out the Corps Commend New Postpartum Policy