The complaints of expectant Marines have finally been heard.
The Marine Corps is releasing the start of a series of new uniform items designed to be more useful and better-fitting for pregnant and nursing Marines, officials said this week.
New items, including maternity and nursing undershirts and a service uniform blouse with adjustable side tabs, will be available for purchase at Marine Corps Exchanges starting this month, Marine Corps Systems Command, or MCSC, officials said in a Wednesday release. Other maternity uniform components, including PT shorts, dress blue skirt and pants, and possibly a dress blue jacket, are also on the way, officials said. 
Read Next: Charles Coolidge, Medal of Honor Recipient Who Fought Boldly in WWII, Dead at 99
Existing Marine Corps maternity items include a shapeless and tent-like service tunic in olive drab and a non-adjustable khaki service shirt; pregnant Marines have been known to squeeze into their regular uniforms for months to avoid wearing them. 
The Marine Corps Uniform Board and Assistant Commandant Gen. Gary Thomas presented feedback to MCSC in October 2019, and the updated and modified items were approved by Commandant Gen. David Berger in June 2020, officials said.
The new green "skivvy shirts" are built for form and function. According to the release, the maternity shirt "includes a ruching element at the side seams, providing comfort, shape and ease of use during pregnancy." It's also stretchy enough to remain wearable throughout all three trimesters.
The nursing shirt has a "cross-over design under a panel" that allows a Marine to nurse or pump during the workday with more convenience.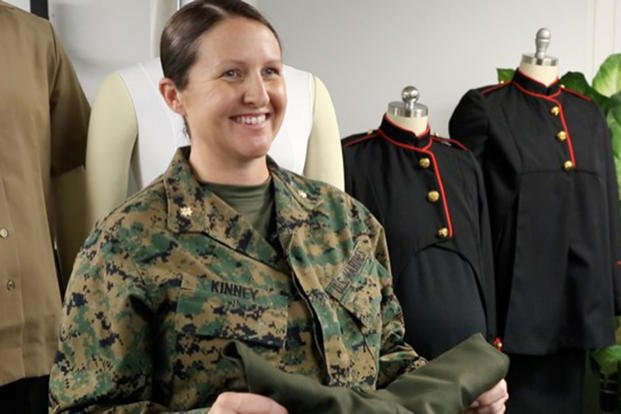 Maj. Elena N. Vallely, a team lead for Global Combat Support System-Marine Corps, said in the release that she had assessed the nursing shirt in March and found it "a great product."
"As both a mother and Marine, I think it's important for Marines to have options that enable them to both nurse and look professional while wearing the utility uniform," she said.
While all items remain optional, the new maternity shirt will be included in the maternity clothing allowance, meaning Marines will not have to pay for it out of pocket.
Still to come in the maternity clothing rollout are maternity PT shorts, designed to expand around a growing pregnant belly. They're still in development, officials said, but are expected to be certified this fall and made available for purchase soon thereafter.
And in 2022, pregnant Marines will be able to buy a maternity version of the dress blue skirt and sky-blue slacks. A spokeswoman for MCSC, Kelly Flynn, declined to provide Military.com with any additional details about dress blue items, noting that designs for a jacket are predecisional. Photographs released by the Marine Corps show a dress blue coat mock-up that features a cutaway design, allowing the coat to keep its fitted appearance with a looser underlayer covering the belly. 
Maj. Desiree Sanchez, associate director for the Stockdale Center for Ethical Leadership at the U.S. Naval Academy in Annapolis, Maryland, recalled struggling to attend formal events while heavily pregnant in 2019.
"I remember an event where we had to be in our dress blues and I couldn't fit in that uniform," she said in the release.
Flynn told Military.com that, in addition to the dress blue coat, the Marine Corps is working to develop better maternity service uniform slacks and skirt and utility trousers.
"These items have no projected dates at this time," she said.
The Marine Corps' uniform updates follow moves by other services to better meet the needs of pregnant service members. Army officials said last November that the service's uniform board was considering updates to its smock-like standard maternity service uniform; the Air Force moved to purchase maternity flight suits for the first time in its history last June.
Marine Corps officials said this new series of items is aimed at supporting Berger's objective of improving recruiting and retention by better meeting Marines' uniform and equipment needs.
"The population of expectant Marines may be small," Lucinda Stocks, a program analyst with MCSC's Program Manager Infantry Combat Equipment, said in a statement. "But developing these maternity uniforms is important for the future of the Marine Corps."
-- Hope Hodge Seck can be reached at hope.seck@military.com. Follow her on Twitter at @HopeSeck.
Related: So Long to Smocks? Army Considers Changes to 40-Year-Old Maternity Uniform