The Air Force's Airman Battle Uniform is getting its official send-off.
On Thursday, airmen will be required to retire their old "Tiger Stripe" camouflage for good and switch to the Operational Camouflage Uniform, or OCP. The service has spent three years phasing in the Army's service duty uniform.
The Air Force approved the OCP to be worn full-time beginning Oct. 1, 2018, with the expectation that all airmen and Space Force guardians would make the complete changeover by April 1, 2021, after wearing the Airman Battle Uniform, or ABU, for more than a decade.
Read Next: Robot Security Dogs Have Arrived at Tyndall Air Force Base
The OCP already has a history with the service.
Since 2012, nearly 100,000 airmen have worn the uniform when deployed overseas to places like Afghanistan or while operating outside the wire, Maj. Gen. Robert LaBrutta, then-Air Force director of Military Force Management Policy and deputy chief of staff for Manpower, Personnel and Services, said in 2018. LaBrutta retired in 2019.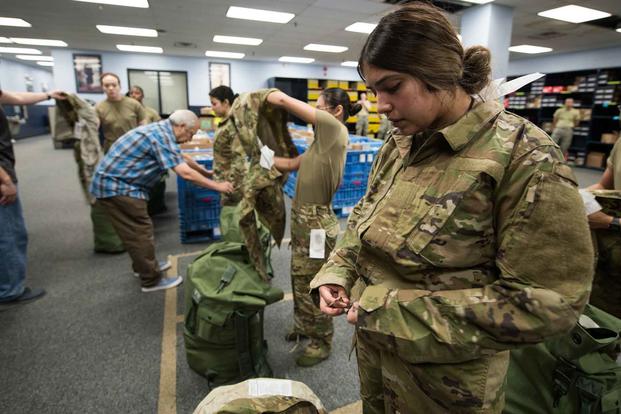 Air Force Special Operations Command members were some of the first to don the OCP, along with some Security Forces units, LaBrutta said at the time.
Service member feedback played a big role in the decision to switch to the OCP, top officials have said. Airmen have expressed on social media that moving to a single combat uniform for the service couldn't come soon enough.
In 2013, The Washington Post reported that there were 10 different types of military camouflage uniforms in use, depending on service and where troops were stationed.
The ABU's "tiger stripe" pattern was supposed to pay homage to camouflage used during the Vietnam War, according to the Post.
But early iterations "looked slightly off" from one uniform to the next, with multiple shades making up the pattern, according to Master Sgt. Mike Smith, who wrote a farewell tribute to the ABU earlier this year. Smith serves at the I.G. Brown Training and Education Center at McGhee Tyson Air National Guard Base in Tennessee.
Smith asked airmen their opinions of the ABU and received a variety of responses.
"Not since leisure suit wearers were cool has an outfit been so disliked and oppositely loved," he said in a release. "One opponent compared its camouflage design to an over-patterned couch; another advocate hailed its unique ability to channel the wind down her sleeves, from one arm to the other while driving down the road -- she will miss that."
Airmen at the Tennessee base got together to say goodbye to the ABU one last time March 29, taking selfies in the tiger stripe.
"We've come a long way in this uniform, here and deployed," said Chief Master Sgt. Steven Durrance, the enlisted professional military education center commandant at McGhee Tyson.
"It's important to capture this moment and take time for our heritage, who we are, and where we come from," he said in a separate release.
The service will donate leftover uniform gear associated with the ABU to junior ROTC programs across the country, service officials have previously said.
-- Oriana Pawlyk can be reached at oriana.pawlyk@military.com. Follow her on Twitter at @Oriana0214.
Related: Air Force Delays Some OCP Uniform Mandatory Wear Dates