The U.S. Air Force is adopting the Army's Operational Camouflage Pattern as its new combat uniform and will begin incrementally phasing it in beginning Oct. 1.
The service will ditch the Airman Battle Uniform, known as the ABU, for the OCP over the next three years, with the expectation that all airmen will be wearing the OCP by April 2021, said Maj. Gen. Robert LaBrutta, Air Force director of military force management policy, and deputy chief of staff for manpower, personnel and services.
"Enhancing our readiness, the OCP is a uniform for form, fit and function," LaBrutta told reporters May 9. "It is the best-of-breed of utility uniform that we believe is in the inventory."
Air Force Chief of Staff Gen. David Goldfein agreed. "The uniform works in all climates -- from Minot to Manbij -- and across the spectrum of missions we perform," he said in a service release. "It's suitable for our airmen working on a flight line in Northern Tier states and for those conducting patrols in the Middle East."
The Breakdown
The OCP's colors vary by location -- desert vs. forest, for example. It generally has a four-to-six color palette incorporating greens, beiges, browns, tans and greys.
Those airmen who are already authorized to wear the uniform can currently sport desert sand or tan boots, but the service will transition completely to the coyote tan boots sometime in 2020, LaBrutta said.
The Air Force will differ from the Army in velcro patches, name tape and insignia by using a "spice brown" color, he added.
First lieutenants and lieutenant colonels will have black rank insignia and patches to differentiate them from second lieutenants and majors, LaBrutta said.
Related content:
Airmen will have the option to sew on their name tape, service tape or both. Officers will have their rank on their patrol caps. Both officers and enlisted airmen will have their last names on the back of the cap.
Patches used for commands down to the squadron level will be reworked to incorporate the spice brown color in some way, LaBrutta said.
"Everything on the configuration is the same as the Army wears the uniform; we're just going to make some small color variations," he said.
Airmen will also wear tan undershirts and "DLA green" socks, which are actually more of a tan color.
There will be a standard, adjustable unisex version, but also a secondary female-only uniform, LaBrutta said.
"The Army is transitioning into that right now, and we're excited we're right in the part of that transition. When we field this uniform, we believe that that's going to be a better fit for the women that wear the OCPs," he said.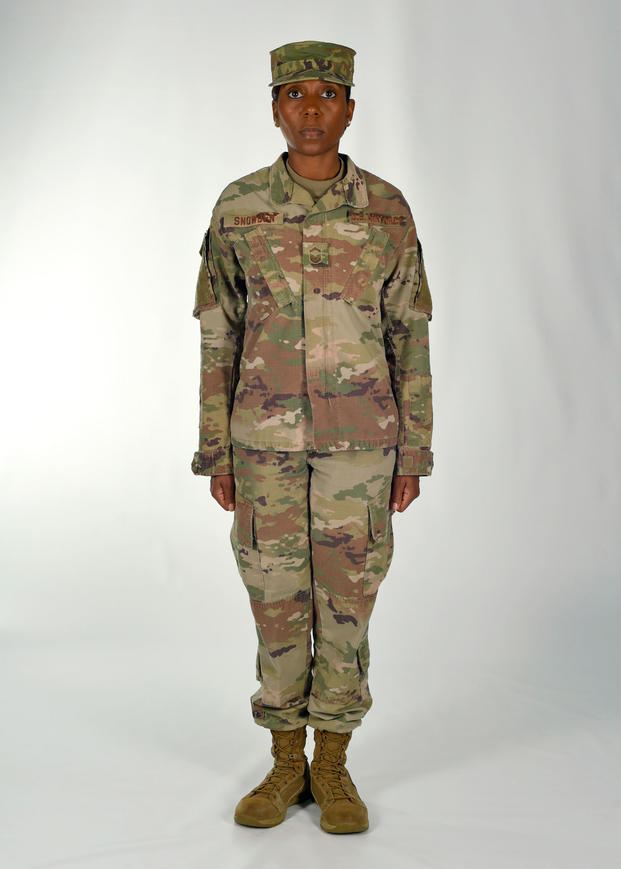 Timeline
The three-year transition will cost the service about $237 million, LaBrutta said, but added the Air Force will "break even" in the end.
"We've done the cost analysis, and I know we're going to have some upfront costs to this … and then we're going to have cost avoidance because as we transition into the OCPs, instead of having to have both ABUs and OCPs, we'll realize some cost avoidance there … because we will no longer be purchasing an extra uniform," he said.
Airmen who already own an OCP can begin wearing it Oct. 1, LaBrutta said, following a new memorandum on how to properly wear the uniform. The new guidance should be delivered to airmen sometime in July, he said.
"We drew the Oct. 1, 2018, date to give production capacity an opportunity to build inventory so that we could outfit some [Army and Air Force Exchange Service] locations, but it's going to take some time to field this across the U.S. Air Force," LaBrutta said.
At that time, airmen at Aviano Air Base, Italy; MacDill Air Force Base, Florida; and Shaw Air Force Base and Joint Base Charleston, South Carolina, will be the first see the uniform on sale at base stores.
Enlisted airmen will get a clothing bag allowance increase since the OCP is about $20 more expensive than the ABU, the general said.
"Many of our airmen already have this uniform from their numerous deployments, so they will be able to make the transition easily," said Chief Master Sgt. of the Air Force Kaleth O. Wright.
"For other airmen, we must provide enough time for their clothing allowance to fund the items to avoid out-of-pocket expenses," he said.
LaBrutta said there will be no buyback or trade-ins for the ABU and airmen should not expect to be reimbursed. A guidance on how to properly dispose of them will be unveiled along with the guidance memorandum.
The service is weighing providing excess uniform gear associated with the ABU to junior ROTC programs across the country, he said.
Depending on the Defense Logistics Agency's production rate, the service anticipates more AAFES locations to start selling OCP by April 1, 2019, LaBrutta said.
The Air Force will not start handing out the uniform to new recruits in Basic Training, ROTC or Officer Training School until October 2019.
Promoting Jointness
LaBrutta said the uniform also promotes joint integration. Since 2012, nearly 100,000 airmen have worn the uniform when deployed overseas in places like Afghanistan or while operating outside the wire.
Roughly 20,000 airmen already wear it day-to-day at Air Force Special Operations Command, as well as some security forces airmen at Air Force Global Strike Command.
Airmen and pilots operating downrange wear the Army Aircrew Combat Uniform, known as the A2CU, which has OCP-patterned fabric and the same fire-retardant properties as a flight suit.
Some airmen also wear a two-piece, OCP-pattern camo utility pattern that does not have the same fire retardant material. It does have different pocket placement and velcro closures, among other characteristics.
Just like their Army counterparts, airmen who go outside the wire in a deployed location will receive the fire retardant OCPs, which is standard now, LaBrutta said.
"This celebrates joint warfighting excellence as OCPs will become the joint combat uniform for airmen and soldiers while patches and nametapes will identify our respective services," Goldfein said. "We'll maintain our distinctive Air Force uniforms in blues, service dress, mess dress, and PT gear."
Airman feedback played a big role in the decision, officials said.
Service members have asked about the uniform at almost every town hall, said Air Force Secretary Heather Wilson.
"The focus has been, 'How do we make it easier [and] what works for airmen,' " she said May 4.
The uniform must be right "for both men and women. From a cost perspective, but also from a functional perspective," Wilson said.
Reiterating feedback from airmen during a trip to Hurlburt Field, Florida, last week, she added, "[A] uniform isn't only a uniform, it's a piece of equipment. And that's not a bad way to think about it. How do we give our airmen the equipment that they need to be lethal and do their job?"
LaBrutta added, "The benefit that we're going to get out of this, in readiness, joint integration and of course the airmen demand signal that's out there are the reasons why we're doing this.
"[They're] very worthwhile," he said.
-- Oriana Pawlyk can be reached at oriana.pawlyk@military.com. Follow her on Twitter at @Oriana0214.