For a small group of young immigrants who were pitched a dream of gaining U.S. citizenship through military service, even a call home can jeopardize their status and flag them to the FBI.
That's life for more than 100 would-be Americans who enlisted under the Military Accessions Vital to National Interest program. Started as a way to woo talented youths from other countries who could fill key military skill gaps, it has now become a drawn-out limbo fraught with security Catch-22s for those waiting months or years for background screenings to clear.
"What's the big deal? Yes, I talk to my mom [back in China]," said Sen Li, one of the non-citizens aggressively recruited for MAVNI. He has taken the oath of enlistment, but has been waiting more than five years for a shipment date to basic training.
"Basically, they failed me because they think I have foreign contacts."
His Chinese parents are the foreign contacts.
Read Next: Retired Two-Star Opens Up About Mental Health Crisis That Ended His Career
Another MAVNI recruit from Jordan, who asked that his name not be used, said he signed up for the program and officially enlisted in 2015. His plan to go on active duty and become an AH-64 Apache helicopter gunship mechanic was derailed by an FBI counterintelligence interview in 2017.
He said he told the agent that he had a sister in Jordan who worked for a medical school professor. The school, as in most foreign countries, falls under the Ministry of Education. That was a red flag for the FBI, which screens for signs of foreign government influence, even from an ally such as Jordan.
His shipment to Basic Combat Training was put on indefinite hold due to the FBI flag.
"They're rejecting me for the same reasons they hired me," the recruit said in disbelief, referring to the fact that MAVNI sought out educated foreign nationals, many with advanced degrees. "This is a disaster."
MAVNI's Rise and Fall
MAVNI was begun with urgency as a pilot program in 2008 to bring in recruits with medical aptitudes and language skills in Pashto, Arabic, Farsi and Urdu, which were needed for the wars in Iraq and Afghanistan.
The program was later expanded, and a total of about 10,800 people joined before MAVNI recruiting ceased in 2016. It effectively ended in 2017 amid intensified scrutiny over immigration and security risks, despite praise for its contributions to national security from top military leaders.
About 1,000 MAVNI recruits were in the pipeline in 2017 without a clear way forward to military service or back to their nations of origin, but that number has dwindled as their initial contracts expired.
In a 2017 statement, the Defense Department said that the department was "working diligently and with all deliberate speed to complete all background investigations for the MAVNI population."
Citing privacy concerns and ongoing class-action lawsuits, the DoD won't say how many MAVNI recruits are still awaiting completion of background investigations or which services they signed up for, but legal advocates put the number at about 100 – all in the Army.
The other services took in far fewer MAVNI recruits than the Army, and those who served have either completed their obligations or transferred to the reserves.
A spokesman for Army headquarters, Lt. Gabriel Ramirez, said the service continues to vet remaining MAVNI applicants in accordance with existing procedures and guidelines.
"The Army is committed to completing this mission expeditiously and meanwhile continues to ship qualified MAVNI applicants to training upon completion of their background screening," Ramirez said.
But lawyers for the MAVNI recruits dispute that there have been any recent shipments to training.
For this report, Military.com interviewed eight of the MAVNI recruits still in the pipeline -- five from China, and one each from Cameroon, Bangladesh and Jordan. All have been waiting more than five years for background investigations to be completed.
They have been able to secure periodic two-year extensions on their visas while they wait on completion of the background investigations, but their unclear status makes it difficult to find jobs to support themselves. One said he was now living in Brooklyn and working at a McDonald's.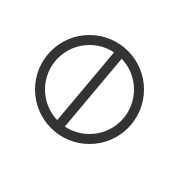 The Biden administration has moved aggressively on immigration reform by freezing funding for the southwest border wall; easing restrictions on asylum seekers; and acting to reunite separated migrant families. But an overhaul of the stalled MAVNI program has taken a back seat thus far. Congressional action on behalf of these recruits had also stalled, though lawmakers are already petitioning Biden to take fresh steps.
Baffling Background Checks
The Jordanian recruit and Nick Chen, another MAVNI recruit from China, said they can understand the military's concern about bad actors possibly infiltrating the ranks, but are baffled by the endless background investigations that have turned up nothing more incriminating than the fact that they have relatives overseas.
Chen said he was attending college in Maryland on a student visa when he heard about the MAVNI program, which sought foreign recruits for their language and other special skills and promised a quick path to citizenship.
"My interests and the Army's interests merged perfectly," he said. "I felt active would be a good opportunity for me."
But though he signed up for active duty in 2016, he has yet to receive approval to report for basic training.
"I can't go to basic training because of this messed-up background check that's still going on," Chen said. His anxiety only increased when he received notice from the Army in 2019 about a massive data breach that exposed the records of thousands in the MAVNI program.
Chen said he feared being deemed a security risk and being forced to return to China.
"I'm kind of, like, afraid to go back to my home country because the Chinese government will know who I am," he said. "They'll see me as a traitor. It would be dangerous for me and my whole family, as well. I'm stuck in the middle. The only thing I can do right now is wait for a final decision from DoD."
He holds out hope that the Biden administration will ease restrictions on the MAVNI program and allow him to serve in the Army.
"If I didn't want to do that, why would I wait these five years?"
Previous attempts in Congress to break the background investigation stalemate and possibly restart MAVNI have gone nowhere, but Rep. Betty McCollum, D-Minn., has pledged to renew the effort.
"This is a policy issue the Biden administration will have to act on, and if there's congressional action needed to support it, we will do that," McCollum, a member of the House Appropriations Committee, told Military.com in a March 1 statement. "People affected by this made a commitment to our country, and the Trump administration betrayed them. Our nation broke its word to these dedicated service members."
The U.S. Citizenship and Immigration Service and the Defense Department "should certainly be pressed to address the people whose lives are caught in limbo," she said.
Sen. Tammy Duckworth, D-Ill., who now chairs the Airland Subcommittee of the Senate Armed Services Committee, has called in the past for speeding up the citizenship process for those in the MAVNI program and other immigrant troops. She renewed her support in a letter to Biden on Jan. 20, his inauguration day.
"Immigrant service members possess critical skills that enhance military readiness, strengthen national security and protect our homeland," Duckworth said.
Advocates for MAVNI reform are also present in Biden's Cabinet.
Transportation Secretary Pete Buttigieg, in a Veterans Day address in 2019 when he was running against Biden in the Democratic primaries, said priority should be given to overhauling and renewing MAVNI.
Buttigieg, a Navy Reserve veteran of Afghanistan, said MAVNI recruits deserve a sure path to citizenship "because if you are willing to risk your life for this country, then it is your country, and we ought to honor that and acknowledge that."
The two million-member American Legion has also supported MAVNI and a sped-up path to citizenship for all immigrant troops.
In a May 2018 resolution, the Legion's National Executive Committee noted that MAVNI troops "lend critical language and medical skills to our country's defense."
In a Feb. 23 letter to Biden, Legion National Commander James W. "Bill" Oxford urged the issuance of an executive order "authorizing the reinstitution of the United States Citizenship and Immigration Services (USCIS) for Naturalization at Basic Training Initiative and reopening all USCIS field offices abroad for servicemembers and deported veterans."
MAVNI's Reserve Loophole
In another strange twist to the MAVNI program, some recruits have been able to become naturalized citizens even as background investigations continued.
A MAVNI recruit who asked that her name be withheld said she completed a bachelor's degree and a master's at the University of Texas in environmental science on student visas.
She signed up for the Army Reserve in MAVNI in December 2015 and is still waiting for her background check.
She said she periodically checks with Army Recruiting Command. "But I'm told they haven't received the results yet. They don't give reasons for why it takes so long. They say it's protected information, and we can't share it.
"They just want us to go away, that's my feeling," she said. "I think we need justice. It's not only for myself but for others in MAVNI."
To her surprise, she was able to become naturalized as a citizen in 2018, even though she had been told that her application for citizenship was being held up because of the background checks.
"I was lucky," she said. "I don't know how this happened. I don't know why my citizenship package got through."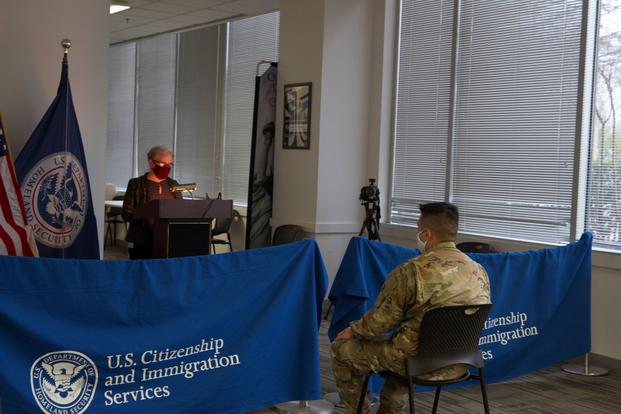 Others interviewed by Military.com said the woman gained citizenship through a quirk in the system that allows MAVNI recruits who signed up for the Reserves to be naturalized, while those who signed for active duty cannot do so until they get a final ruling on their background checks.
Cyril Zhang, who came to the States from China in 2010 and received an economics degree from the University of Colorado in 2015, signed up for active duty in the Army under MAVNI in November 2015.
"I wanted to be a soldier. I never thought I would have an opportunity to do this. I thought I could contribute. It would have been an honor," he said.
Zhang said he received his date to ship to basic training October 2016. "Then, they told me that because I was In MAVNI and because there are investigations, I can't go. It was very bizarre."
In 2018, he underwent a counterintelligence review with the FBI.
"I never got any feedback" on the results of the FBI interview, he said. "After that, I was told to just keep waiting and keep in touch with recruiting in Boulder [Colorado]. Now, it's 2021, and it makes me feel really helpless. I don't really know what to do."
He said he can't be naturalized outside of the military because he signed up for active duty, rather than the Reserves. "The weird part for me is, literally, I don't even know what information they're looking for [in the background investigations]. That's the part that has me really concerned. There's silence; there's nothing."
Charges of Broken Promises
The military's enthusiastic embrace of MAVNI at its start was abruptly cut short by an act of violence: the 2009 Fort Hood, Texas, mass shooting by Maj. Nidal Hassan, an Army Medical Corps psychiatrist born in the U.S. Thirteen were killed and 30 more wounded in the attack, and the MAVNI program was suspended shortly thereafter.
The program resumed in 2012 under tighter vetting procedures; and in 2014, it was extended for another two years after winning praise from military leadership.
In 2012, then-Army Chief of Staff Gen. Ray Odierno invited Sgt. Saral Shrestha, who was naturalized through the MAVNI program, to his Pentagon office for congratulations on winning the service's "Best Warrior" competition. Later that year, Shrestha, originally from Nepal, was voted the Army's "Soldier of the Year."
Adm. Eric Olson, then head of U.S. Special Operations Command, said at the time that the MAVNI program was "operationally critical" to the military's needs.
However, as immigration increasingly became a hot-button political issue, the Obama administration closed the MAVNI program to new recruits in 2016. The Trump administration clamped down even harder, with tighter screening of those who had already been accepted.
A counterintelligence review by the FBI is now required, on top of the Military Security Suitability Determination and the Service Scope Background Investigation.
In a July 2017 memo, then-Defense Secretary Jim Mattis warned of "espionage potential" from foreign-born recruits.
"Those in the MAVNI program and other foreign-born recruits may have a higher risk of connections to foreign intelligence services," he said.
However, in a session with defense reporters in October 2017, Mattis said he was looking for ways to salvage the MAVNI program despite its suspension.
"We are taking the steps obviously to save the program, if it can be saved, and I believe it can," he said.
That same month, the Pentagon changed the naturalization policy for MAVNI enlisted troops. Before then, enlistees could apply for citizenship a couple of days before basic training and before a complete security screening. Under the new rules, personnel were required to serve honorably for 180 days and complete full background checks before an application for naturalization could be approved.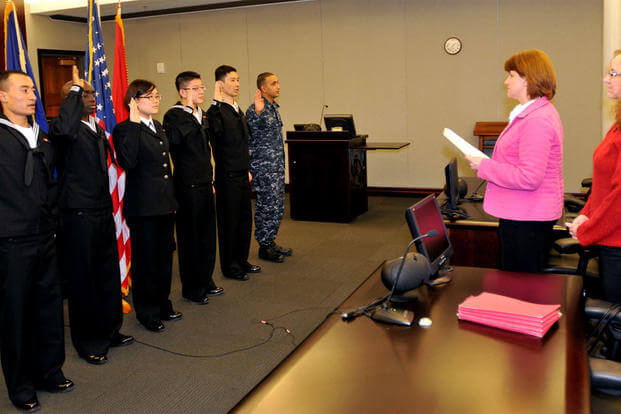 In May 2020, six currently serving MAVNI soldiers filed suit in federal district court in Washington, D.C., charging that the Defense Department broke the promise of citizenship for service dating back to the American Revolution by imposing the 2017 restrictions over fears of espionage.
The soldiers in the Samma v. Department of Defense lawsuit, filed on their behalf by the American Civil Liberties Union, won in district court in February. The Justice Department is now considering whether to appeal, according to ACLU lawyer Scarlet Kim.
However, Kim told Military.com that the case would not affect background investigations for MAVNI recruits who have yet to proceed to basic training.
Despite fears of espionage cited by the DoD, a 2017 Rand Corp. report commissioned by the Army to investigate security risks associated with MAVNI found that "there are no publicly available reports of MAVNI recruits engaging in terror, sabotage or espionage-related activities."
Immigration lawyer Margaret Stock, a retired Army lieutenant colonel who drew up the original proposal to create the MAVNI program in 2008, said she knows of no instance of a MAVNI recruit being deported as a security risk.
Stock said the enhanced background checks grew out of the DoD "beating the drum that all of these [MAVNI] people were dangerous."
"They made them fail the background checks based on foreign ties. It was considered derogatory to have foreign parents; everybody was considered to be a security risk," she said. "It was like, 'OK, you're an immigrant. Of course, your parents are foreigners. Therefore, you failed the background, [but] we'll give you a chance to rebut the accusation you have foreign parents.' It's a giant mess, and it's still going on."
-- Richard Sisk can be reached at Richard.Sisk@Military.com.
Related: Immigrant Soldiers Sue to Become US Citizens, Saying DoD Broke Its Promise