Airman 1st Class Sean Brinson wanted his peers to know that he didn't consider President Joe Biden a legitimate commander in chief.
In a post on the popular Facebook group Amn/NCO/SNCO Jan. 12, Brinson pledged to "continue to say 'Beijing Biden is not my president' for 4 years."
"End of god damned story," wrote Brinson, identified as being assigned to the 691st Cyberspace Operations Squadron, part of Air Combat Command located at Ramstein Air Base, Germany. "A letter from JCIS [sic] does not negate the events that stain this election, or answer glaring questions about selective application of law, something that IS constitutionally, ethically, morally, and LEGALLY deplorable."
Brinson has since deleted the post from the group's page.
The Joint Chiefs of Staff had made clear the military's position on the matter, condemning a pro-Trump mob's violent assault on the U.S. Capitol ahead of the inauguration and reminding troops that Biden would be their next commander in chief.
"The violent riot in Washington, D.C., on January 6, 2021, was a direct assault on the U.S. Congress, the Capitol building, and our Constitutional process," the general and flag officers wrote.
Across social media, however, some U.S. service members have defiantly posted in support of former President Donald Trump, condemned Biden and spread political conspiracy theories. While the military has worked to discipline those whose public posts violate political speech rules and reminded troops to think before they share, some say recent events have exposed gaps in the services' social media policies and warn that order and discipline could suffer if they aren't addressed.
A Call for Investigation
Social media posts by military members and veterans have been in the spotlight since the Capitol assault -- an event that has led to the arrests of more than 150 people, three of whom currently serve in the Army Reserve or National Guard and 17 of whom are veterans.
Much of the organization for the protest that preceded the Capitol attack occurred on social media, as did the underground plot to break into the building and possibly target lawmakers.
Rep. Jackie Speier, a California Democrat who serves as chairwoman of the House Armed Services Personnel Subcommittee, is calling for the Pentagon to thoroughly investigate military recruits through their social media pages.
She wrote Defense Secretary Lloyd Austin to direct the services to establish procedures to review the social media activity of incoming recruits, supplemented by guidance "to assist recruiters in identifying extremist groups and activities."
"Social media is not reviewed during the military's accessions process or even as part of the background investigation process for security clearances, despite collection and reporting of other intrusive, private data, such as financial and behavioral health information," Speier wrote. "This gap is inexcusable."
But the Defense Department walks a thin line between squashing service members' First Amendment rights, discipline and the Uniform Code of Military Justice, Pentagon spokesman John Kirby said Wednesday.
"There aren't necessarily uniform understandings across the services about how to look at social media, whether and to what degree, and there's First Amendment issues here. There's real First Amendment concerns that we have to look at," Kirby said.
Service members across the ranks have gotten attention for social media posts that violate military political speech rules and even call their personal loyalties into question.
On his personal Facebook page, Brinson, the airman first class, stipulated that Donald Trump is his commander in chief despite the Nov. 3 election results. "The people of the United States are the ultimate authority that I answer to. Congress is not. [Black Lives Matter] is not. Beijing Biden is not," he wrote on Jan. 7, a post recorded in one of several screenshots taken by Military.com.
"I do not condemn the people at Capitol Hill," Brinson added, referencing the insurrectionists. That post has also been deleted.
In the Army National Guard, a battalion commander currently deployed to Kuwait was investigated for his social media posts, including dozens that were partisan, supported a political candidate or favored conspiracy theories.
On his semi-private Facebook page, Michigan Army National Guard Lt. Col. Joseph Cannon, who leads 3rd Battalion, 126th Infantry Regiment, shared a post on late-term abortion initiated by a GOP senatorial candidate from Delaware. He accused the media of being part of a conspiracy in covering the Sandy Hook Elementary School shooting in 2012. And he cited the debunked film "Plandemic" as proof the SARS-CoV-2 coronavirus was man-made and spread intentionally.
The posts were first reported in Military Times, which learned of them after personnel in the unit brought them to the news outlet's attention.
In October, two soldiers in Cannon's unit were investigated for their own social media activity -- posting a TikTok video of themselves in uniform lambasting "liberals and Democrats" for being "crybabies and snowflakes" in the run-up to the election, also reported by Army Times.
The posts continue: A Naval Academy midshipman disciplined for his words on the Black Lives Matter protests, and a National Guard chaplain candidate who said the Capitol assault was done by "leftist politicians."
While it's difficult to gauge whether political activity by active-duty service members has been on the rise on social media in the past decade, a survey conducted from 2015 to 2016 and again from 2017 to 2018 found that 35% of officers "consistently indicated" their active-duty friends discussed politics on social media.
And 25% to 33% said their active-duty friends use or share "insulting, rude, or disdainful comments directed against the president or other elected leaders," said Heidi Urben, a retired Army colonel who serves as an adjunct professor in security studies at Georgetown University and wrote a case study in 2017 on the state of the U.S. military's nonpartisan ethic on social media.
The DoD policy that spells out the do's and don'ts for political behavior for active-duty service members, DoD Directive 1344.10, hasn't been updated since 2008, Urben pointed out.
"It fails to address social media ... and this is a significant shortfall," she said.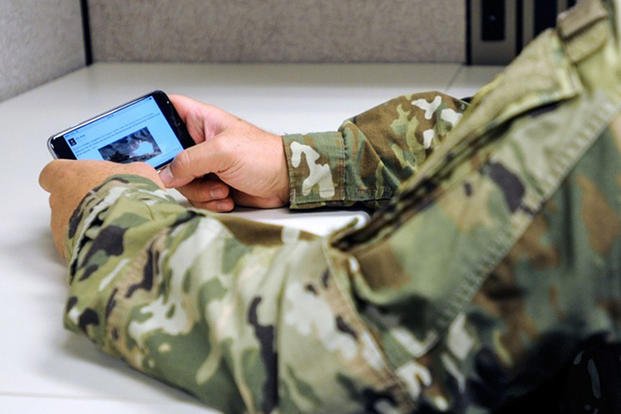 Amplifying Disinformation
No evidence has been produced of widespread election fraud, and more than a dozen court cases seeking to overturn election results were dismissed in the months following the election. A company at the root of one of the most widespread conspiracy theories, Dominion Voting Systems, has filed defamation suits against those who made allegations about its machines.
Nonetheless, some U.S. service members continue to support partisan political causes on social media and perpetuate the spread of false information. Ohio National Guard 1st Lt. Chris Boyd, for example, accused the Joint Chiefs of Staff of being seditious because he believes the election was stolen.
"Any type of unprofessional social media activity by service members can quickly threaten a unit's good order and discipline," Urben said. "It's a fallacy to think your social media activity is purely personal in nature, and service members should be cognizant of what they're projecting."
The Michigan National Guard soldiers who posted their rant on TikTok were investigated and punished, although Army officials declined to say what type of reprimand they received.
An investigation into Cannon's actions found the officer violated Army policy and "administrative action" was taken, but Army officials didn't say whether he received a non-punitive admonishment, a punitive letter of reprimand or a more severe form of discipline.
"Every service member swears an oath to the Constitution and is expected to uphold the Army's standards and values," Capt. Jessica Jackson, a spokeswoman for the 36th Infantry Division and Task Force Spartan, said in an email to Military.com. "[This] includes adhering to regulations that prohibit soldiers on active duty from participation in any program or group discussion as an advocate for or against a partisan political party, candidate, or cause."
Social Media Rules for Troops
According to the services' standards, personnel may use social media to express themselves. But they are still expected to uphold their branch's core values both on and off duty.
Violations can result in the revocation of security clearances -- depending on what has been disclosed -- or lead to punitive action or dismissal from service.
Posts by officers who use contemptuous words against leaders, including the commander in chief, vice president, Congress, secretary of defense and more, may violate Article 88 of the Uniform Code of Military Justice, or UCMJ, and are punishable by court-martial.
The rules governing social media behavior specifically are set by individual services, and some are more detailed than others. A recent reminder from the Army urged troops to think before sharing and make sure their post "demonstrates dignity and respect for self and others." The Army also encourages members to report online incidents through their chain of command.
Family members cannot be required to adhere to the guidelines, but are cautioned to use their judgment.
For officers and enlisted personnel, objectionable social media posts may violate Article 134, the "catch-all article that includes conduct that discredits or neglects the prejudice of good order and discipline," according to Rachel VanLandingham, a law professor at Southwestern Law School and a retired Air Force judge advocate general.
VanLandingham pointed to a case in which an Army lieutenant attended an anti-war rally in Vietnam on his own time and wearing civilian clothes, but held up a sign that read "Let's Have More Than a Choice Between Petty Ignorant Fascists in 1968" on one side and "End Johnson's Fascist Aggression in Vietnam" on the other.
For the words -- not his presence at the rally -- he was sentenced to jail, fined and booted from the service. The Court of Appeals for the Armed Forces upheld the decision.
"Those were contemptuous words against the president," VanLandingham said.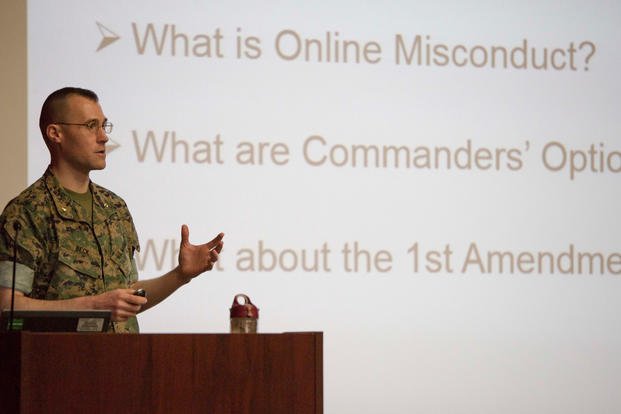 First Amendment Arguments
Still, with the advent of social media, the rules are not clear-cut.
The U.S. Naval Academy moved to expel a midshipman last year following a series of tweets expressing his opinions on the Black Lives Matter protests. But the student, Midshipman 1st Class Chase Standage, sued, claiming his First Amendment rights were violated, as well as his Fifth Amendment right to due process in the form of a disciplinary hearing.
Standage, the son of two Los Angeles Police Department officers, had tweeted that Breonna Taylor, an emergency room technician shot by police as she slept in her home in Louisville, Kentucky, received "justice" on March 13, 2020, the day of her death.
Of the Black Lives Matter protesters and antifa extremists occupying parts of Seattle, "All it takes is one drone strike," he tweeted.
The Navy has not issued a final decision in the case, and a federal judge in Baltimore ruled in late December that it was premature to block the proposed expulsion before service leaders weighed in.
U.S. District Judge Ellen Hollander said in October that Standage's posts were "distasteful at best" and demonstrated poor judgment. But she questioned why he received "the most draconian sanction he could get."
"It appears that people in charge didn't like his point of view. Not the way he said it but what he said," Hollander wrote.
The Standage case is important, said Eugene Fidell, a former Coast Guard judge advocate general and military law expert who lectures at Yale Law School, because the issue of what active-duty personnel can and can't say on social media is murky.
"There's a great deal of uncertainty as to what military personnel can or can't say online in the same way there is uncertainty over what civilians can say," Fidell said.
According to policies set by the services regarding political posts, members can follow or like a political party or candidate and express personal views on issues or political candidates online, much as they would in a letter to the editor.
They are not supposed to participate in any interviews or discussions as an advocate for or against a party, candidate or cause. Nor are they to participate in partisan political activity, post links to, "share" or "retweet" comments or tweets from accounts of a political party or candidate running for partisan office.
They definitely are not supposed to violate the UCMJ -- communicating "contemptuous words" against public officials, including the president, vice president, secretary of defense, deputy secretary of defense, the branch secretaries or governor or legislature of a state in which he or she is located or on duty.
Sowing Division
For years, much of the services' social media policies and training on online behavior have focused on operational security -- ensuring that personnel don't inadvertently advertise unit or ship locations or disclose classified information.
Cyber experts have started calling for more in-depth classes on misinformation, disinformation, propaganda and critical thinking.
Kristofer Goldsmith, an Army veteran who led an investigation for Vietnam Veterans of America over online targeting of troops and veterans by extremist groups and foreign operatives, said the Defense Department and Department of Veterans Affairs should provide instruction on "cyber-hygiene," ensuring that troops and veterans are aware of who is trying to target them and reading them online.
Troops and vets are being trolled by groups posing as veteran organizations that seek to sow division and discontent, and they are actively being recruited by extremist groups for their military skills, Goldsmith explained.
Providing instruction on critical thinking in classes on cyber-hygiene could help, he said.
"These people are off on a gamified algorithm-fueled journey of self-enlightenment. There's no one -- not a college professor, a mentor -- coaching them through it," Goldsmith said.
Urben said DoD policies must be updated and leaders "at all levels" should discuss with service members why they should refrain from partisan or unprofessional discussions on social media.
"Specifically, DoDD 1344.10 should eliminate as much ambiguity as possible as to what constitutes prohibited partisan behavior and activity online," Urben said. "But leaders should also stress the importance of professional norms, especially the nonpartisan ethic."
The Ohio National Guard has said it is looking into the case of Boyd, the chaplain trainee who called the Joint Chiefs seditious and "in bed with the left."
And the Air Force looked into posts made by Brinson, the airman who wrote that he will never accept Biden as president. An Air Force spokesperson at Ramstein said that, while an investigation into Brinson's statements made online was closed, leadership had contacted him and are "in the process of determining an appropriate response to his online behavior."
After three weeks, Brinson removed his posts Feb. 2. He referred questions about them to Air Force public affairs.
"We have no further information to provide on this subject," the spokesperson said.
"I condemn the communists and bourgeois who believed that they could steal the election, and that the people would just accept it," Brinson said in the since-deleted post. "I am an American Airman. I am a Warrior. I have answered my Nation's call. I am an American Airman."
Editor's Note: This story has been updated to correct the characterization of arrestees who serve in the military or are veterans.
-- Oriana Pawlyk can be reached at Oriana.Pawlyk@Monster.com. Follow her on Twitter @oriana0214.
-- Patricia Kime can be reached at Patricia.Kime@Monster.com. Follow her on Twitter @patriciakime.
Related: In Unprecedented Joint Letter, Top Military Brass Denounces US Capitol Riot