The year was supposed to be a game changer for the Defense Department's commissaries, one that extended shopping privileges to all disabled veterans -- a pool of four million potential patrons -- who could help reverse a steady slide in sales over the past eight years.
But five days after opening the doors to newly eligible shoppers, many U.S. military bases instituted heightened security measures in response to the killing of Iranian Gen. Qasem Soleimani in Iraq in a U.S. drone strike.
Read Next: No, China Did Not 'Expel' a US Warship from its Territory, Navy Says
Then, in late March, many installations closed their gates again to nonresidents and nonessential personnel in response to the growing coronavirus pandemic.
The promise of a banner year began to fade.
Yet the madness of 2020 held bright spots for the military's grocery stores, with the Defense Commissary Agency posting record-breaking sales numbers in early March as the lockdowns loomed and finishing up the year with nearly 1% increases in revenue and sales.
Bill Moore, named as director of the Defense Commissary Agency (DeCA) in July, described the increases as "good" but said the stores have a long way to go.
"We were positive, and I don't want to downplay that. … We've got a lot of work to do to really turn our revenue around and we're on our way to do that, but we are not there yet," Moore said during an interview Dec. 15 with Military.com.
On March 13, the commissary system posted its highest one-day dollar amount of sales in its history, $34.5 million. The day before and after saw the 11th highest sales day and 7th highest in history, respectively.
Although the facilities were deemed "mission critical," some installations' health protection levels kept many customers from getting to the stores -- restrictions that showed in the stores' bottom lines throughout the summer.
While many stores are getting out from under the slow period, they again are facing increased pressure with the rise of COVID-19 cases in military communities this winter, Moore said.
"I'm fighting hard to keep them to where they can get into the stores," he said.
The son of a disabled Army combat veteran who retired in the 1970s, Moore "grew up in commissaries," going with his mom weekly to the store. As an adult, he worked for the Department of the Army, where, as principal deputy chief of staff for logistics, he paid close attention to DeCA's workings.
"[The system] made a difference in the quality of life myself and my sister grew up with, and so I'm a big believer in it," he said.
His goal as director is to encourage young service members and families to return to the commissaries -- to utilize a benefit that must deliver, by law, 23.7% savings when compared with community prices; currently, they are delivering close to 25% savings, he said.
"We need to better educate our eligible patrons on the savings, and then we have to earn their trust," Moore said.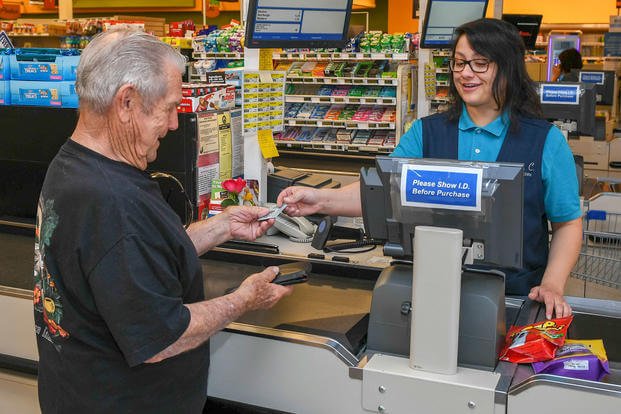 The commissaries face several roadblocks to bringing back customers, according to Moore, including misperceptions that they don't provide savings, the unavailability of online shopping at most locations, and the impression that they are unfriendly places to shop.
Take the savings: Commissaries must provide a 23.7% savings over community stores, as measured by the "local market basket average," calculated through surveys of stores in surrounding communities.
The average is based on surveys of stores in communities, including prices from Walmart, Harris Teeter, Publix and upscale grocers -- an average that often prompts patrons to say they find better prices elsewhere.
"If we compared only to Walmart, it probably wouldn't be 25%, it would be something less. But I personally went into Walmart and price-checked the items I buy every week for me and my boys, and the commissary beat Walmart on every single item," said Moore, who lives near DeCA Headquarters at Fort Lee, Virginia.
"We need to get better at how to price certain items. I know when I walk into a grocery store, I can tell you the price of milk at every grocery store in town. There are just certain products that feed into price recognition. I think we need to pay better attention to that," he said.
Another untapped market for bringing in new shoppers is ecommerce, including DeCA's Click2Go online ordering and curbside pickup, available now at 11 stores in the U.S.
Moore said that broadening the program has its challenges, requiring additional refrigerator and storage space and an updated online shopping experience. But service members today value convenience, and curbside pickup is ubiquitous throughout the retail grocery market, he explained.
"They want to save money, but it has to be in a convenient way. We've got to figure out how to deliver on that," he said.
In addition to Click2Go, DeCA also is exploring on-base grocery delivery, he added.
"Why can't we figure out a way to drop groceries at the barracks door, or at least the door to the barracks. We could even work a deal where we have veteran-owned businesses take on that delivery mission," Moore said.
There's also the "coolness factor" -- or lack thereof -- of commissaries, he said, since many young service members believe only retirees and senior leaders shop in the stores.
He recalled a former patron -- a junior enlisted soldier -- saying he wasn't properly masked earlier this year and was told to do push-ups by a higher-up in the store.
"Well, that's one customer we won't get back," Moore said.
To better understand how to reach this audience, DeCA is setting up a young service member and family focus group. "I've got anecdotal evidence, but I'd like to back it up with focus group input," he said.
For the past several years, the DoD has studied an effort to merge its commissary system with the military services' three separate exchange systems -- a proposal that a business case analysis conducted in 2018 said would save between $690 million and $1.3 billion in the first five years.
But the Government Accountability Office in May found fault with several underlying premises of that analysis, saying the researchers didn't properly count the number of identical products sold across the four systems -- a data point that would affect the estimated reduction of eliminating duplicate purchases -- and underestimated or failed to count certain costs, such as establishing a new information technology infrastructure to manage the new agency or the cost of establishing a new central headquarters.
Moore said that, in his old job, the merger seemed like a "pretty good idea," but now that he sees commissary operations and funding from the inside, it "doesn't look like a viable business case."
"I see great potential, and I think we would be idiots if we didn't better partner with our exchange partners," he said. "We just did a joint sale with AAFES for Veterans Day, and it worked great. From a partnering perspective, we should do that.
"It would take a pretty good while to realize the savings, and the savings probably wouldn't be anywhere close to where that original [projections] were. ... Frankly, I don't see the business case to do it," Moore added.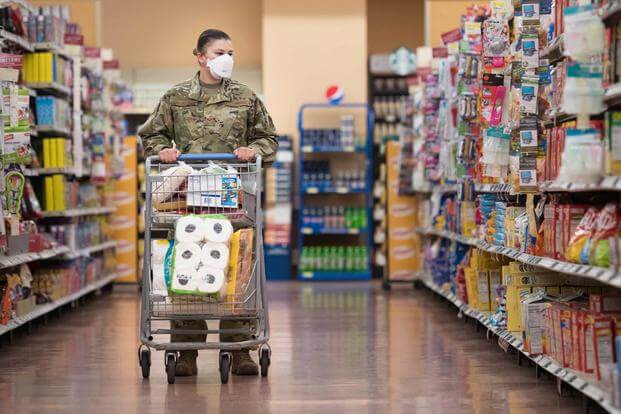 A 2019 survey of 75,000 Consumer Reports readers ranked Defense Department commissaries in the top 10% of 96 grocery chains, coming in at roughly fifth on the list, tied with wholesaler Costco and regional groceries Publix and Fareway.
Commissaries received excellent reviews for pricing, cleanliness and offerings of international products. They also were noted for checkout speed, meat and poultry quality, and the quality of store brands.
This year, officials have worked especially hard to keep the stores stocked and safe for shoppers and employees. DeCA is still struggling to keep cleaning products on the shelves and restricts purchases of paper goods, but Moore said he is working with vendors to ensure continuity of the supply chain.
Moore also said he is proud of the 14,000 employees who have helped keep the stores clean and open for customers and have worked long hours throughout the pandemic.
They have stepped up when their at-risk colleagues were placed on leave, stayed home when testing positive to ensure the safety of their workplace, and even given their lives -- at least three commissary employees have died of COVID-19, Moore said.
"I'm proud of the way our workforce has stepped up . … The workforce is all in. They are passionate and dedicated. It's hard not to be passionate about this mission."
-- Patricia Kime can be reached at Patricia.Kime@Monster.com. Follow her on Twitter @patriciakime.
Related: Key Pentagon Official Endorses Commissary Exchange Merger